Riki Choshu Produce POWER HALL 2018 ~ Battle of another dimension~, 7/10/2018 [Tue] 18:30 @ Korakuen Hall in Tokyo
1,526 Spectators (crowded)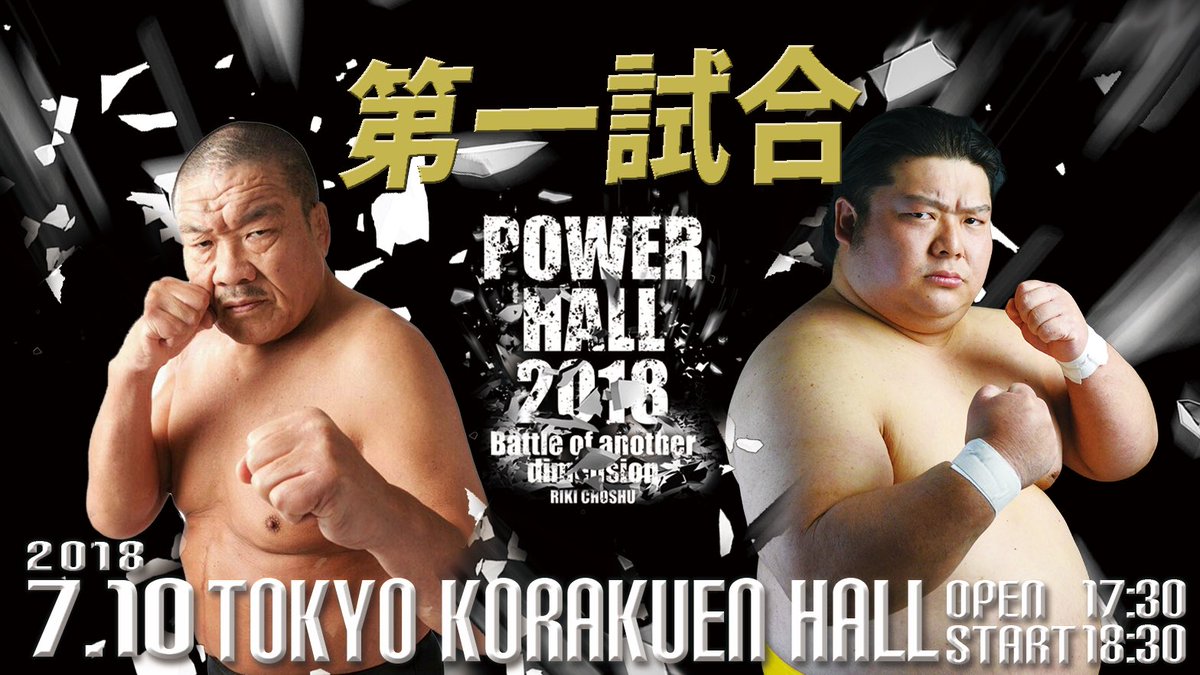 (1) Yoshiaki Fujiwara (Fujiwara-gumi) vs. Gota Ihashi (DDT)
◆Winner: Fujiwara (7:08) with a Wakigatame.
~ Ihashi was grateful for the opportunity to try and prove himself, even though in loss, and that he will continue to work hard and reach new goals.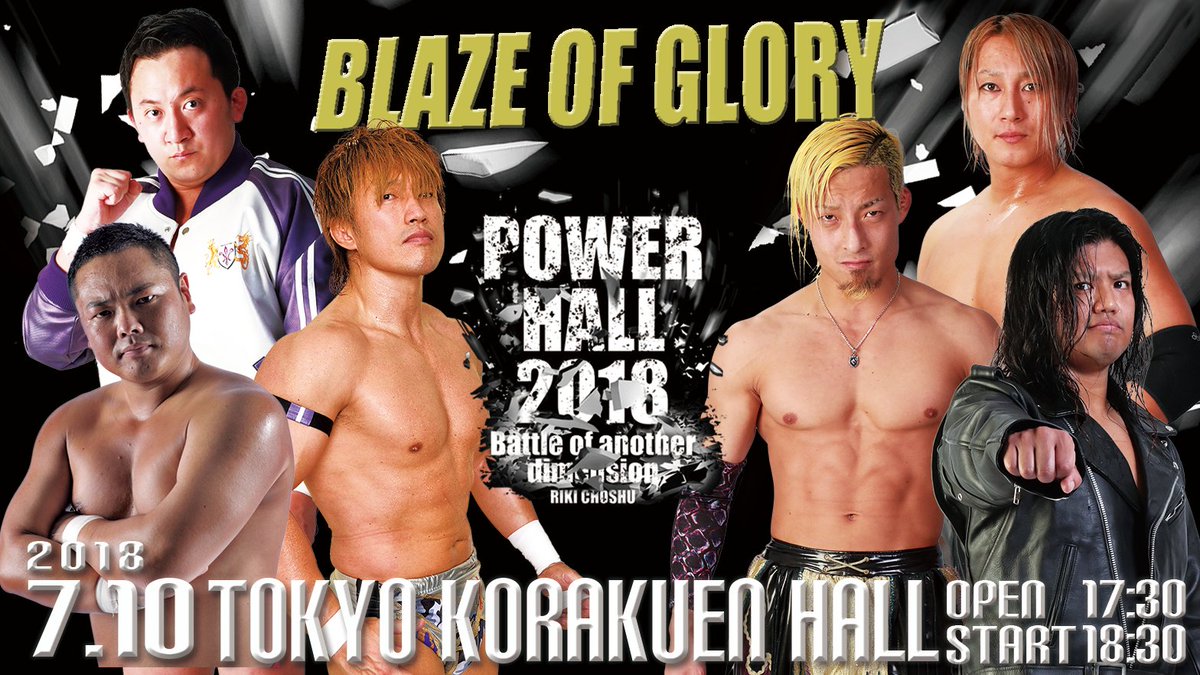 (2) BLAZE OF GLORY: Minoru Tanaka (FREE), Mitsuhiro Yoshida (GJPW) & LEONA (DRADITION) vs. HAYATA, YO-HEY & Tadasuke (all NOAH)
◆Winner: Minoru (9:47) with e HEAT Clutch on Tadasuke.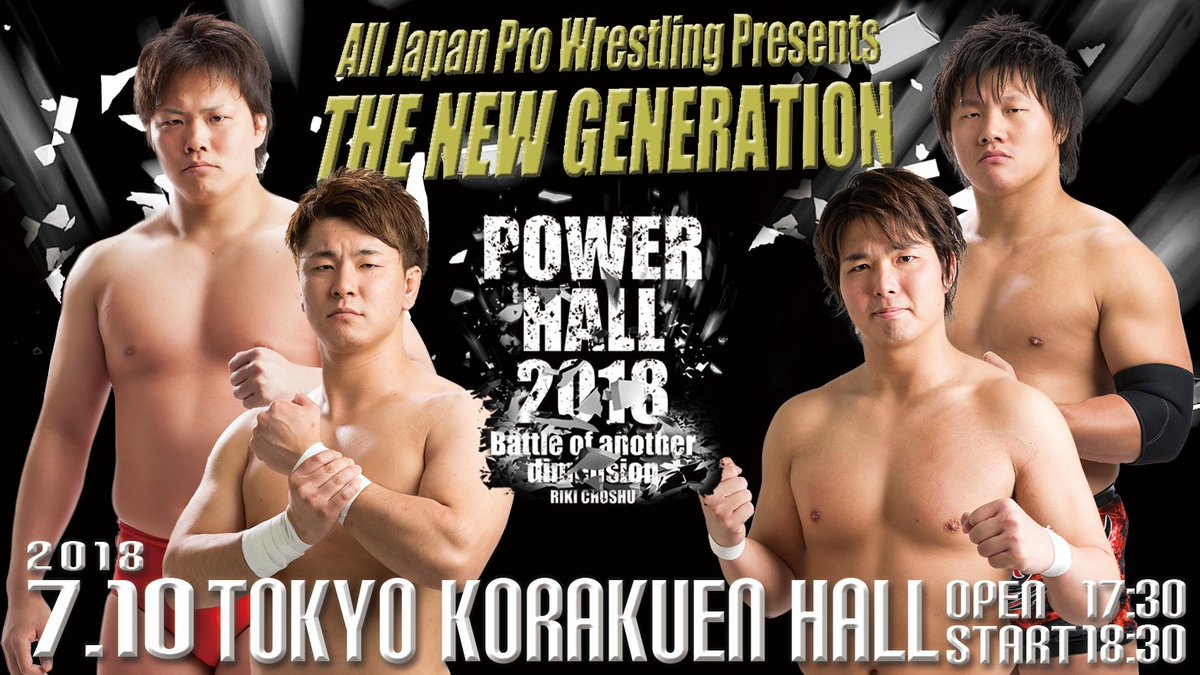 (3) AJPW Offer Match ~ THE NEW GENERATION: Jake Lee & Koji Iwamoto vs. Naoya Nomura & Yuma Aoyagi
◆Winner: Nomura (9:32) following the Maximum on Iwamoto.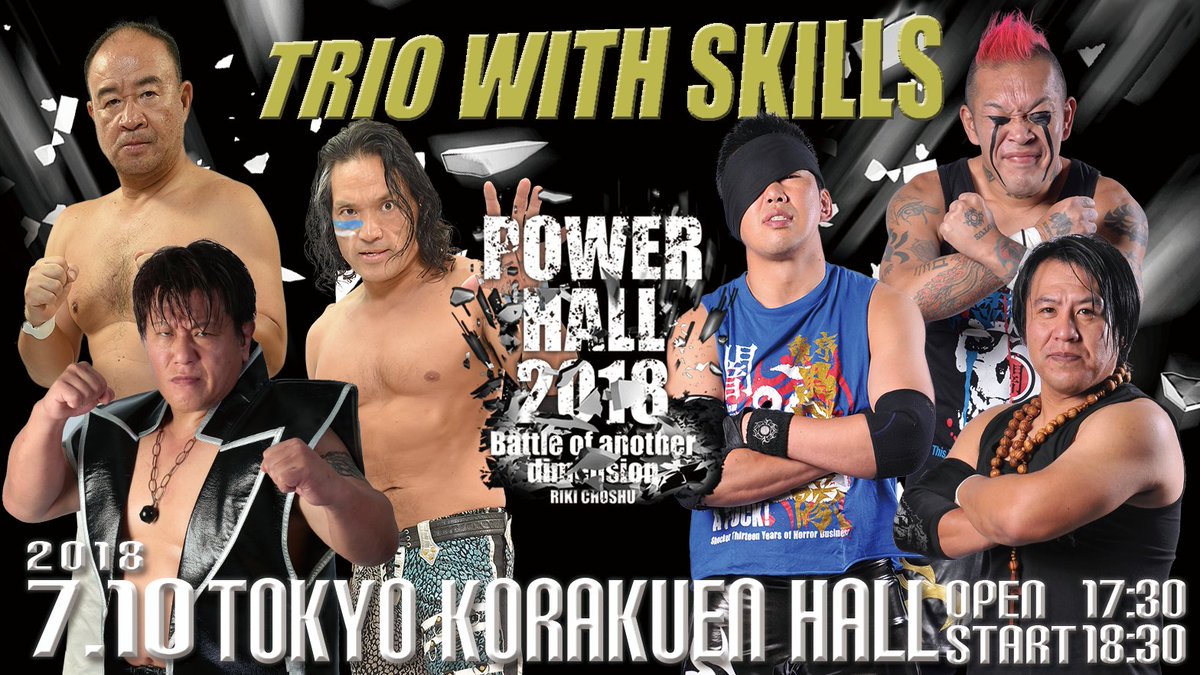 (4) TRIO WITH SKILLS: [Heisei Ishin-gun] Shiro Koshinaka, AKIRA (Makai) & Akitoshi Saito (NOAH) vs. [Tokyo Gurentai] NOSAWA Rongai, MAZADA & FUJITA
◆Winner: Koshinka (11:21) following a Diving Hip Attack on FUJITA.
---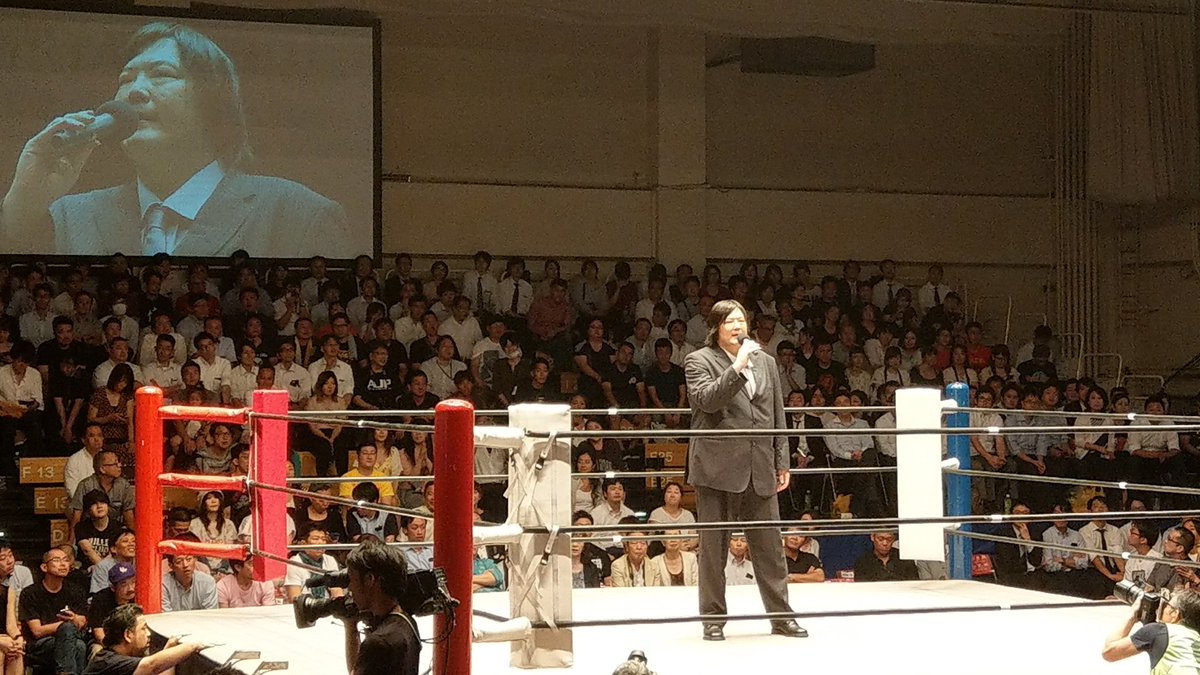 ~ Takeshi Morishima appeared and announced his intentions to return to pro-wrestling on October 15th at the Korakuen Hall. The show will be in collaboration with SP.E. (Sports Entertainment) which sponsor Choshu's shows, DDT's DNA shows, and other Tokyo based events (They also sponsored Seiya Sanada after he left W-1).
~ Morishima stated that he seeks to return and give it his all in the pro-wrestling ring.
~ During a previous interview he acknowledged that his original retirement announcement back in April of 2015 due to being diagnosed with diabetic illness did not go as he originally planned. As an official retirement match would be announced then to come later that year, but due to poor health the match and event was plainly-put canceled and never mentioned again. Which come the end of that year his contract with Pro-Wrestling NOAH expired. Though Morishima stated that his frame of mind at the time bodied with his physical condition led to him being distant from pro-wrestling. Since his time away from the ring he dropped from 140kg down to 110kg, but for his return he looks to be around 125kg. As for what he was doing these last few years he mentioned that he jumped around between jobs from a pizza store clerk, a security guard at concert events in the Tokyo area, and lastly as a Nursing Home Caregiver in Gifu. Though while in Gifu he began helping out with a local promotion which rekindled his passion for pro-wrestling. While helping coach the local promotion he began to train more and eventually returned his body to a better condition for wrestling.
"GENESIS ~ Takeshi Morishima Return", 10/15/2018 [Mon] 18:30 @ Korakuen Hall in Tokyo
---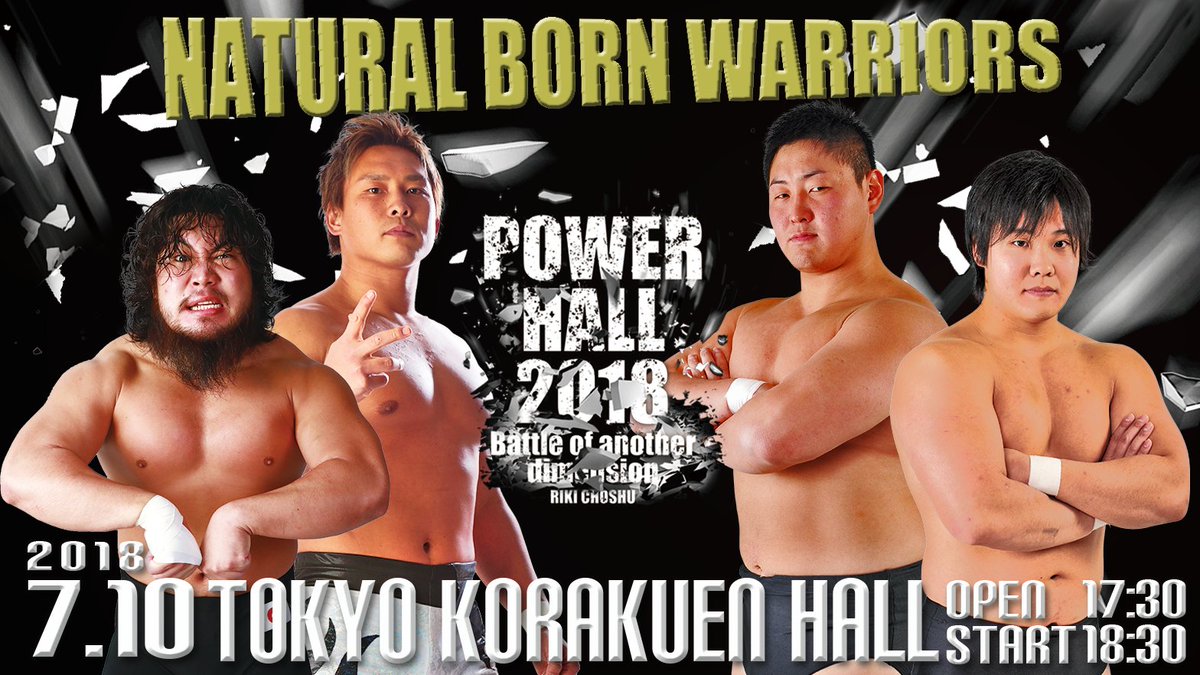 (5) NATURAL BORN WARRIORS: Katsuhiko Nakajima & Masa Kitamiya (both NOAH) vs. Hideyoshi Kamitani & Takuya Nomura (both BJW)
◆Winner: Nakajima (20:18) via TKO, following a Ganmengiri (face kick) on Takuya.
~ During the backstage intervew, Kamitani did not accept the loss in the manner that it occurred. As he made it known that he seeks another match against Nakajima and Kitamiya.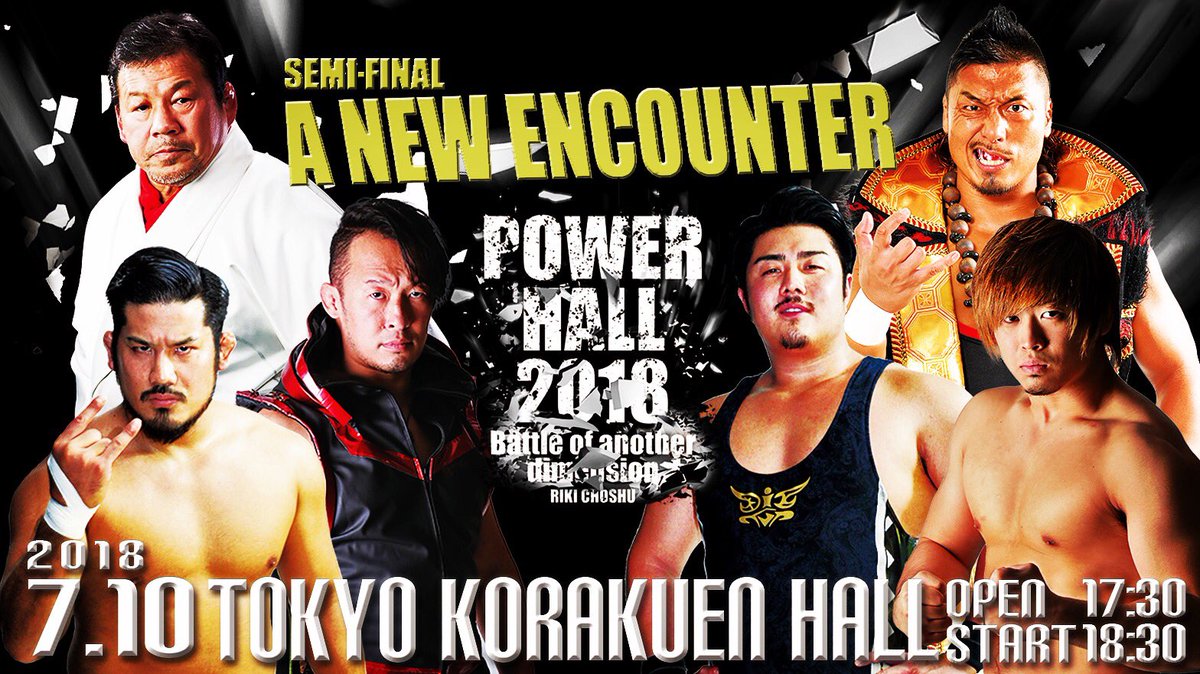 (6) Semi-final ~ A NEW ENCOUNTER: Tatsumi Fujinami (DRADITION), Naomichi Marufuji (NOAH) & Shotaro Ashino (W-1) vs. Shingo Takagi (DG), Koji Doi (W-1) & Kaito Kiyomiya (NOAH)
◆Winner: Ashino (14:36) with an Ankle Lock on Doi.
~ During the backstage interview, Ashino made an invite for Takagi to face against him in the WRESTLE-1 ring.
~ While Marufuji looked forward to the opportunity to face Takagi again, while Fujinami mentioned the possibility of another singles match against Marufuji (the two had a singles match back in November of 2014.).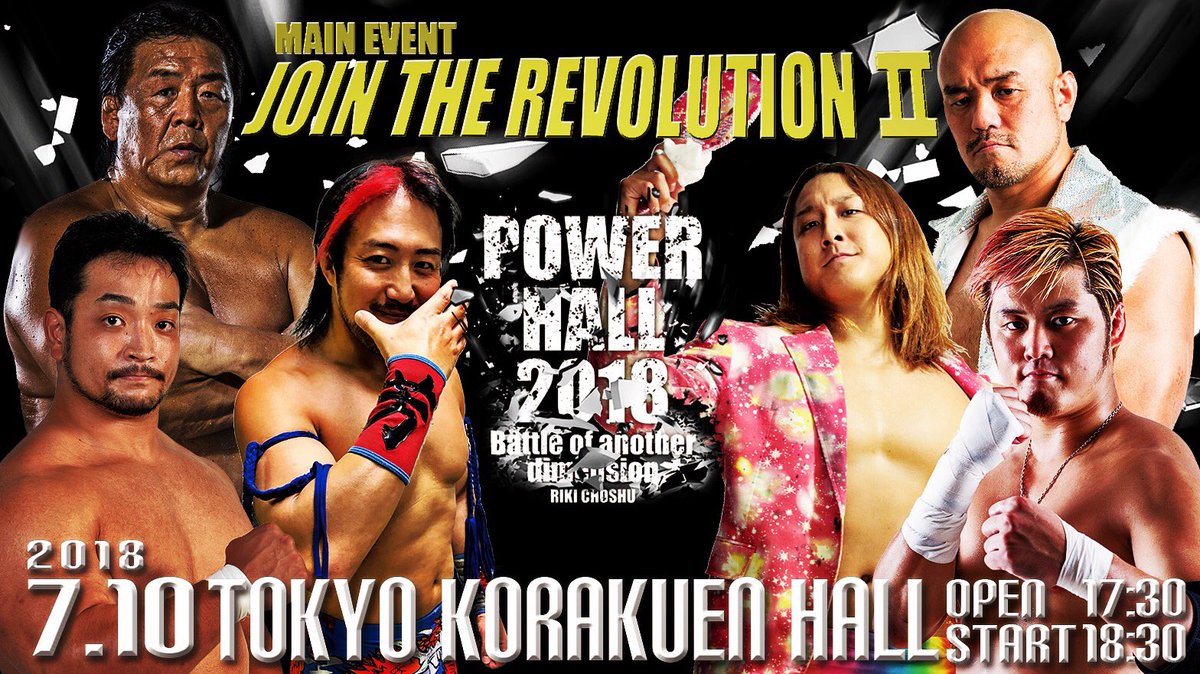 (7) Main Event ~ JOIN THE REVOLUTION II: Riki Choshu, Daisuke Sekimoto (BJW) & Yoshitatsu (FREE/AJPW) vs. Jun Akiyama (AJPW), Daichi Hashimoto (BJW) & Jiro "Ikemen" Kuroshio (W-1)
◆Winner: Akiyama (17:47) following a Running Knee on Choshu.
~ After the match, Choshu and Akiyama shook hands.
~ During the backstage interview, Choshu suggested that possibility that he could retire next year. The 66 year old stated that he does feel more pain as of late while training and competing and that the time may be near for him to stop for good.