Doutonbori, 4/8/2018 [Sun] 13:00 @ Konohana Kumin Hall in Osaka
(1) Katsumi Oribe vs. Real Inunakin
◆Winner: Oribe (7:01) following the Katsumi-ashi.
(2) Akagi & Mede Tiger vs. Taiyoto Kamen & Osamu Suganuma
◆Winner: Mede Tiger (10:59) with a Small Package Hold on Taiyoto.
(3) HUB vs. Yuto Kikuchi
◆Winner: HUB (12:39) with a Jackhammer.
(4) Magnitude Kishiwada & Takaku Fuke vs. Kinryu & Takashi Tachibana
◆Winner: Fuke (11:40) with a Cross Armbar on Tachibana.
(5) TORU, Kazuaki Mihara & Kengo Takai vs. Ra-pid, Diablo & Orochi
◆Winner: TORU (17:13) with a Small Package Hold on Ra-pid.
(6) WDW Tag Championship Match: [5th Champions] Kuuga & Billyken Kid vs. [Challengers] Ultimate Spider Jr. & Captain Amemura
◆Winner: Ultimate Spider (16:20) with a Hurricanrana on Kuuga.
~ Champions fall their 3rd defense. Spider & Amemura become the 6th champions.
http://puroresuspirit.net/tag/doutonbori
Upcoming…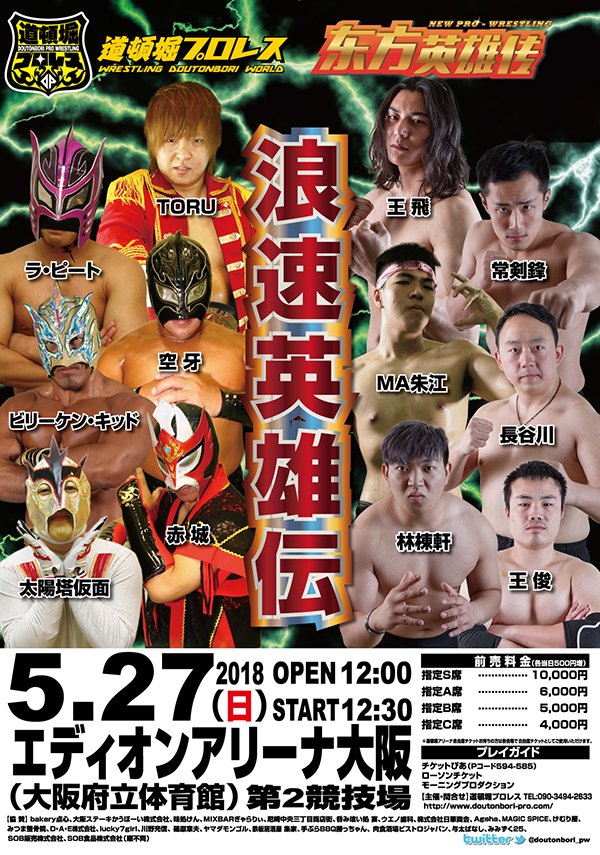 Doutonbori, 5/27/2018 [Sun] 13:00 @ EDION Arena Osaka, 2nd Stadium
(-) WDW Championship Match: [5th Champion] TORU vs. [Challenger] Ra-pid