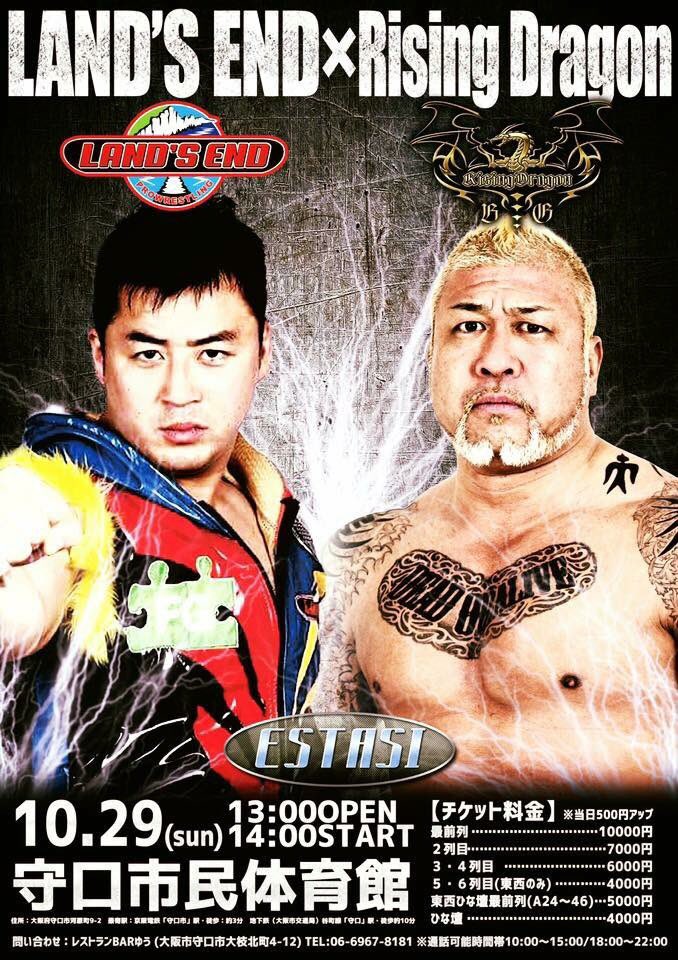 LAND'S END x Rising Dragon, 10/29/2017 [Sun] 14:00 @ Moriguchi Shimin Taikkukan in Osaka
(1) Yutaka Yoshie (FREE) vs. Katsumi Oribe (FREE)
♦Winner: Yoshie (4:24) with a Running Body Press.
(2) 5 vs 6 Handicap Match: Hiroaki Moriya (J-2000), Naoki Tanizaki (DG), Kazuaki Mihara (Doutonbori), Shiori Asahi (K-DOJO) & Kengo (FREE) vs. Magnitude Kishiwada (FREE), Gabai Jichan (FREE), Atsushi Maruyama (FREE), Tomoki Ueno (J-2000), Revlon & Minoru Fujita (Gurentai)
♦Winner: Mihara (10:27) following a Muscle Buster on Revlon.
(3) Takoyakida & Ultimate Spider Jr. (both Osaka Pro) vs. Tetsuhiro Kuroda (FREE) & Kuishinbo Kamen (Osaka Pro)
♦Winner: Spider (10:55) with a Falcon Arrow on Kuishinbo.
(4) Ultimo Dragon (Toryumon MEXICO), TAJIRI (FREE) & Shinsuke Jet Wakataka vs. Tsubasa (FREE), Billyken Kid (FREE) & Kyu Mogami (K-DOJO)
♦Winner: Dragon (11:17) with a Rolling Clutch on Mogami.
(5) Zeus (AJPW), Ishikiri & Paul Tracy vs. Masakado, UEXILE & Koji Iwamoto (AJPW)
♦Winner: Ishikiri (13:50) with a 450 Splash on Uexile.
(6) Ryoji Sai, The Bodyguard (FREE) & Rikiya Fudo vs. Shuji Ishikawa (FREE) , Ryota Hama (BJW) & Kotaro Nasu
♦Winner: Bodyguard (21:18) with the Bounce on Nasu.