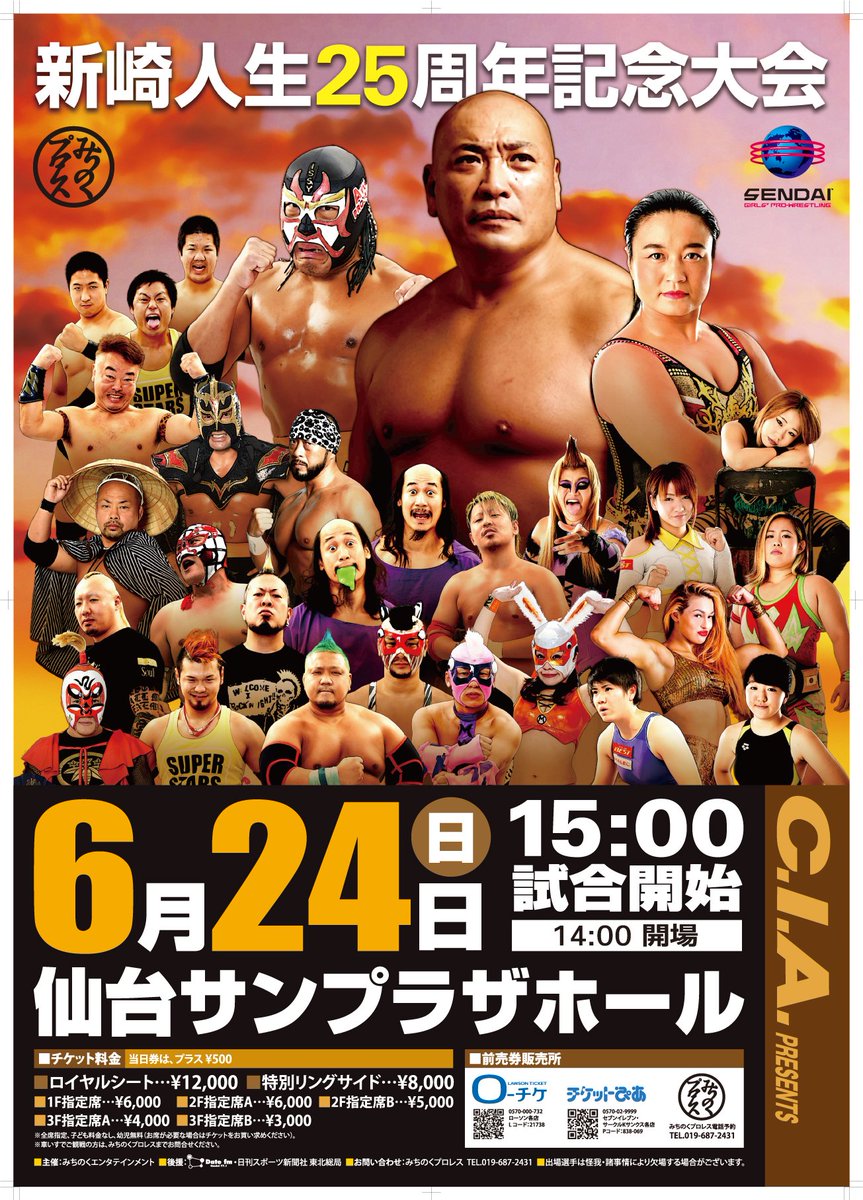 Michinoku Pro-Wrestling "Jinsei Shinzaki 25th Anniversary Show", 6/24/2018 [Sun] 15:00 @ Sendai City Sun Plaza Hall
1,888 Spectators
(0) Ayumu Gunji vs. Nogyo Boy Raito
◆Winner: Gunji (8:04) following a Rock Bottom.
(1) Yasutaka Osera vs. Koji Kawamura
◆Winner: Osera (5:53) with a Boston Crab.
(2) Yapperman #1, Yapperman #2 & Yapperman #3 vs. The Great Sasuke, Brahman Shu & Brahman Kei
◆Winner: Sasuke (5:08) following the Segway no Manekinshi on Yapper #2.
(3) Dick Togo & Jiro Kesenuma vs. Shisaoh & Hayate (Itabashi)
◆Winner: Shisaoh (9:55) with a Onbu Press (Piggyback Press) on Kesenuma.
(4) Sendai Girls Offer Match: Meiko Satomura, Mika Iwata & Manami vs. Cassandra Miyagi, Heidi Katrina & Ami Sato
◆Winner: Katrina (18:24) following a Diving Guillotine Drop on Iwata.
(5) Jinsei Shinzaki (Michinoku) 25th Anniversary Match: Jinsei Shinzaki, Kenbai & Rasse vs. Manjimaru, Ken45° & Manjimaru
◆Winner: Shinzaki (17:23) with the Koya-otoshi (Crucifix Bomb) on Manjimaru.
(6) Sendai Girls World Championship Match: [7th Champion] DASH Chisako vs. [Challenger] Chihiro Hashimoto
◆Winner: Chihiro (15:05) with the Albright.
~ Chihiro becomes the 8th generation champion.
(7) Tohoku Junior Heavyweight Championship Match: [21st Champion] Rui Hyugaji vs. [Challenger] Taro Nohashi
◆Winner: Nohashi (27:01) following the Gyakuuchi.
~ Champion falls on his 2nd title defense. Nohashi becomes the 22nd champion.
~ Nohashi was greatful to have finally capture the Tohoku for the first time in his 16 year career. He declared that he will do his best to show his best as a fighting champion and as a representative of the Tohoku region.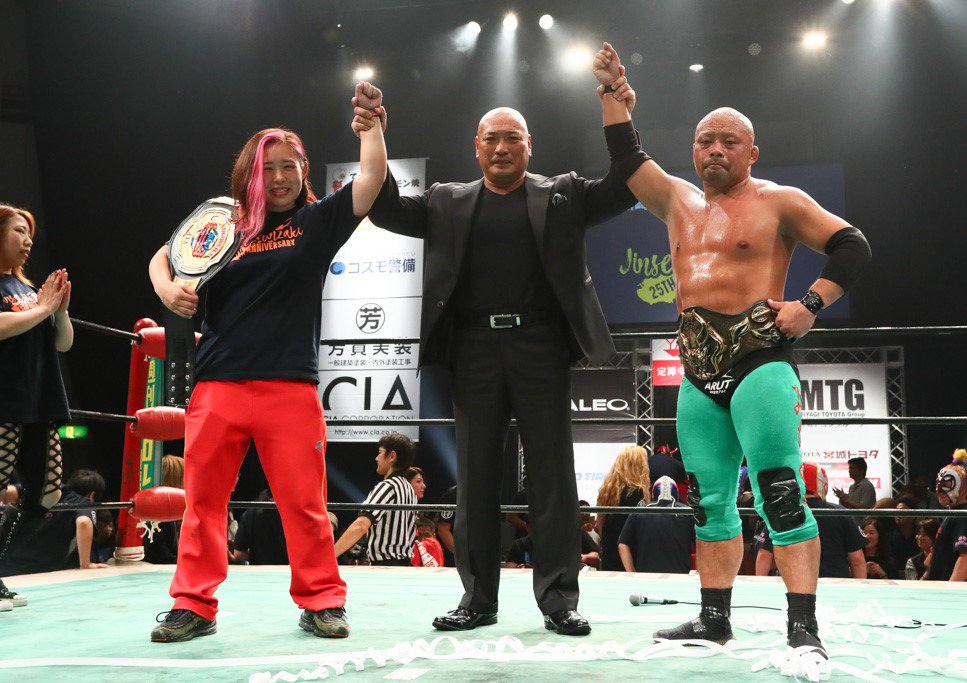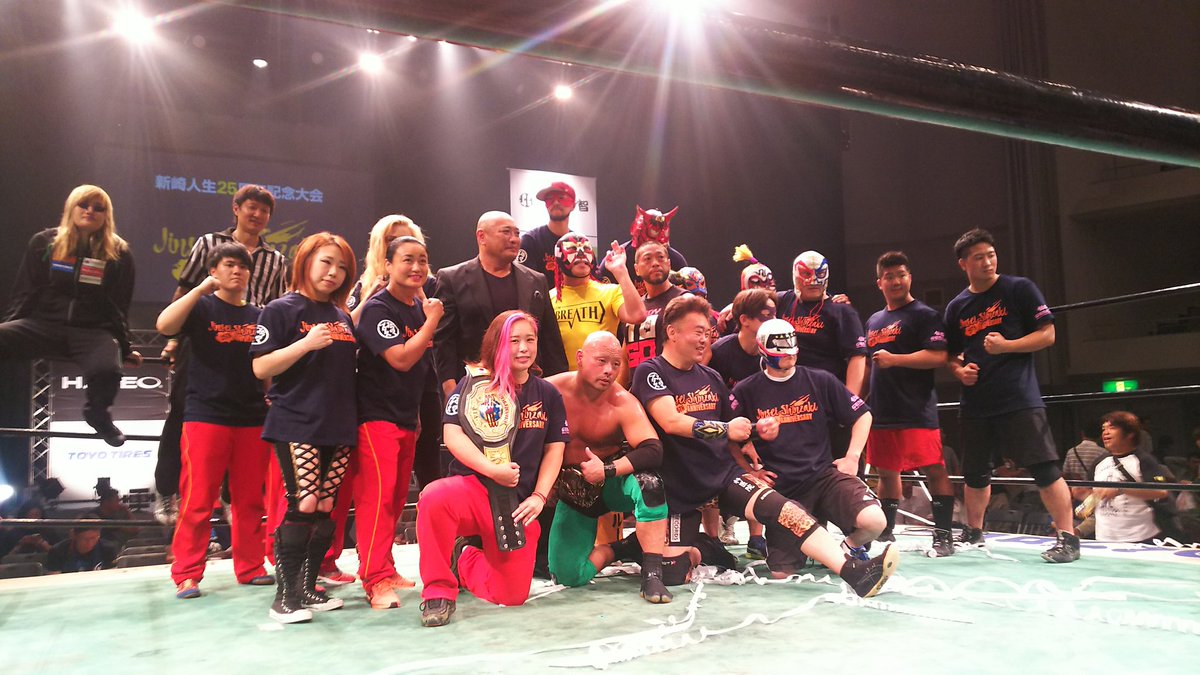 http://puroresuspirit.net/tag/michipro/
Upcoming…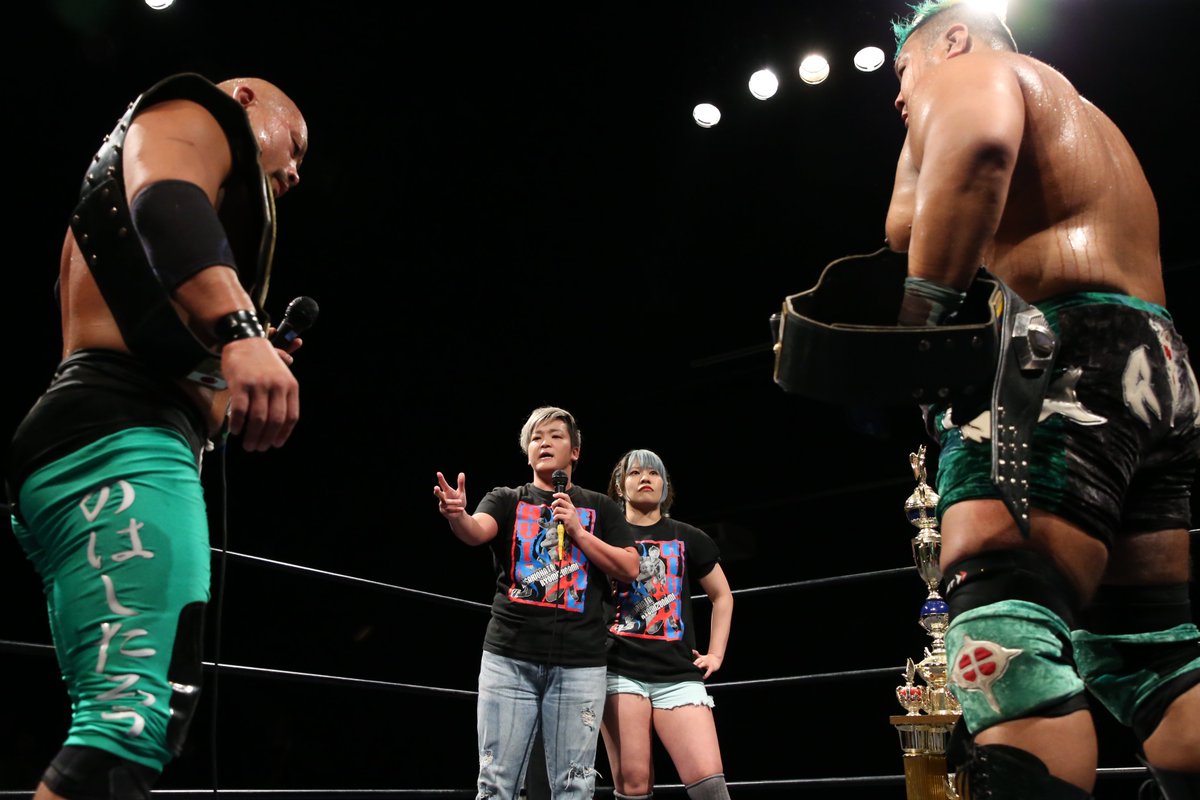 Michinoku Pro-Wrestling, 7/7/2018 [Sat] 19:00 @ Shinkiba 1stRING in Tokyo
(1) Jiro Kesenuma vs. Ayumu Gunji
(2) Jinsei Shinzaki, Yapperman #1 & Yapperman #2 vs. The Great Sasuke, Brahman Shu & Brahman Kei
(3) Yasutaka Osera & Koji Kawamura vs. Rui Hyugaji & Kengo
(4) Kenbai & Rasse vs. Ken45° & Manjimaru
(5) Tohoku & UWA World Tag Double Championship Match: [25th & 24th Champions] GAINA & Taro Nohashi vs. [Challengers] Misaki Ohata & Ryo Mizunami
~ 2nd title defense.