Pro-Wrestling BASARA, 1/8/2016 [Sun] 18:30 @ Oyodo Community Center in Osaka
247 Spectators (crowded)
(1) Yusuke Kubo vs. Masamune (FREE)
◆Winner: Masamune (9:39) with a Leg Roll Clutch.
(2) Goma Ryu vs. Tadasuke (FREE)
◆Winner: Tadasuke (9:21) following a DDT on the law book.
(3) Hardcore Match: Daichi Kazato vs. GUNSO (DOVE)
◆Winner: GUNSO (10:44) following a Diving Guillotine Drop, with a chair
(4) Trans Am ★ Hiroshi & SAGAT vs. Tsubasa & Billyken Kid (both FREE)
◆Winner: Billyken (8:03) with the La Espalda on SAGAT.
(5) Osaka Metal New Year Festival: FUMA & HAYATA (DOVE) vs. HUB & Madoka (both FREE)
◆Winner: FUMA (14:21) with the Heavy Metal Anthem on Madoka.
~ FUMA celebrates the win with his team since becoming the new MAX Champion on the last show.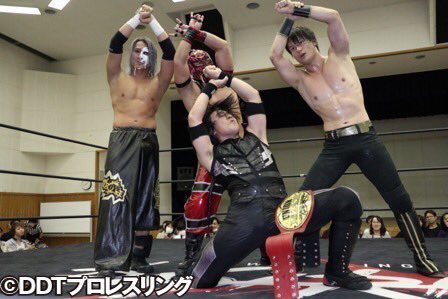 (6) ZERO1 Sanctioned NWA International Light Tag Championship Match: [21st Champions] Isami Kodaka & Takumi Tsukamoto vs. [Challengers] Ryuichi Sekine & Ryota Nakatsu
◆Winner: Sekine (18:54) with the Let's Combine on Tsukamoto.
~ Champions fall on their 3rd defense. Sekine & Nakatsu becomes the 22nd champions.
~ Nakatsu becomes a champion for the first time in his career.