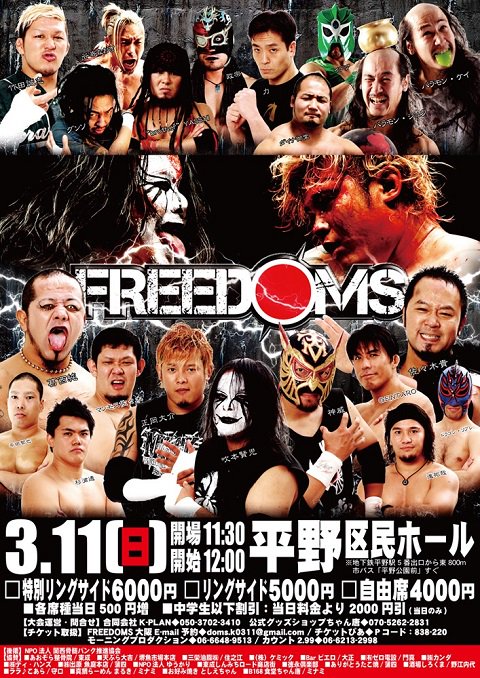 Pro-Wrestling FREEDOMS, 3/11/2018 [Sun] 12:00 @ Hirano Kumin Hall in Osaka
(1) GENTARO & Chikara (Riki Enterprise) vs. Yuya Susumu & Dragon Libre
◆Winner: GENTARO (10:01) with a Lou Thesz style Backdrop on Libre.
(2) Takashi Sasaki & Dyna Mido (B168) vs. Masamune (FREE) & Idea (NPW)
◆Winner: Mido (13:00) following a Diving Headbutt on Idea.
(3) Tomoya Hirata vs. Masashi Takeda (FREE)
◆Winner: Takeda (9:23) with a Modified Cross Armbar.
(4) Hardcore 6 Man Tag Match: Mammoth Sasaki, Toru Sugiura & Kamui vs. 'brother' YASSHI (FREE), Naoki Tanizaki (DOVE) & Kouhei Kinoshita (DOVE)
◆Winner: Kamui (12:04) following a Swanton Bomb, from off a ladder, on Kinoshita.
(5) Jun Kasai & Gunso vs. Brahman Shu & Brahman Kei
◆Winner: Kasai (11:46) following a Vertical Drop style Tiger Driver on Kei.
(6) 4 Corners of Pain Death Match: Kenji Fukimoto vs. Daisuke Masaoka
◆Winner: Fukimoto (16:40) following a Package Driver onto a fluorescent light bundle.
~ Fukimoto claims a much needed win as he heads to challenge Violento Jack on 3/17 for DTU in Mexico.
http://puroresuspirit.net/tag/freedoms/
Upcoming…
Pro-Wrestling FREEDOMS, "THE Gekokujo 2018", 3/22/2018 [Thu] 19:00 @ Korakuen Hall in Tokyo
(0) Trainee vs. (to be announced)
() Dragon Libre & Tomoya Hirata vs. Brahman Shu & Brahman Kei
() Kamui vs. KAZMA SAKAMOTO
() Yuya Susumu & Masamune vs. Minoru Fujita & Chikara
() GENTARO & Kenichiro Arai vs. Gunso & 'brother' YASSHI
() KING of FREEDOM WORLD TAG CHAMPIONSHIP Match: [13th Champions] Mammoth Sasaki & Toru Sugiura vs. [Challengers] Mr. Gannosuke & Yuko Miyamoto
~ 10th title defense.
() FREEDOMS vs BASARA Death Match: Jun Kasai, Takashi Sasaki & Daisuke Masaoka vs. FUMA, (to be announced) & (to be announced)
() Death Match: Kenji Fukimoto vs. Masashi Takeda