AJPW NEWS
All Japan announced the updated event cards for the July tour of shows.
Among the additions is Atsushi Aoki defending the World Junior belt against Koji Iwamoto on July 15th at the Korakuen Hall. Then Suwama & Shuji Ishikawa will defend the World Tag belts against the team of TAJIRI & Gianni Valletta on July 22nd in Hakata.
Then Ishikiri will miss the July 5th show at the Shinkiba 1stRING after suffering from an abdominal muscle fissure. His fellow LAND'S END teammate in Revlon will compete in his absence.
Gianni Valletta (Pro-Wrestling Malta)
Height : 192cm – Weight : 110kg
Born : August 8, 1989 – Debut : October 22, 2011
Title History : PWM Heavyweight Champion & BEW Heavyweight Champion
Signature Moves : TKO & Sleeper Hold
All Japan Pro-Wrestling "SUMMER ACTION SERIES", 7/15/2018 [Sun] 12:00 @ Korakuen Hall in Tokyo
(-) World Junior Heavyweight Championship Match: [47th Champion] Atsushi Aoki vs. [Challenger] Koji Iwamoto
~ 4th title defense.
All Japan Pro-Wrestling "SUMMER ACTION SERIES", 7/22/2018 [Sun] 16:00 @ Hakata StarLanes in Fukuoka
(-) World Tag Championship Match: [83rd Champions] Suwama & Shuji Ishikawa vs. [Challengers] TAJIRI & Gianni Valletta
~ 1st title defense.
http://puroresuspirit.net/2018/06/ajpw-event-cards-for-july-august-2018/
---
HARD HIT NEWS
~ The full event card and match order was announced for the upcoming show on July 7th at the Yokohama Radiant Hall.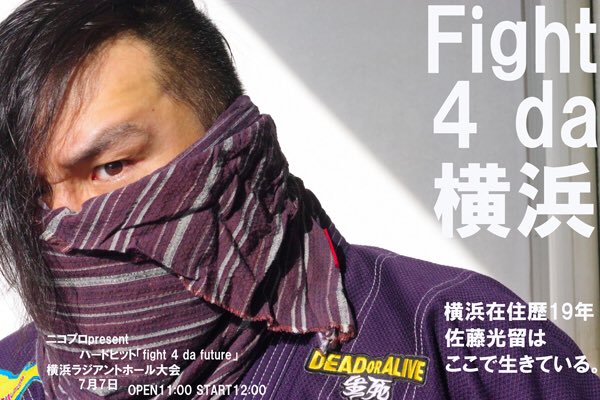 Hard Hit "fight 4 da future", 7/7/2018 [Sat] 12:00 @ Yokohama Radiant Hall in Kanagawa
(0) Dark Match: Masao Ando (FREE) vs. Tetsuya Izuchi (HEAT-UP)
(0) Dark Match: SUSHI (FREE) vs. Raito Shimizu (Mumeijyuku Pro)
(1) Sen "Silencer" Nakadai (FREE) vs. Poai Suganuma (BJ Penn MMA)
(2) Atsushi Aoki (AJPW) vs. Hidenobu Koike (GRABAKA)
(3) Daisuke Nakamura (U-FILE Camp) & Kenta Hattori (Kachofugets) vs. Nobuhiro Tsurumaki (FREE) & Chris MAN Taro (Chris Office)
(4) WINDY Tomomi (Pancrase ISM) & Yukiko Seki (Kachofugetsu) vs. Hanako Nakamori (PURE-J) & Saki (Actress girl'Z)
(5) Yoshio "Hitokui" Takahashi (D-ONE Gym) vs. Takuya Wada (FREE)
(6) Shootboxing SB Expert Rules (3 min 3R): Sho Karasawa (Kachofugetsu) vs. Genki
(7) Rocky Kawamura (PancraseISM) vs. Takatoshi Matsumoto (Reversal Gym ALPHA)
(8) Hikaru Sato vs. Yuu Iizuka (HEAT-UP)
(9) Hideki "Shrek" Sekine (Risshi-Kaikan) vs. Fuminori "Taido" Abe (BASARA)
http://puroresuspirit.net/tag/hard-hit/
---
MASAKATSU FUNAKI NEWS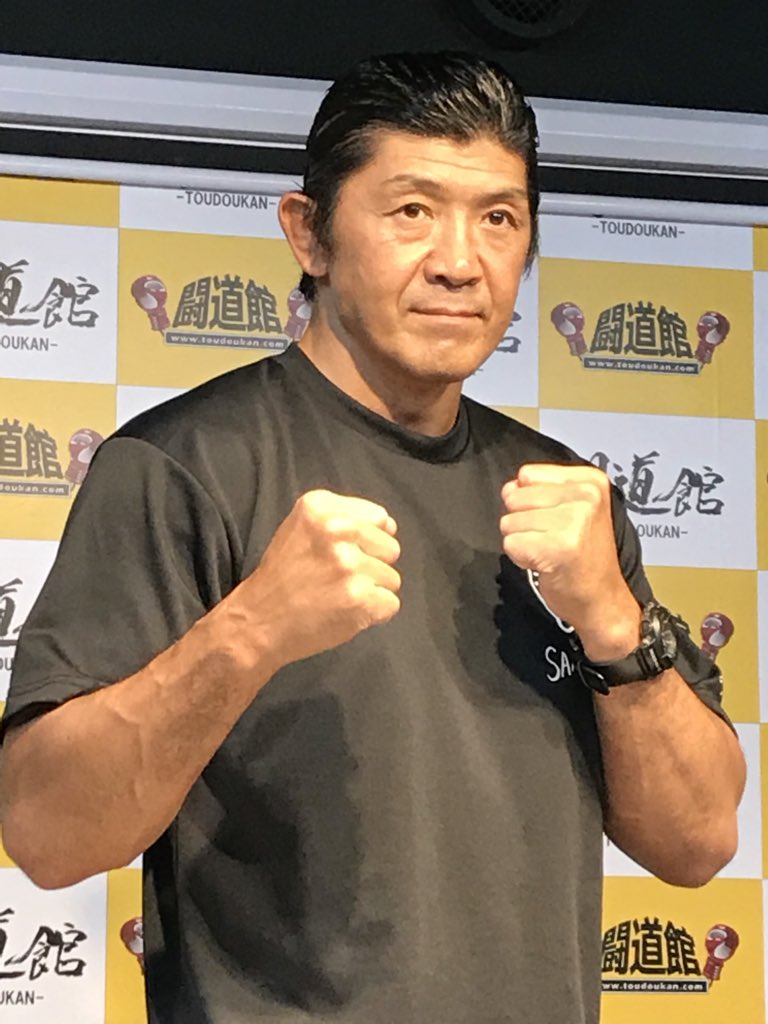 Masakatsu Funaki announced several matches for his upcoming 33rd anniversary show which he will be holding on September 30th at the EDION Arena Osaka, 2nd Stadium. Among the announcements is that Funaki will be dawning the Shinsetsu Tiger Mask which he wore in a 2004 movie, very rough documentary, about The First Tiger Mask, Satoru Sayama.
Masakatsu Funaki 33rd Anniversary Show, 9/30/2018 [Sun] @ EDION Arena Osaka, 2nd Stadium
(-) Sane Kikuta vs. Alexander Otsuka
(-) Special 6 Man Tag Match: Shinsetsu Tiger Mask, Super Tiger & "3rd Tiger Mask" Koji Kanemoto vs. Super Black Tigers
~ Also announced to be appear : Yoshiaki Fujiwara, Genichiro Tenryu, The Great Kabuki & Yuki Kondo
---
MASTERS NEWS
Keiji Mutoh announced that the next MASTERS show will be held on August 21st at the Korakuen Hall and that the main event will see a BATT (Bad Ass Translate Trading) revival.
The group was originally formed in early 2001 (NJPW), consisting of Hiroshi Hase, Shinjiro Otani, Taiyo Kea, and Done Frye, and ran for the next year until Mutoh left All Japan in 2002. The original ideals of the team was a group without boarders as Mutoh brought together Kea from All Japan, which they competed in both promotions together, and even Shinzaki from Michinoku Pro.
This will be the first MASTERS show that Mutoh himself cannot compete as he is still recouping after double knee replacement surgery earlier in the year. Though he announced that he plans to be in the corner of  Shinjiro Otani, Jinsei Shinzaki, Taiyo Kea and Hiroshi Hase as they will be taking on a currently unannounced team. Mutoh seeks for the spirit of "pro wrestling love" to be flowing once more. Which Mutoh feels all four of these men are capable of bringing forth in his own absence from in the ring.
As for Mutoh himself, he added that his plan is still to return in the Spring of 2019, but at this time his training is still at a slow process. That he already suffered a previously mentioned set-back and he cannot afford anymore at this time.

PRO-WRESTLING MASTERS, 8/21/2018 [Tue] 19:00 @ Korakuen Hall in Tokyo
(-) Special 8 Man Tag Match: Shinjiro Otani, Jinsei Shinzaki, Taiyo Kea & Hiroshi Hase w/ Keiji Mutoh vs. (to be announced)
http://puroresuspirit.net/tag/masters/
---
WRESTLE-1 NEWS
More matches were announced for the Korakuen Hall show on July 18th, GRAND PRIX semi-finals, Cruiser defense, and Hayashi announced the team to challenge STRONG HEARTS.
With the semi-finals for the GRAND PRIX now set, following the 1st round matches on 7/1, the four finalists came out to build the prelude for the show. The former teammates in Koji Doi and Kumaarashi will face off and, in a rematch from a W-1 title match in September of 2017, the W-1 Result and Tag Champion Jiro "Ikemen"Kuroshio faces Shotaro Ashino.
The W-1 Cruiser Champion Yusuke Kodama and the challenger El Hijo del Pantera met with the press to further build towards the upcoming title defense. Kodama stated that he acknowledges the direct loss that he suffered to the challenger, but that will not be the same result when the title is on the line. Pantera stated that he has known Kodama for 6 years now, stemming from their time together in WNC, and he is grateful to all that he has learned from his former ally. Though he is eager to become a champion himself in Japan and show himself as a top cruiser in W-1.
Then Kaz Hayashi announced that he will be teaming with  Shuji Kondo, Masayuki Kono and Jun Tonsho to take on the invding STRONG HEARTS group. He also announced the match will be under elimination rules with the addition of over the top rope to be in effect as well.
Below is the announced event card at this time…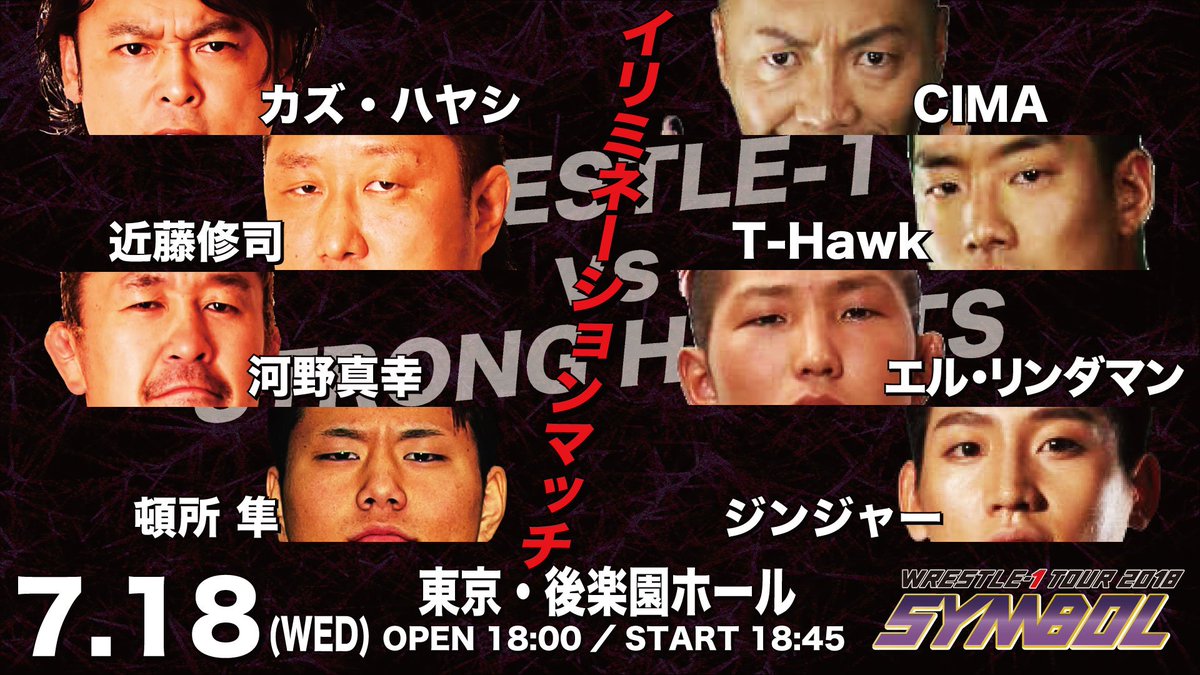 WRESTLE-1 TOUR 2018 SYMBOL, 7/18/2018 [Wed] 18:45 @ Korakuen Hall in Tokyo
(-) GRAND PRIX Semi-final Match: Jiro "Ikemen"Kuroshio vs. Shotaro Ashino
(-) GRAND PRIX Semi-final Match: Kumaarashi vs. Koji Doi
(-) Seiki Yoshioka, Ganseki Tanaka & Kotaro Suzuki vs. NOSAWA Rongai, MAZADA & FUJITA
(-) Manabu Soya, Andy Wu, Alejandro & Takumi Baba vs. Takanori Ito, Tsugataka Sato, Ryuji Hijikata & Masayuki Mitomi
(-) WRESTLE-1 vs STRONG HEARTS 8 Man Tag Elimination Match: Kaz Hayashi, Shuji Kondo, Masayuki Kono & Jun Tonsho vs. CIMA, T-Hawk, El Lindaman & Gao Jingjia
~ Over the top rope rules in addition to pin-fall and submission.
(-) WRESTLE-1 Cruiserweight Championship Match: [12th Champion] Yusuke Kodama vs. [Challenger] El Hijo del Pantera
~ 1st title defense.
(-) GRAND PRIX Final Match:
http://puroresuspirit.net/tag/w-1/
---
ZERO1 NEWS
It was announced that the promotion will be undergoing a management change. As of the start of this month Yoshitaka Ono has stepped down as the CEO and has given the reigns to the talent and staff to run the promotion going forward.
Katsumi Sasazaki, active referee and now former sales manager, will be taking up the role as the Representative Director and President and Shinjiro Otani will be taking over as the Chairman of the Board. The Vice-President role will be split up between Masato Tanaka and Kohei Sato, with Takaiwa taking over duties of managing the wrestlers, and ring announcer Yoshiya Okita also now being placed with the duty of the sales department.
Otani stated that the promotion is beginning to see signs of recovery and he does not wish to disappoint as he strives to provide their passion of hot pro-wrestling.
Pro-Wrestling ZERO 1, Dream on Stage Inc.
Representative Director and President : Katsumi Sasazaki
Chairman of the Board : Shinjiro Otani
Vice President : Masato Tanaka & Kohei Sato
Managing Director : Maki Yuhara
General Manager : Matazo Mimata
Chairman of Talent : Tatsuhito Takaiwa
Sales Manager : Yoshiya Okita
http://puroresuspirit.net/tag/zero1/
---
If you enjoy these posts of the site in general, please support us through Patreon by checking out the link below. All patronages, of at least $1 a month, will go to help pay for the server costs to keep the site up and running.
Thanks for helping keep the spirit alive!