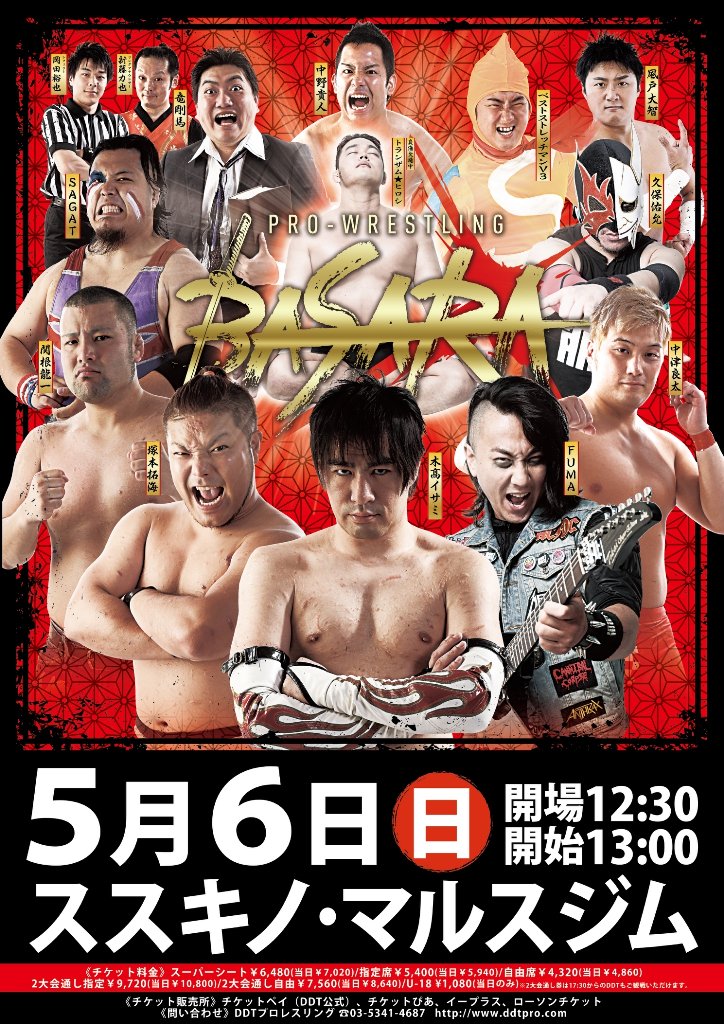 BASARA, 5/6/2018 [Sun] 13:00 @ Susukino Mars Gym in Hokkaido
381 Spectators (crowded)
(1) Takato Nakano vs. Akiyori Takizawa (ASUKA PRO)
◆Winner: Akiyori (11:42) with the Sleng Teng.
(2) FUMA, Yusuke Kubo & Katsuo vs. Daichi Kazato, Yoji "Dokonjo" Kondo (HEAT-UP) & Daiki Shimomura (DNA)
◆Winner: FUMA (15:20) following the Heavy Metal Anthem on Shimomura.
(3) Trans Am ★ Hiroshi, Trans Am ★ Ryuichi (BJW) & SAGAT vs. Takumi Tsukamoto, Fuminori Abe & Yasu Urano (FREE)
◆Winner: Tsukamoto (15:20) following a Dragon Kicker on SAGAT.
(4) Ryuichi Sekine & Ryota Nakatsu vs. Naoki Tanizaki (DOVE) & Manabu Hara (FREE)
◆Winner: Tanizaki (17:04) with the Implant on Nakatsu.
(5) NWA World Junior & International Junior Championship Match: [121st & 21st Champion] Isami Kodaka vs. [Challenger] Ikuto Hidaka
◆Winner: Kodaka (19:07) following the Isami-ashi-zan.
~ 1st successful title defense.
http://puroresuspirit.net/tag/basara/
Upcoming…
BASARA, 5/23/2018 [Wed] 19:30 @ Shinkiba 1stRING in Tokyo
(-) Itadaki 1st Round Match (A): FUMA vs. Daichi Kazato
(-) Itadaki 1st Round Match (B): Yusuke Kubo vs. Takumi Tsukamoto
(-) Itadaki 1st Round Match (C): Manabu Hara vs. Takato Nakano
(-) Itadaki 1st Round Match (D): Trans Am ★ Hiroshi vs. Akiyori Takizawa
(-) Itadaki 1st Round Match (E): Isami Kodaka vs. Ryuichi Sekine
(-) Itadaki 1st Round Match (F): Ryota Nakatsu vs. Minoru Fujita
(-) Itadaki 1st Round Match (G): Goma Ryu vs. Fuminori Abe
(-) Itadaki 1st Round Match (H): Yasu Urano vs. SAGAT