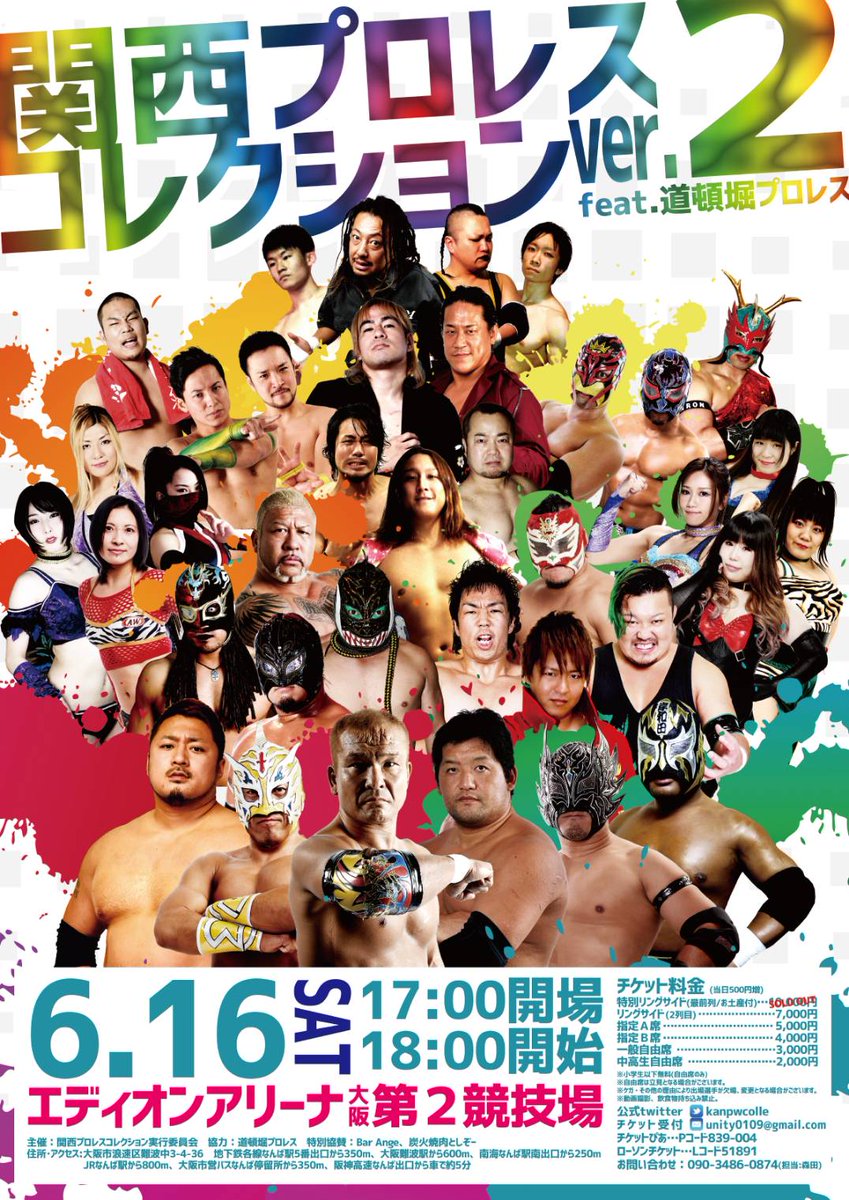 Kansai Pro-Wrestling Collection Ver.2, 6/16/2018 [Sat] 18:00 @ EDION Arena Osaka, 2nd Stadium
(1) Fuminori Abe (BASARA) vs. Kinryu (Doutonbori)
◆Winner: Abe (5:05) with the O'Manjigatame.
(2) Ice Ribbon Offer Match: Maya Yukihi & Tequila Saya vs. Mochi Miyagi & Tsukushi
◆Winner: Miyagi () with the Metabolic Sand on Saya.
(3) 3WAY Match: Jiro "Ikemen" Kuroshio (W-1) vs. Shoichi Uchida (DOVE) vs. Osamu Suganuma (Doutonbori)
◆Winner: Kuroshio (6:40) with the Ikemen Sault on Suganuma.
(4) DOVE Offer Match: Gunso & Kabuki Kid vs. Yuki Aoki & Kohei Kinoshita
◆Winner: Gunso (10:24) following a Diving Guillotine Drop on Kinoshita.
(5) Joshi Match: Rina Yamashita, Makoto & Mari vs. Hibiscus Mii, Maika Ozaki & Totoro-chan
◆Winner: Yamashita (8:22) with a Splash Mountain on Mii.
(6) 3WAY Tag Match: Ultimate Spider Jr. & Takoyakida (both Osaka Pro) vs. Yuko Miyamoto (666) & Isami Kodaka (BASARA) vs. Tsutomu Oosugi & Hercules Senga (both FREE)
◆Winner: Takoyakida (12:10) via pin-fall on Senga.
(7) Resurrection JOKER 8 Man Tag Match: Kuuga, The Bodyguard (FREE), Masamune (FREE) & Gameras vs. TORU, Kazuaki Mihara, Katsumi Oribe & Shuri Joe (Ryukyu Dragon)
◆Winner: Kuuga (19:52) following the Tower Stamp on Oribe.
(8) Special 6 Man Tag Match: Masato Tanaka (ZERO1), Billyken Kid (FREE) & Yuji Hino (FREE) vs. Magnitude Kishiwada, Shuji Ishikawa & Tsubasa (all FREE)
◆Winner: Tsubasa (15:05) with a Cross-Arm Suplex Hold on Billyken.