Pro-Wrestling ZERO1 "KAMIKAZE Hometown Show", 6/30/2018 [Sat] 17:00 @ Ashikaga Shimin Plaza Small Hall in Tochigi
(1) Tsugataka Sato (W-1) vs. Harley Jackson
◆Winner: Hartley (9:49) with a Diving Elbow Drop.
(2) Yoshikazu Yokoyama vs. Black Tiger V
◆Winner: Yokoyama (11:02) with a High School Boy.
(3) Towa Iwasaki vs. Chris Vice
◆Winner: Vice (8:51) following a Package Piledriver.
(4) Ikuto Hidaka & Takuya Sugawara vs. SUGI & Shoki Kitamura
◆Winner: Hidaka (8:59) with the Shawn Capture on Kitamura.
(5) Shinjiro Otani, Kohei Sato & Shogun Okamoto vs. Masato Tanaka, KAMIKAZE & TARU
◆Winner: Otani (17:28) following a Kasegiri Chop on KAMIKAZE.
~ After the match, Otani and KAMIKAZE shook hands.
~ KAMIKAZE will now move on competing as a freelance wrestler.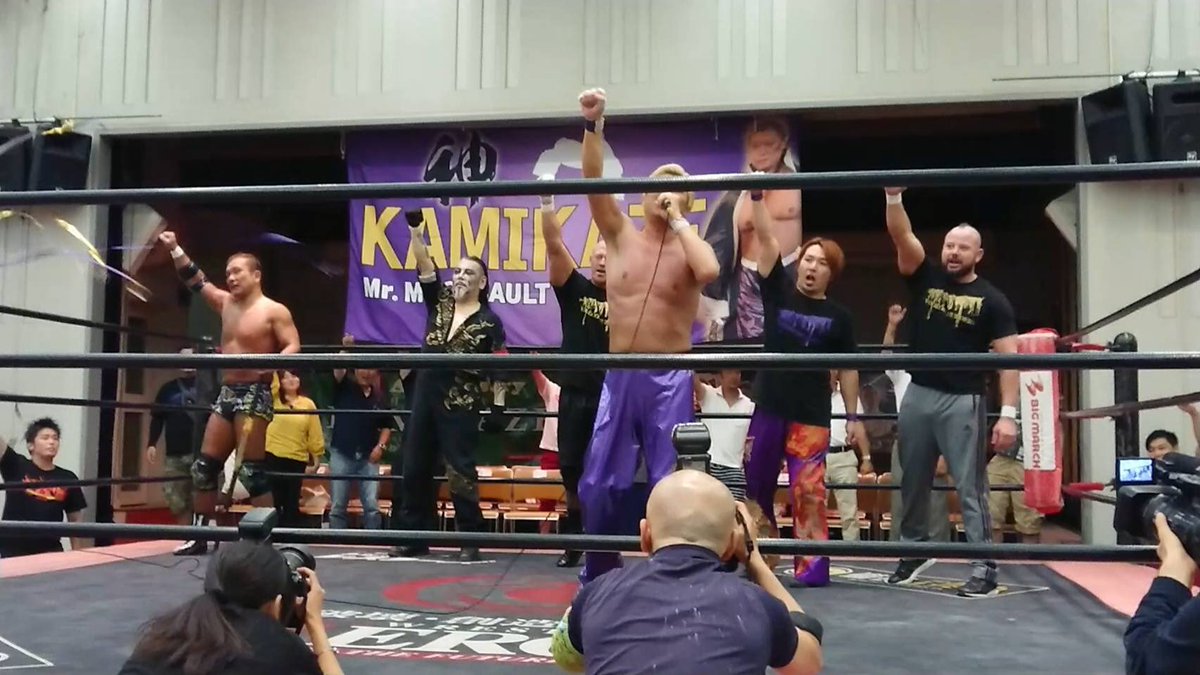 http://puroresuspirit.net/tag/zero1/
Upcoming…
"Mid-Summer Fire Festival 2018"
A BLOCK
☆ Masato Tanaka [current World Heavy/IC Tag Champion]
☆ Yuko Miyamoto (Dark Promotion 666) [Bakuha-o Champion]
☆ Takuya Sugawara
☆ Jiro "Ikemen" Kuroshio (WRESTLE-1)
☆ Shogun Okamoto (FREE) [current UN Heavy Champion]
☆ Towa Iwasaki
☆ Chris Vice
B BLOCK
☆ Kohei Sato
☆ Yuji Hino (FREE)  [current IC Tag Champion]
☆ Shinjiro Otani
☆ Super Tiger (RJPW)
☆ SUGI
☆ Hartley Jackson
☆ Hiroshi Yamato (FREE)
ZERO1, 7/8/2018 [Sun] 12:00 

@

Shinkiba 1stRING in Tokyo
() Fire Festival A BLOCK Match: Masato Tanaka vs. Jiro "Ikemen" Kuroshio
() Fire Festival A BLOCK Match: Yuko Miyamoto vs. Towa Iwasaki
() Fire Festival A BLOCK Match: Takuya Sugawara vs. Chris Vice
() Fire Festival B BLOCK Match: Kohei Sato vs. Hartley Jackson
() Fire Festival B BLOCK Match: Shinjiro Otani vs. SUGI
ZERO1, 7/10/2018 [Mon] 18:30 @ Nagoya City Tsuyuhashi Sports Center in Aichi
() Fire Festival A BLOCK Match: Masato Tanaka vs. Towa Iwasaki
() Fire Festival A BLOCK Match: Yuko Miyamoto vs. Takuya Sugawara
() Fire Festival A BLOCK Match: Shogun Okamoto vs. Chris Vice
() Fire Festival B BLOCK Match: Yuji Hino vs. Shinjiro Otani
() Fire Festival B BLOCK Match: Super Tiger vs. Hartley Jackson
() Fire Festival B BLOCK Match: SUGI vs. Hiroshi Yamato
ZERO1, 7/13/2018 [Fri] 18:30 @ Miyagino Ward Cultural Center, Patna Theater
() Fire Festival A BLOCK Match: Jiro "Ikemen" Kuroshio vs. Towa Iwasaki
() Fire Festival A BLOCK Match: Takuya Sugawara vs. Shogun Okamoto
() Fire Festival B BLOCK Match: Kohei Sato vs. Hiroshi Yamato
() Fire Festival B BLOCK Match: Yuji Hino vs. Super Tiger
() Fire Festival B BLOCK Match: SUGI vs. Hartley Jackson
ZERO1, 7/14/2018 [Sat] 13:30 @ Aomori Hamanasu Kaikan
() Fire Festival A BLOCK Match: Masato Tanaka vs. Shogun Okamoto
() Fire Festival A BLOCK Match: Yuko Miyamoto vs. Chris Vice
() Fire Festival A BLOCK Match: Takuya Sugawara vs. Jiro "Ikemen" Kuroshio
() Fire Festival B BLOCK Match: Kohei Sato vs. Super Tiger
() Fire Festival B BLOCK Match: Yuji Hino vs. Hiroshi Yamato
ZERO1, 7/15/2018 [Sun] 13:30 @ Aomori Hamanasu Kaikan
() Fire Festival A BLOCK Match: Masato Tanaka vs. Yuko Miyamoto
() Fire Festival A BLOCK Match: Takuya Sugawara vs. Towa Iwasaki
() Fire Festival B BLOCK Match: Yuji Hino vs. Hartley Jackson
() Fire Festival B BLOCK Match: Shinjiro Otani vs. Super Tiger
ZERO1, 7/16/2018 [Mon] 13:30 @ Hirosaki City Kasai Taiiku Senter
() Fire Festival A BLOCK Match: Yuko Miyamoto vs. Jiro "Ikemen" Kuroshio
() Fire Festival A BLOCK Match: Shogun Okamoto vs. Towa Iwasaki
() Fire Festival B BLOCK Match: Kohei Sato vs. SUGI
() Fire Festival B BLOCK Match: Shinjiro Otani vs. Hartley Jackson
ZERO1, 7/22/2018 [Sun] 17:00 @ EDION Arena Osaka, 2nd Statium
() Fire Festival A BLOCK Match: Masato Tanaka vs. Takuya Sugawara
() Fire Festival A BLOCK Match: Towa Iwasaki vs. Chris Vice
() Fire Festival B BLOCK Match: Kohei Sato vs. Yuji Hino
() Fire Festival B BLOCK Match: Shinjiro Otani vs. Hiroshi Yamato
() Fire Festival B BLOCK Match: Super Tiger vs. SUGI
ZERO1, 7/25/2018 [Wed] 19:00 @ Bandai City Park Outdoor Ring in Niigata
() Fire Festival A BLOCK Match: Masato Tanaka vs. Chris Vice
() Fire Festival A BLOCK Match: Jiro "Ikemen" Kuroshio vs. Shogun Okamoto
() Fire Festival B BLOCK Match: Kohei Sato vs. Shinjiro Otani
() Fire Festival B BLOCK Match: Yuji Hino vs. SUGI
() Fire Festival B BLOCK Match: Super Tiger vs. Hiroshi Yamato
ZERO1, 7/27/2018 [Fri] @ Shiba
() Fire Festival A BLOCK Match: Jiro "Ikemen" Kuroshio vs. Chris Vice
() Fire Festival A BLOCK Match: Yuko Miyamoto vs. Shogun Okamoto
() Fire Festival B BLOCK Match: Hartley Jackson vs. Hiroshi Yamato
ZERO1, 7/29/2018 [Sun] @ Korakuen Hall in Tokyo
() Fire Festival Final Match: A BLOCK #1 vs. B BLOCK #2