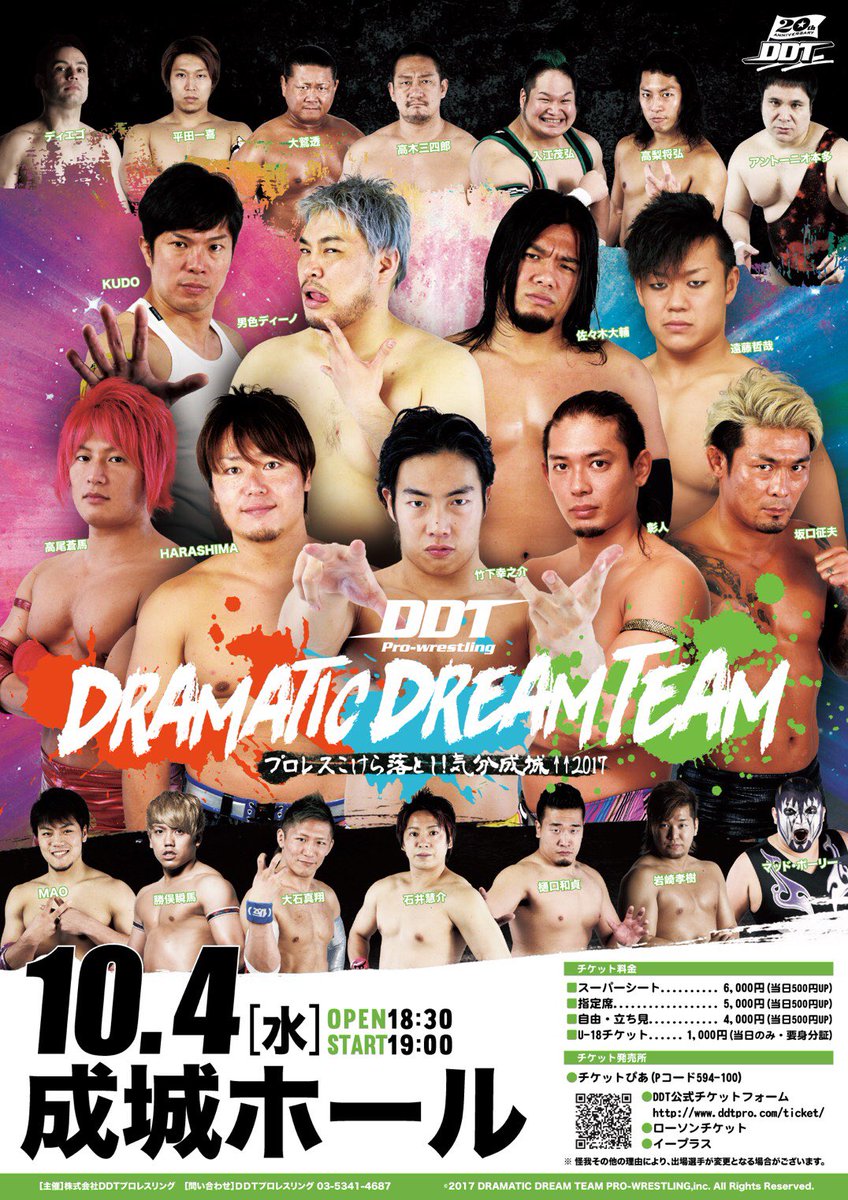 DDT "Pro-Wrestling Kokeraotoshi! Kibun Seijo" 10/4/2017 [Wed] 19:00 @ Seijo Hall in Tokyo
(1) Yukio Sakaguchi vs. Mizuki Watase
♦Winner: Sakaguchi (8:00) via referee stop, with a Modifed Cobra Clutch.
(2) 4WAY Tag Match: Tetsuya Endo & Mad Paulie vs. Soma Takao & Saki Akai vs. Antonio Honda & Nobuhiro Shimatani vs. Kazusada Higuchi & Diego
♦Winner: Endo (8:02) with a Swing style Torture Rack Bomb on Shimatani.
(3) HARASHIMA & Kouki Iwasaki vs. KUDO & Masahiro Takanashi
♦Winner: Takanashi (10:51) following the Bacchus on Iwasaki.
(4) T2hee vs NωA Showdown ~ Final Battle: Sanshiro Takagi, Toru Owashi & Kazuki Hirata vs. Makoto Oishi, Shunma Katsumata & MAO w/ Kayako Takagi
♦Winner: Oishi (8:23) following a Moonsault Press from Kayako on Hirata.
(5) Independent World Junior Heavyweight Championship Match: [Champion] Daisuke Sasaki vs. [Challenger] Shuichiro Katsumura
♦Winner: Daisuke (14:59) with a Cross Face Lock.
~ 1st successful title defense.
(6) Konosuke Takeshita & Akito vs. Danshoku Dieno & Keisuke Ishii
♦Winner: Dieno (12:40) with the Gaydo Clutch on Takeshita.
http://puroresuspirit.net/tag/ddt/
Upcoming…
DDT "Wrestle Oyama Hyojo 2017", 10/7/2017 [Sat] 17:00 @ Oyama City Cultural Center in Tochigi
() Keisuke Ishii & Kazusada Higuchi vs. Toru Owashi & Kazuki Hirata
() Oyama NωA Festa! 1st Single Match: Makoto Oishi vs. Masahiro Takanashi
() Oyama NωA Festa! 2nd Single Match: Shunma Katsumata vs. Daiki Shimomura
() Oyama NωA Festa! 3rd Single Match: MAO vs. Danshoku Dieno
() Daisuke Sasaki, Tetsuya Endo & Mad Paulie vs. HARASHIMA, Soma Takao & Antonio Honda
() Konosuke Takeshita, Akito & Diego vs. KUDO, Yukio Sakaguchi & Kouki Iwasaki
DDT "What About Sunday 2017", 10/8/2017 [Sun] 18:30 @ Sapporo Susukino Mars Gym in Hokkaido
() Soma Takao & Nobuhiro Shimatani vs. Keisuke Ishii & Noriyuki Yoshida
() Sanshiro Takagi, Toru Owashi & Kazuki Hirata vs. Akito, Diego & Saki Akai
() Yukio Sakaguchi & Masahiro Takanashi vs. Tomoya & Antonio Honda
() DAMNATION vs NωA!: Daisuke Sasaki, Tetsuya Endo & Mad Paulie vs. Makoto Oishi, Shunma Katsumata & MAO
() Fierce Fight! Eastern Single Showdown: Kazusada Higuchi (Monbetsu) vs. Kouki Iwasaki (Nemuro)
() Sapporo Special 4WAY Match: Konosuke Takeshita vs. Danshoku Dieno vs. HARASHIMA vs. KUDO
DDT "What About Monday 2017", 10/9/2017 [Mon] 14:00 @ Susukino Mars Gym in Hokkaido
() Yukio Sakaguchi vs. Nobuhiro Shimatani
() Sanshiro Takagi, Toru Owashi & Kazuki Hirata vs. Soma Takao, Tomoya & Noriyuki Yoshida
() Mad Paulie vs. Shunma Katsumata
() Daisuke Sasaki & Tetsuya Endo vs. Kazusada Higuchi & MAO
() 3WAY Match: Makoto Oishi vs. Antonio Honda & Saki Akai
() Sapporo Special 6 Man Tag Match: Konosuke Takeshita, Akito & Diego vs. Danshoku Dieno, Keisuke Ishii & Kouki Iwasaki
() KO-D Tag Championship Match: [Champions] HARASHIMA & Naomichi Marufuji vs. [Challengers] KUDO & Masahiro Takanashi