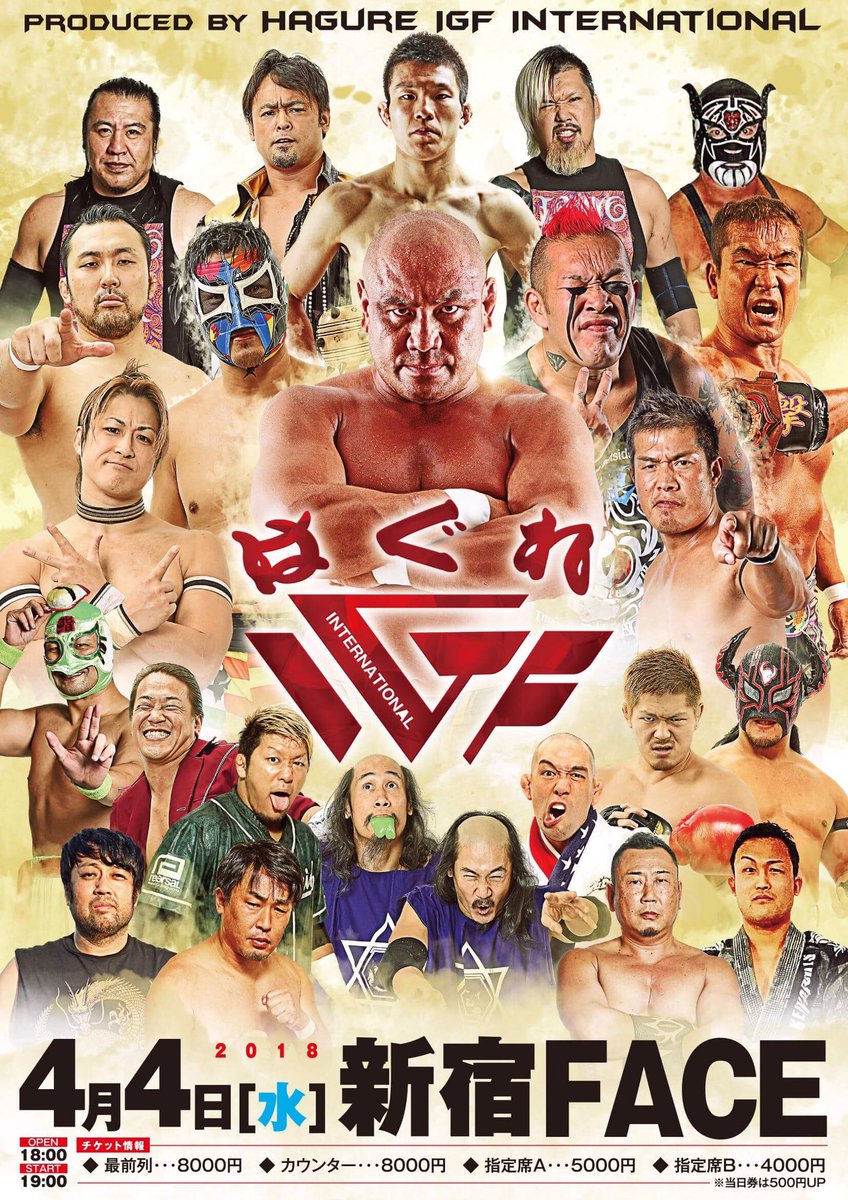 "Hagure IGF International Hataage-sen", 4/4/2018 [Wed] 19:00 @ Shinjuku FACE in Tokyo
500 Spectators (crowded)
(1) Vaccine Fight Offer Match: Takuya Kai & SUSHI (FREE) vs. Takatoshi Matsumoto (ALPHA) & Buffalo (Makai)
◆Winner: SUSHI (11:45) with the Katsuo no Ipponzuri on Matsumoto.
(2) Special Tag Match: Hideki Suzuki & Keisuke Okuda (both FREE) vs. Brahman Shu & Brahman Kei (both FREE)
◆Winner: DRAW (3:54) double ring out.
~ Rematch
◆Winner: DRAW (3:15) double ring out.
~ Rematch
◆Winner: DRAW (2:45) via TKO on Hideki and Shu.
~ After the match, Hideki agreed to an alliance with the Brahman Brothers, Hagure Brahman.
(3) lucha libre classico: MAZADA vs. Arkangel de la Muerte
◆Winner: MAZADA (13:05) with a La Magistral.
(4) Special 6 Man Tag Match: FUJITA, Yuko Miyamoto (666) & Masashi Takeda (FREE) vs. Kaz Hayashi (W-1), BxB Hulk (DG) & Shinya Aoki (FREE)
◆Winner: Hayashi (16:45) following a Final Cut on FUJITA.
(5) Tokyo World Heavyweight Championship Match: [5th Champion] Masaaki Mochizuki (DG) vs. [Challenger] Rocky Kawamura (PancraseISM)
◆Winner: Mochizuki (12:21) with a Cross Armbar.
~ 5th successful title defense.
~ After the match, Hayashi made the challenge.
(6) Main Event Street Fight Death Match: Kazuyuki Fujita (FREE), Kendo Kashin (FREE) & NOSAWA Rongai vs. Masato Tanaka (ZERO1), Tetsuhiro Kuroda (FREE) & Hideki Hosaka (FREE)
◆Winner: Kashin (13:05) with a Hanging style Armbar on Kuroda.
~ Ganbare's Ken Ohka and Gota Ihashi came out to challenge the Hagure trio as they invited them to come to the show on May 1 at the Shinkiba 1stRING. Though the two ended up on the wrong end on assault as they were then drenched in beer and soap was jammed into their mouths.
http://puroresuspirit.net/tag/tokyo-gurentai/