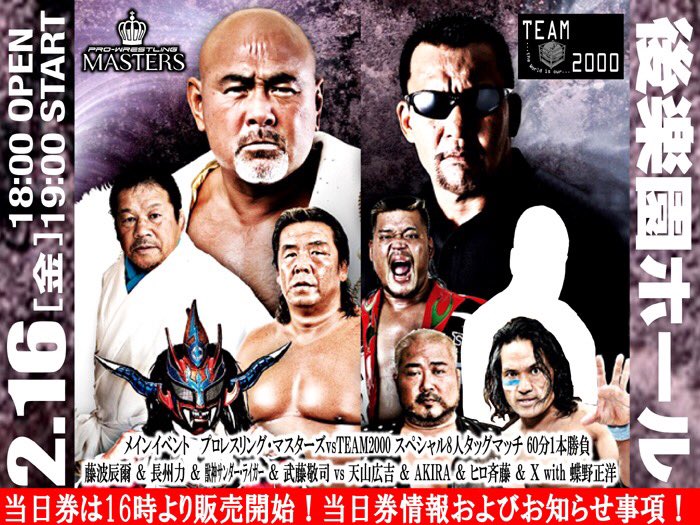 PRO-WRESTLING MASTERS, 2/16/2018 [Fri] 19:00 @ Korakuen Hall in Tokyo
1,639 Spectators (Overcrowded/sold out)

(1) FIRST MASTERS Special Single Match: Takuma Sano vs. Hisakatsu Oya
◆Winner: DRAW (15:00) Time Expired.


(2) MASTER of THE MASKMAN: Ultra Seven & Shiryu vs. Black Tiger V & Black Tiger VII
◆Winner: Seven (10:55) with a Reverse Splash on BT V.


(3) Fujiwara-gumi vs FMW MASTERS 6 Man Tag Match: Yoshiaki Fujiwara, Yoshiki Takahashi & Takaku Fuke vs. Ricky Fuji, Tetsuhiro Kuroda & Hidei Hosaka
◆Winner: Fujiwara (14:45) with a Wakigatame on Kuroda.


(4) Heisei Ishingun vs AJP MASTERS Special 6 Man Tag Match: Shiro Koshinaka, Masashi Aoyagi & Akitoshi Saito vs. Great Kojika, Tiger Toguchi & Mitsuo Momota
◆Winner: Kojika (10:49) with a Kubigatame (Small Package) on Aoyagi.
~ A mysterious masked man appeared and assaulted the both teams, but during the mess it eventually allowed Kojika to follow up with the win for his team.
(5) Main Event Pro-Wrestling Masters vs TEAM 2000 Special 8 Man Tag Match: Tatsumi Fujinami, Riki Choshu, Jushin Thunder Liger & Keiji Mutoh vs. Hiroyoshi Tenzan, Hiro Saito, AKIRA & X = Super J w/ Masahiro Chono
◆Winner: Tenzan (15:10) with an Anaconda Vice on Liger.
~ With Satoshi Kojima unable to compete, Chono introduced Super J as his teams replacement, as he competed as nWo Sting.
~ Chono got physically involved in the match by attacking the guys when the were outside of the ring and even landing a Kenka Kick on Liger near the end.
~ Chono and Mutoh even exchanged blows, with Chono eating a Shining Wizard after landing a kick on Mutoh.
~ Chono stood in the ring with TEAM 2000 claiming their dominance over Mutoh's team. Mutoh stood outside the ring with a chair as he called out Chono.
~ Chono remains adamant that he is not ready to compete again, but his actions tell otherwise as Mutoh stated that he wants his revenge.
~ During the backstage interview Mutoh stated that the next MASTERS show that he wants Chono in the ring.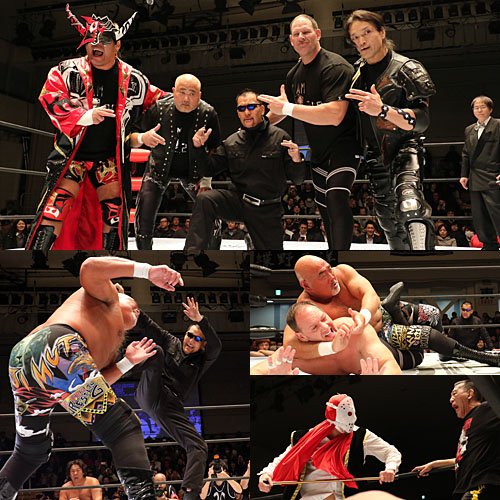 http://puroresuspirit.net/tag/masters
Upcoming W-1 shows…
WRESTLE-1 TOUR 2018 IMPACT, 2/18/2018 [Sun] 17:30 @ Shimizu Marine Building in Shizuoka
(-) WRESTLE-1 CRUISER FES 2018 Semi-final: Alejandro vs. Ryuji Hijikata
(-) WRESTLE-1 CRUISER FES 2018 Semi-final: Andy Wu vs. MAZADA
Pro-Wrestling ACE -Vol.10, 3/4/2018 [Sun] 16:30 @ GEN Sports Palace in Tokyo
() Bola de Arozz vs. Masamune (FREE)
() Hajime vs. Koju Takeda (666)
() Ganseki Tanaka & Daisuke Kanehira (HEAT-UP) vs. Akiyori Takizawa & Shunsuke Sayama (both ASUKA)
http://puroresuspirit.net/tag/ace/
WRESTLE-1 TOUR 2018 TRANS MAGIC, 3/14/2018 [Wed] 19:00 @ Korakuen Hall in Tokyo
() Hiroshi Yamato's Return Match:
() WRESTLE-1 CRUISER FES 2018 Final Match:
() WRESTLE-1 Championship Match: [11th Champion] Shotaro Ashino vs. [Challenger] Manabu Soya
~ 8th title defense.