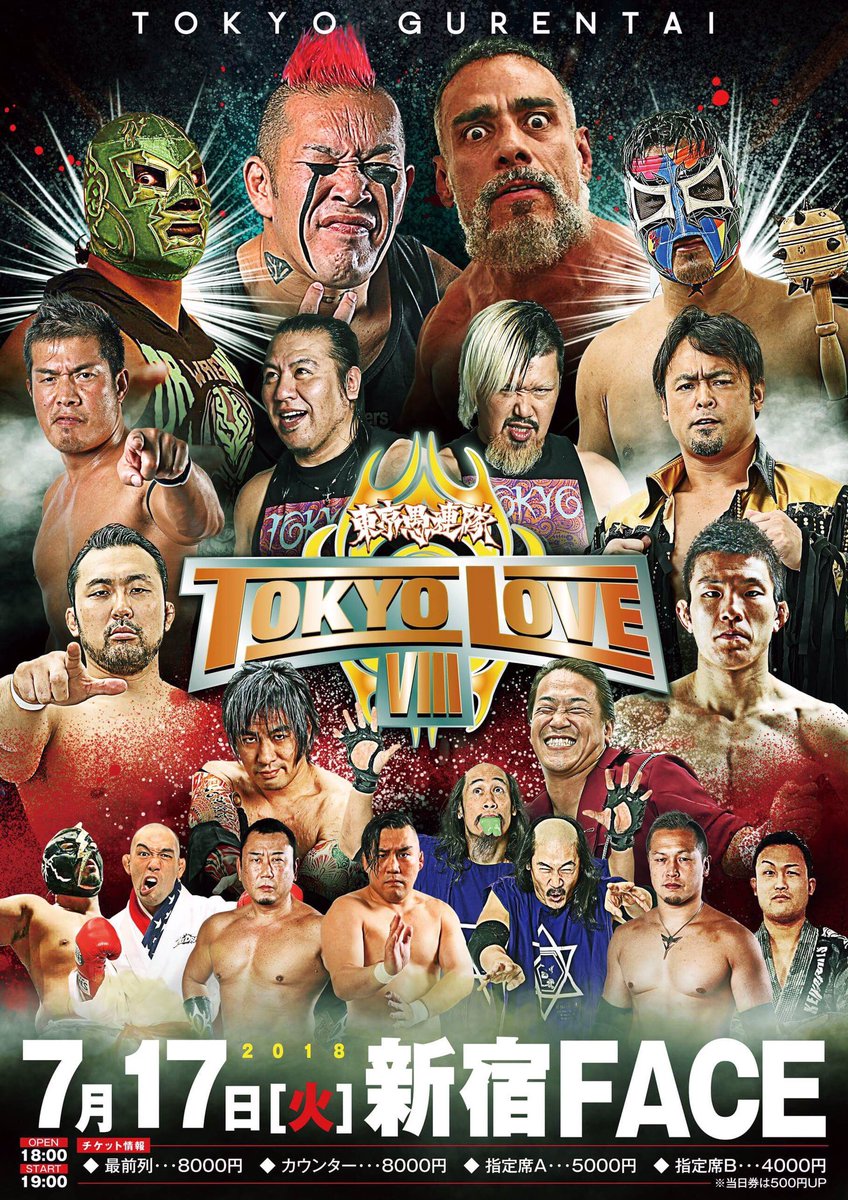 Tokyo Gurentai "Tokyo LOVE VIII", 7/17/2018 [Tue] 19:00 @ Shinjuku FACE in Tokyo
550 Spectators (overcrowded)
(1) Kotaro Suzuki (FREE) vs. KAMINARI
◆Winner: Kotaro (9:07) following the Endless Waltz.
(2) Hikaru Sato, Hidetaka Monma & Takuya Kai vs. Koju Takeda, Rocky Kawamura & Takatoshi Matsumoto
◆Winner: Monma (15:49) with a Nelson Clutch on Matsumoto.
(3) Handicap Rules Tag Match: Hideki Suzuki & Shinya Aoki vs. Brahman Shu & Kei Brahman
◆Winner: Hideki (9:15) following a Double Arm Suplex on Kei.
(4) Tokyo Intercontinental Tag Championship Match: [7th Champions] MAZADA & FUJITA vs. [Challengers] Yuko Miyamoto (666) & Isami Kodaka (BASARA)
◆Winner: Miyamoto (15:47) following a Fire Thunder on MAZADA.
~ Champoions fall on their 1st title defense. Miyamoto & Kodaka become the 8th champions.
(5) Tokyo World Heavyweight Championship Match: [5th Champion] Masaaki Mochizuki (DG) vs. [Challenger] Kaz Hayashi (W-1)
◆Winner: Hayashi (13:23) via pin-fall.
~ Champion falls on his 6th title defense. Hayashi becomes the 6th champion.
~ Mochizuki relinquishes his reign after being champion for over 2 and a half years. Respect was shown between the two.
(6) Special Tag Match: Rey Wagner & Kendo Kashin vs. NOSAWA Rongai & El Hijo de Dr. Wagner Jr.
◆Winner: Rey Wagner (17:28) with the Wagner Driver on NOSAWA.
~ NOSAWA stated that he wants a hair vs hair match against Wagner next year, potentially in March.
~ The next show will be on September 26th at the Shinjuku FACE. As former WWE wrestler X-PAC was announced for the show. He will team with NOSAWA Rongai, MAZADA & FUJITA to take on the KAIENTAI DX team of MEN'S Teioh, TAKA Michinoku, Shiryu & Dick Togo.
http://puroresuspirit.net/tag/tokyo-gurentai/
TOYKO GURENTAI "TOKYO CARNIVAL 2018", 9/26/2018 [Wed] @ Shinjuku FACE in Tokyo
(-) TOP OF THE DX ~ TOKYO DX vs KAIENTAI DX: X-PAC, NOSAWA Rongai, MAZADA & FUJITA vs. Dick Togo, Shiryu, TAKA Michinoku & MEN'S Teioh