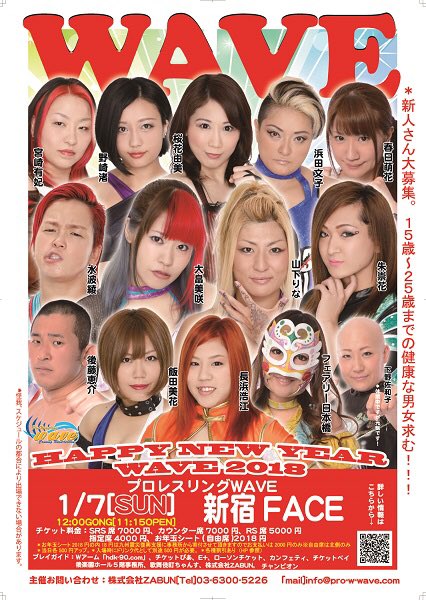 Pro Wrestling WAVE "Happy New Year WAVE 2018" 1/7/18 [Sun] 12:00 @ Shinjuku FACE in Tokyo
486 spectators
(1) ASUKA, SAKI & Nagisa Nozaki vs Moeka Haruhi, Fairy Nipponbashi & Hiroe Nagahama
♦Winner: Nagahama (12:42) with the Hiro Special on Nozaki
(2) Masayuki Mitomi vs Keisuke Goto
♦Winner: Mitomi (7:19) via referee stop, with a Sleeper Hold
(3) Yuki Miyazaki vs Kyusei Sakura Hirota
♦Winner: No Contest
~ Miyazaki and Hirota brawled into the crowd until they ended up in an elevator. Their accidental exit prompted the referee to begin the next match.
(4) Hardcore Tag Match: Ryo Mizunami & Rina Yamashita vs Nanae Takahashi & Yoshiko
♦Winner: DRAW (9:28); referee stop
~ Nanae Takahashi attempted a Reizouko Bakudan from the top of a ladder, but landed on the side of her head and was immediately knocked unconscious. The match was stopped and Takahashi was stretched away. Updates released since then seem to indicate she eventually regained consciousness, and there are no broken bones or nerve damage, though she was still experiencing some numbness.
(5) HAPPY BIRTHDAY WAVE: Misaki Ohata vs Ayako Hamada
♦Winner: Hamada (12:19) with the AP Cross
~ Misaki Ohata turned 28 on January 5.

(6) Regina di WAVE Championship Match: [8th Champion] Yumi Ohka vs [Challenger] Mika Iida
♦Winner: Ohka (14:59) with the Big Boot
~ 1st successful defense
() Yuki Miyazaki vs Kyusei Sakura Hirota
♦Winner: Miyazaki (1:39:52) with a Moonsault Press
~ After their brawl took them into an elevator earlier in the show, Miyazaki and Hirota wound up back in the ring after the main event, where Miyazaki finally picked up the win and brought the match to an official end.

~ Ohka announced a battle royal will be held on 1/13 to determine the next challenger. A non-title singles match between Ohka and Miki Tanaka was also announced for that show.