"Guts World vol.89 WINNING GUTS 2015", 9/29/2015 [Tue] 19:00 @ Shinkiba 1stRING in Tokyo
(1) TECHNICAL WAR: Taro Yamada vs. Micro
◆Winner: Yamada (7:33) with a Blockbuster Hold.
(2) Young Power vs Tonpachi Machine Guns: Ryoya Akiba, Joji Otani & Shin Suzuki vs. Masao Orihara, Masked Mystery & Ryan Upin
◆Winner: Mystery (13:03) following a Chokeslam on Joji.
(3) BATTLE ARRIVAL: Drake Morimatsu vs. Kenichiro Arai
◆Winner: Arai (8:30) with a Backslide with his feet on the ropes.
(4) FIRE ROAD: Tatsuhiko Yoshino vs. Amigo Suzuki
◆Winner: Yoshino (12:56) with the Athlete German Suplex Hold.
~ Yoshino with a strong win over Amigo as he made it known that he wants another chance at that GWC singles belt. He made a bid for the challenge to take place in December for the 11th anniversary show.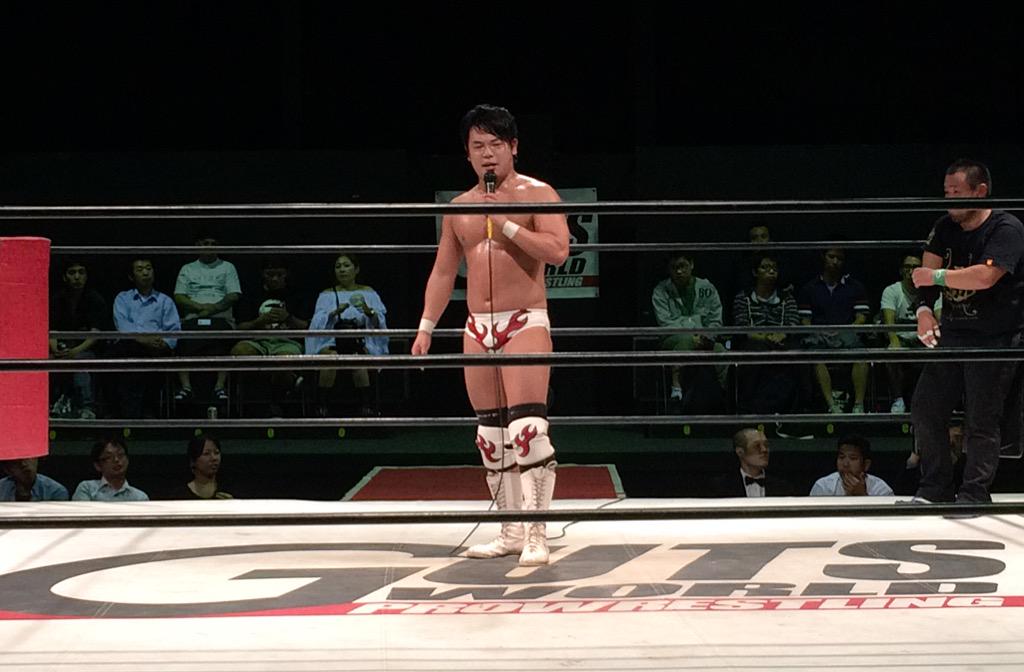 (5) Kishin Akuma-do vs IWA Army 2 vs 3 Handicap Match: Mr. Gannosuke & Guts Ishijima vs. Keizo Matsuda, YUJI KITO & Ishinriki
◆Winner: DRAW (12:28) via double ring out.
~ Matsuda stated that Crusher Takahashi, I.W.A. Japan, will be coming.
(6) GWC Single Championship Match: [9th Champion] Daisuke vs. [Challenger] Shota
◆Winner: Daisuke (29:31) following a Sliding D.
~ 3rd successful title defense.
~ Masked Mystery made the challenge. The title defense has been set for 10/22 in Shinkiba.