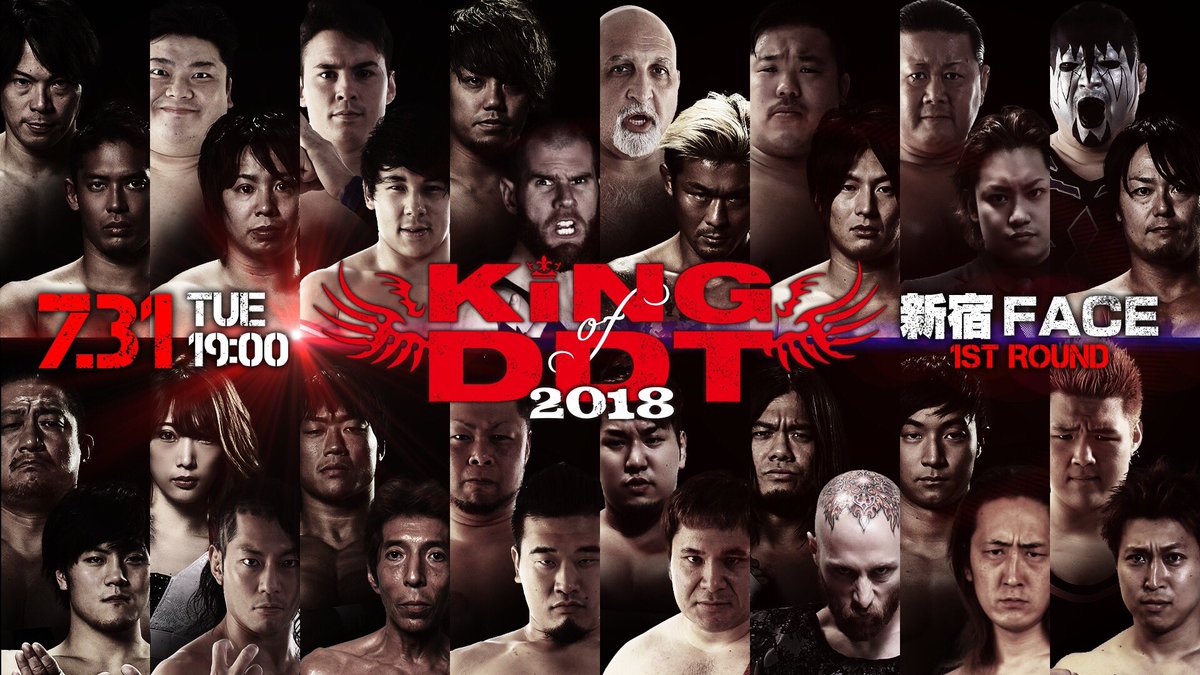 DDT "KING OF DDT 2018 1st ROUND", 7/31/2018 [Tue] 19:00 @ Shinjuku FACE in Tokyo
400 Spectators
(1) KUDO vs. Akito
◆Winner: Akito (7:24) via pin-fall.
(2) Gota Ihashi vs. Keisuke Ishii
◆Winner: Keisuke (4:05) following a Kneel Kick.
(3) Mike Bailey vs. Nobuhiro Shimatani
◆Winner: Bailey (5:52) following a High Kick.
(4) Shunma Katsumata vs. Alex Ace
◆Winner: Katsumata (7:21) with a Quesadora.
(5) Hoshitanto vs. Yukio Sakaguchi
◆Winner: Sakaguchi (3:10) via Referee Stop, with a Sleeper Hold.
(6) Yuki Iino vs. Soma Takao
◆Winner: Takao (4:36) with a La Magistral.
(7) Toru Owashi vs. Mizuki Watase
◆Winner: Owashi (6:52) with a Diving Body Press.
(8) Mad Paulie vs. HARASHIMA
◆Winner: HARASHIMA (11:20) following the Somato.
(9) Sanshiro Takagi vs. MAO
◆Winner: MAO (14:53) with a Momo☆Latch.
(10) Saki Akai vs. Masahiro Takanashi
◆Winner: Takanashi (7:30) with a Jujigatame.
(11) Tetsuya Endo vs. Gorgeous Matsuno
◆Winner: Endo (8:20) with a Yurikamome.
(12) Tomomitsu Matsunaga vs. Kazusada Higuchi
◆Winner: Higuchi (9:11) with a Doctor Bomb.
(13) Kouki Iwasaki vs. Antonio Honda
◆Winner: Honda (6:23) via pin-fall.
(14) Daisuke Sasaki vs. Jason "The Gift" Kincaid
◆Winner: Daisuke (10:47) with a Crossface.
(15) Yuki Ueno vs. Tanomusaku Toba
◆Winner: Toba (6:30) via TKO, following a Backhand Blow.
(16) Naomi Yoshimura vs. Kazuki Hirata
◆Winner: Hirata (8:59) with a Powerbomb attempt to counter Small Package Hold.
http://puroresuspirit.net/tag/ddt/
Upcoming…
DDT "Tatakau Beer Garden 2018 ~ ALL OUT DAY", 8/3/2018 [Fri] 19:00 @ Shinjuku FACE in Tokyo
() Dark Match ~ Trans Am Yoga Kyoshitsu:
() Matsunaga style Drunk Match: Tomomitsu Matsunaga, KUDO, Keisuke Ishii, Nobuhiro Shimatani, Yuki Ueno & Yuki Iino
() Triple Main Event: Shunma Katsumta vs. Violento Jack
() Triple Main Event: Akito vs. Isami Kodaka (BASARA)
() Triple Main Event: Konosuke Takeshita vs. Kuishinbo Kamen
DDT LIVE! MajiManji #13, 8/7/2018 @ Shinkiba 1stRING in Tokyo
(-) KO-D 6 Man Tag Championship Match: [Champions] Konosuke Takeshita, Akito & Shunma Katsumata vs. [Challengers] Kendo Kashin, NOSAWA Rongai & Keisuke Okuda
KING OF DDT 2018 2nd ROUND, 8/4/2018 [Sat] 18:00 @ Shinjuku FACE in Tokyo
() 2nd Round Match: (Winner of #1) Akito vs. (Winner #2) Keisuke Ishii
() 2nd Round Match: (Winner of #3) Mike Bailey vs. (Winner #4) Shunma Katsumata
() 2nd Round Match: (Winner of #5) Yukio Sakaguchi vs. (Winner #6) Soma Takao
() 2nd Round Match: (Winner of #7) Toru Owashi vs. (Winner #8) HARASHIMA
() 2nd Round Match: (Winner of #9) MAO vs. (Winner #10) Masahiro Takanashi
() 2nd Round Match: (Winner of #11) Tetsuya Endo vs. (Winner #12) Kazusada Higuchi
() 2nd Round Match: (Winner of #13) Antonio Honda vs. (Winner #14) Daisuke Sasaki
() 2nd Round Match: (Winner of #15) Tanomusaku Toba vs. (Winner #16) Kazuki Hirata
KING OF DDT 2018 3rd ROUND, 8/25/2018 [Sat] 12:00 @ Korakuen Hall in Tokyo
~ Matches to be announced…
KING OF DDT 2018 FINAL ROUND, 8/26/2018 [Mon] 12:00 @ Korakuen Hall in Tokyo
() Semi-final Match:
() Semi-final Match:
() KING OF DDT FINAL Match: