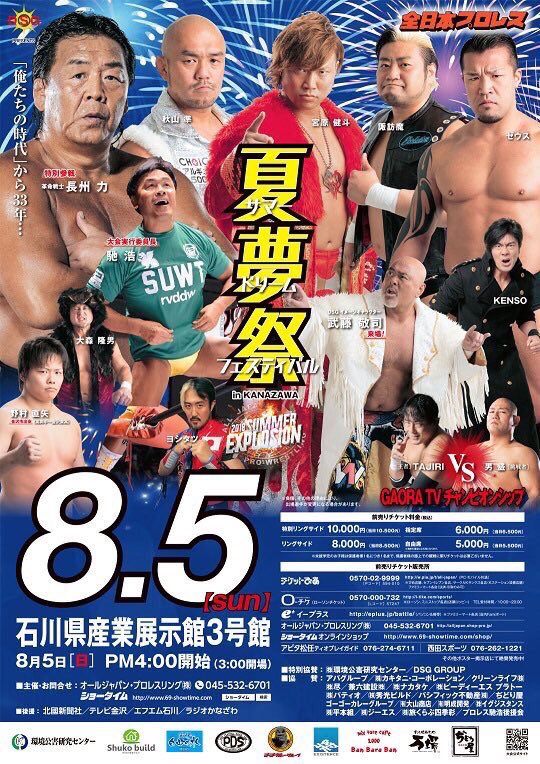 All Japan Pro-Wrestling "2018 SUMMER EXPLOSION ~ SUMMER DREAM FESTIVAL in KANAZAWA", 8/5/2018 [Sun] 16:00 @ Ishikawa Prefecture Industry Exhibition Building
1,719 Spectators (crowded)
(1) Ultimo Dragon & Gianni Valletta vs. & Mushuku no 'Sekiko' & Keiichi Sato (FREE)
◆Winner: Dragon (8:03) with a La Magistral on Keiichi.
(2) Jr. TAG League Match: Atsushi Aoki & Hikaru Sato vs. Black Menso~re & Black Tiger VII
◆Winner: Menso~re (12:26) with a Jacknife Hold on Aoki.
~ Menso~re/BT VII [1 win, 1 loss = 2 points]
~ Aoki/Hikaru [2 wins, 1 loss = 4 points]
~ Issues between Menso~re and Black Tiger appear to be forming, much the same when "Yohei Nakajima" was his partner.
(3) GAORA TV Championship Match: [16th Champion] TAJIRI vs. [Challenger] Otokozakari (FREE)
◆Winner: TAJIRI (7:46) with a Small Package Hold.
~ 1st successful title defense.
(4) Suwama, Shuji Ishikawa & Atsushi Maruyama vs. Jake Lee, Dylan James & Koji Iwamoto
◆Winner: Lee (8:35) following a Running Knee on Maruyama.
(5) Special Dream 6 Man Tag Match: Jun Akiyama, Riki Choshu (RikiPro) & Hiroshi Hase (FREE) vs. Yoshitatsu, Naoya Nomura & KAZMA SAKAMOTO (FREE)
◆Winner: Hase (15:31) with a Northern Lights Suplex Hold on KAZMA.
~ Hase, who was previously announced as just a guest for the show, ended up competing in the All Japan ring for the first time in roughly 12 years.
(6) Zeus, Takao Omori & KAI vs. Kento Miyahara, Yuma Aoyagi & KENSO (FREE)
◆Winner: Omori (20:24) following an Axe Bomber on Aoyagi.
~ Omori with the revenge win over Aoyagi following yesterday's loss.
http://puroresuspirit.net/2018/06/ajpw-event-cards-for-july-august-2018/
http://puroresuspirit.net/2018/07/ajpw-event-cards-for-september-october-2018/