AJPW NEWS

~ All Japan announced their new streaming service will be providing the Saitama show on 3/25 as well as all of the "2018 Champion Carnival" events.
~ The service will cost 900 yen ($8.49) a month and will be view-able on PC, smarthphone, and tablets.
~ Enrollment for the service will begin on March 19 and all shows provided this month will be offered free of charge. Which includes the big Saitama show on the 25th. Then April will come with the first monthly charge. Which includes the entirety of the "Champion Carnival" shows.
~ The full event cards were announced for the remainder of the "Champion Carnival" tour. April 16 through April 29, the April 30 show remains unannounced due to the setup of the finals of the league. The following shows will be shown live on AJPW TV: 4/7, 4/15, 4/20, 4/21, 4/22, 4/25, 4/29 & 4/30.
http://puroresuspirit.net/2018/02/ajpw-event-cards-for-march-april-2018/
---
DDT NEWS
~ It was announced that Miyamoto will be defending the EXTREME belt against Mike Bailey on April 1 at the Korakuen Hall.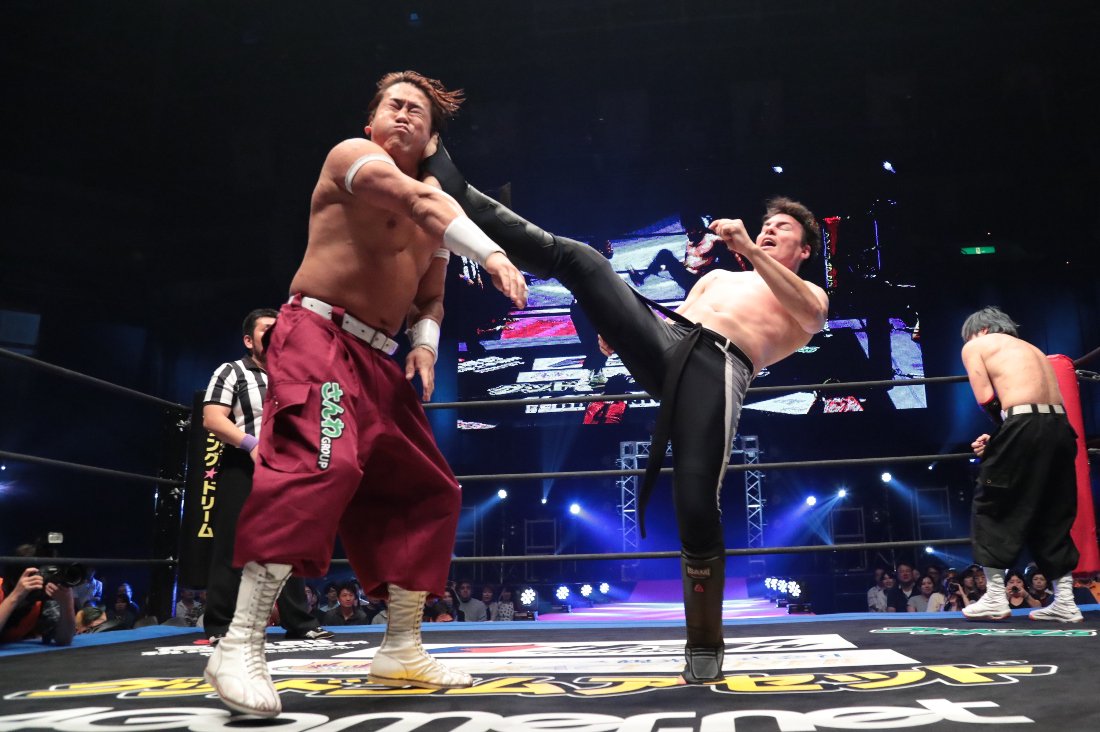 DDT "April Fool 2018", 4/1/2018 [Sun] 12:00 @ Korakuen Hall in Tokyo
() Gota Ihashi Trial Series: Gota Ihashi vs. Koji Kanemoto (FREE)
() Japan & USA Gay Wrestling Summit! 2018: Danshoku Dieno, Super Sasadango Machine & Makoto Oishi vs. Colt "Boom Boom" Cabana, Joey Ryan & Ethan Page
() Loser Exile Match: Sanshiro Takagi & Toru Owaschi vs. (to be announced)
(-) DDT EXTREME Championship Match: [40th Champion] Yuko Miyamoto vs. [Challenger] Mike Bailey
~ 2nd title defense.
http://puroresuspirit.net/tag/ddt/
---
HEAT-UP NEWS
~ Kenichiro Arai & Hide Kubota were announced to be defending the HEAT-UP Universal Tag belts against the winners of the "Powerful Tag Tournament 2018" Yoji "Dokonjo" Kondo & Daichi Kazato on May 5.
Pro-Wrestling HEAT-UP "Gotemba Kodomo Teikoku", 5/5/2018 [Sat] 12:30 @ Gotemba Shimin-Kan, Small Hall in Shizuoka
(-) HEAT-UP Universal Tag Championship Match: [Champions] Kenichiro Arai & Hide Kubota vs. [Challengers] Yoji "Dokonjo" Kondo & Daichi Kazato
~ 3rd title defense.
http://puroresuspirit.net/tag/heat-up/
---
MICHINOKU NEWS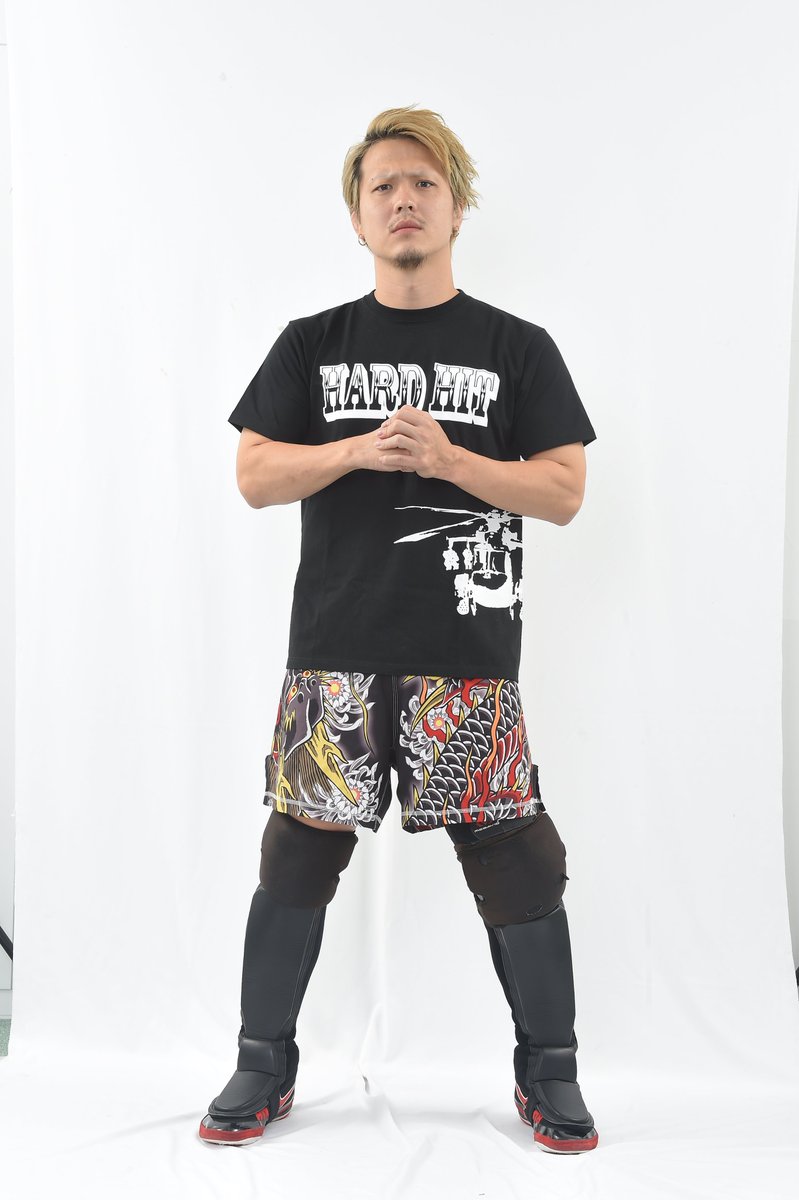 ~ An update on Fujita Jr Hayato as he just underwent a successful surgery due to repair a ligament rupture to his left knee. He will begin rehabilitation and there is currently no time frame for when he will be able to return to the ring.
http://puroresuspirit.net/tag/michipro/
---
NOAH NEWS
It was officially announced that Taiji Ishimori has become a freelance wrestler effective today, March 12.
After spending the last 12 years competing in the Pro-Wrestling NOAH ring, 10 of which as an official member of the roster, Ishimori has decided it is time for himself to step away and take a new step in his career. During his time in NOAH, Ishimori has achieved much success in being a multi-time former junior singles (3 times) and tag champion (6 times) and even capturing the record for most defenses with the singles belt at 10 in total. He even just recently held the X-Division belt in Impact Wrestling.
Ishimori mentioned that during his recent time in Impact that he was reunited with KENTA, now Hideo Itami in the WWE, and one thing that he took from their meeting is that there is still much for him to do. This has led to him wanting to take his career into his own hands and try new things. Ishimori stated that he is thankful to all the NOAH fans, staff, and wrestlers for their support throughout the years and he even wished all the best to his now former tag team partner Hi69.
Ishimori mentioned that he has received offers from an overseas promotion, but before he would accept an offer he believes there are somethings he can still accomplish while in Japan. Though his ultimate goal though is that of a "global expansion".
Masayuki Uchida stated that he thankful for all that Ishimori has done for NOAH throughout the years and contributing to the recent revival of the promotion. He is respectful of Ishimori's wishes and acknowledged that the door would be open for him to compete in the NOAH ring again, if he so desires.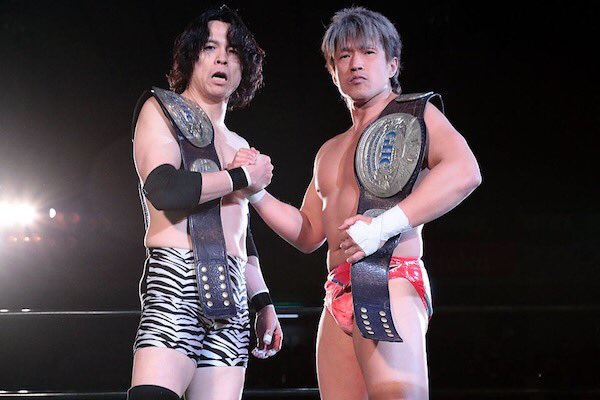 Update #1: Apparently Ogawa has made his intention known that he wants to vacate the GHC Jr. Tag belts following Ishimori's announcement. (Of course it is now on the GHC committee on where they honor this request or not.)
Ogawa stated that he is not in favor of the situation as he does not feel like he has personally earned the belt with Ishimori's intention following the loss. Ogawa said that he is sorry to his partner Minoru Tanaka for his current decision, but that he is just not in favor of holding the belt given Ishimori's now obvious prior decision to quit NOAH.
Update #2: President Masayuki Uchida announced that the GHC committee will honor Ogawa's request to return the GHC Jr. Tag belts. This follows after Minoru Tanaka also accepted Ogawa's request.
Update #3 : Then following these changes it was announced that tag tournament will be taking place on April 14 & 15 to crown the new champions. Currently no teams have been announced at this time.
---
Toshiaki Kawada Produce NEWS
Toshiaki Kawada announced that he will be hosting a self-produce show on April 26 at the Shinkiba 1stRING in Tokyo.
No matches were announced for the show at this time, but he mentioned that there will be at least 6 in total. As for some names involved he mentioned Shiro Koshinaka, Naomichi Marufuji, and Tamon Honda as a few he wishes to see compete. If there happens to be fan support for this show he would like to hold them regularly at least once every 2 months.
Kawada stated that he not be able to compete due to the injuries building over the years, but that he has stayed connected to the business through guest commentary and public events. He has visited several promotions throughout the last several years and wishes to try his hand at showing his own concept for a combined pro-wrestling event.
Toshiaki Kawada Produce Show "HOLY WAR ~ prologue ~", 4/26/2018 [Thu] 19:00 @ Shinkiba 1stRING in Tokyo
---
WRESTLE-1 NEWS
The latest W-1 TV is up which features highlights from the 3/14 show at the Korakuen Hall. Ashino vs. Soya, Mutoh's "Final Moonsault", and the finals of the CRUISER FES.
~ The full event card was announced for the March 17 show, as Shotaro Ashino will be unable to compete due to a sprained lumbar.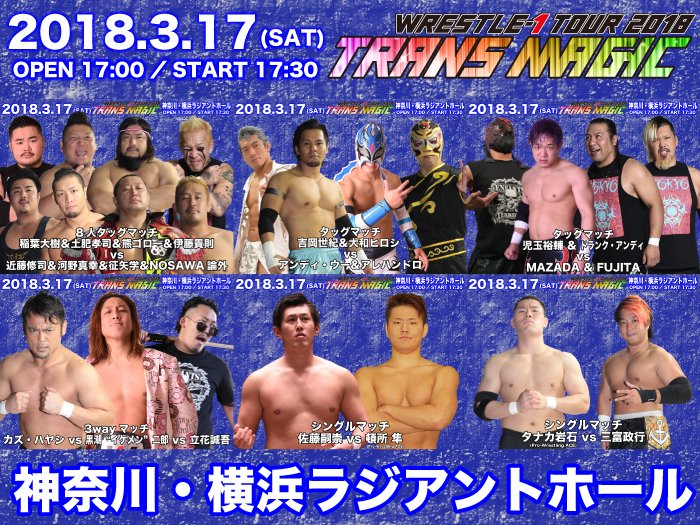 WRESTLE-1 TOUR 2018 TRANS MAGIC, 3/17/2018 [Sat] 17:30 @ Yokohama Radiant Hall in Kanagawa
(1) Ganseki Tanaka (ACE) vs. Masayuki Mitomi (EPW)
(2) Tsugataka Sato vs. Jun Tonsho (ACE)
(3) 3WAY : Kaz Hayashi vs. Jiro "Ikemen" Kuroshio vs. Seiki Yoshioka
(4) Yusuke Kodama & Drunk Andy vs. MAZADA & FUJITA (both Gurentai)
(5) Seiki Yoshioka & Hiroshi Yamato vs. Alejandro & Andy Wu
(6) Daiki Inaba, Koji doi, Kumagoro & Takanori Ito vs. Manabu Soya, Shuji Kondo, Masayuki Kono & NOSAWA Rongai (Gurentai)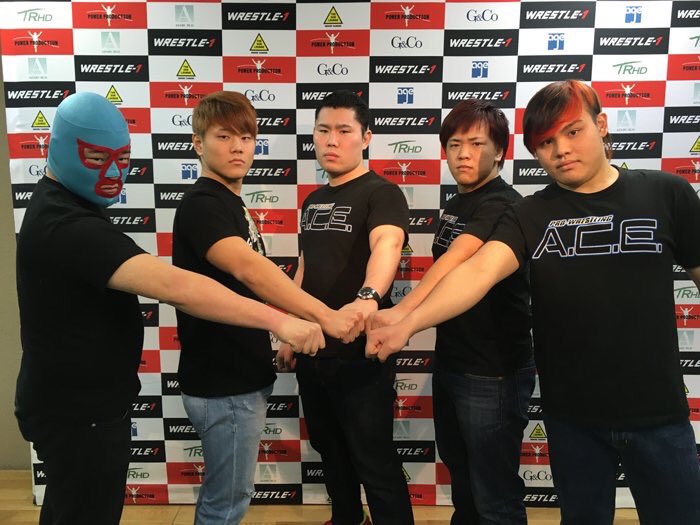 ~ The a couple matches were announced for the ACE show on April 1. Hajime will be unable to compete after being diagnosed with a fractured jawbone after the March 10 show.
Pro-Wrestling A.C.E. Vol. 11, 4/1/2018 [Sun] @ GEN Sports Palace, W-1 Dojo in Tokyo
() Takumi Baba vs. Shoki Kitamura (ZERO1)
() Jun Tonsho & Akiyori Takizawa (ASUKA) vs. Daiki Shimomura & Nobuhiro Shimatani (both DNA)
~ It was announced that Seiki Yoshioka will be defending the W-1 Cruiserweight belt against Alejandro on April 18 at the Korakuen Hall.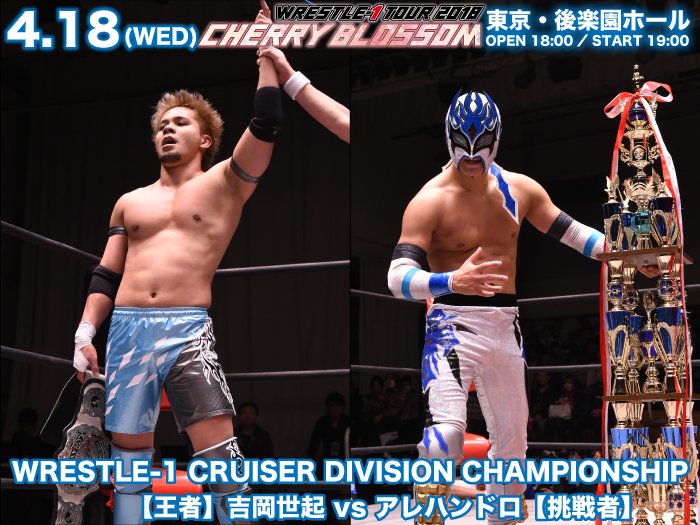 WRESTLE-1 TOUR 2018 CHERRY BLOSSOM, 4/18/2018 [Wed] 19:00 @ Korakuen Hall in Tokyo
(-) WRESTLE-1 Cruiserweight Championship Match: [11th Champion] Seiki Yoshioka vs. [Challenger] Alejandro
~ 4th title defense.
http://puroresuspirit.net/tag/w-1/
---
If you enjoy these posts of the site in general, please support us through Patreon by clicking the picture below. All patronages, of at least $1 a month, will go to help pay for the server costs to keep the site up and running.
Thanks for helping keep the spirit alive!