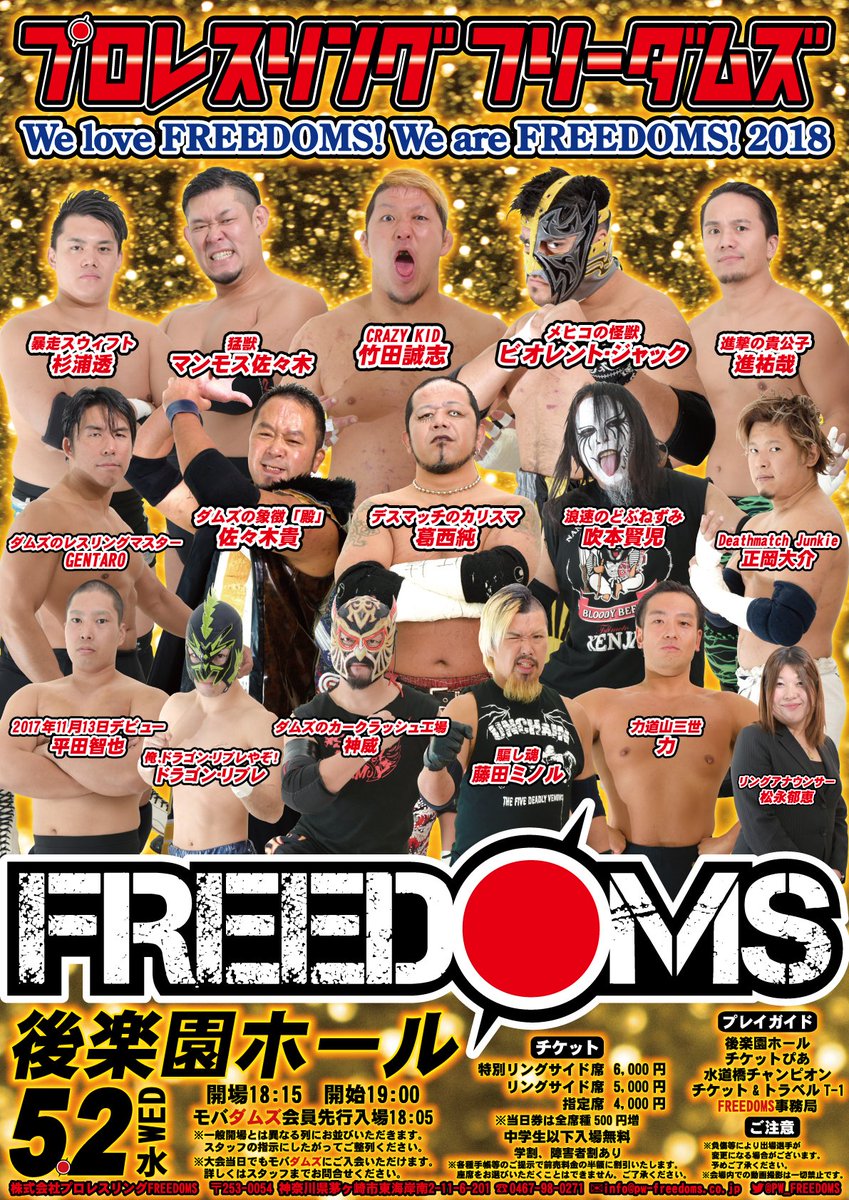 FREEDOMS "We love FREEDOMS! We are FREEDOMS! 2018", 5/2/2018 [Wed] 19:00 @ Korakuen Hall in Tokyo
957 Spectators
(0) Exhibition Match: Hayatada Miki vs. Trainee K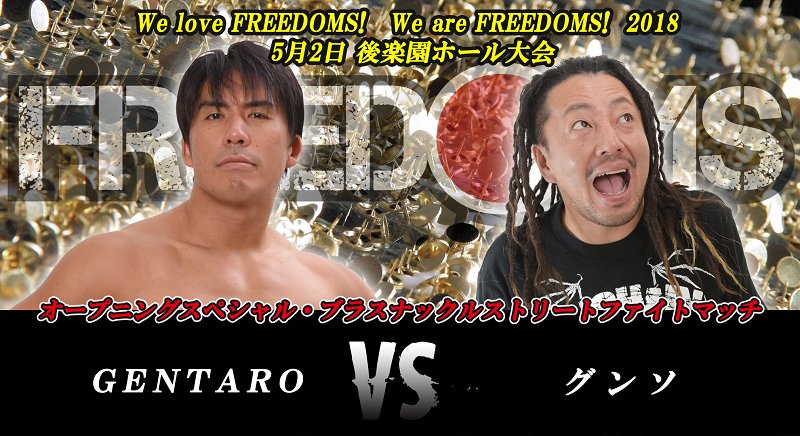 (1) Opening Special Brass Knuckle Street Fight Match: GENTARO vs. Gunso (DOVE)
◆Winner: GENTARO (10:25) with a Dojime Sleeper Hold.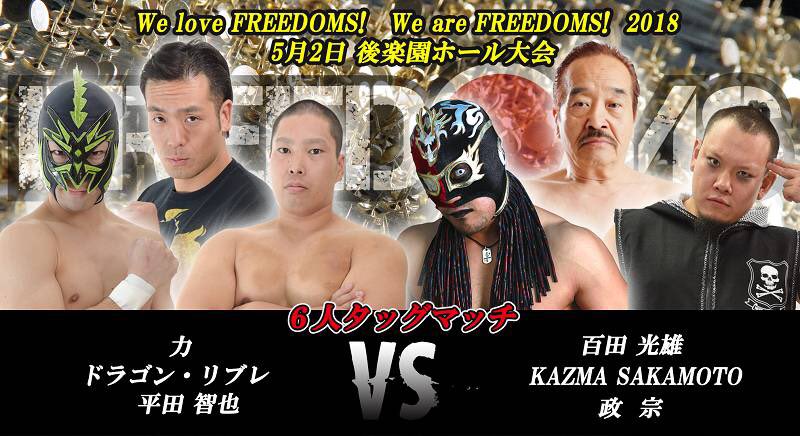 (2) Chikara (Riki Enterprise), Tomoya Hirata & Dragon Libre vs. Mitsuo Momota (Riki Enterprise), KAZMA SAKAMOTO (FREE) & Masamune (FREE)
◆Winner: Chikara (9:09) with a Backslide on Momota.
~ Chikara with his first ever career win over his father.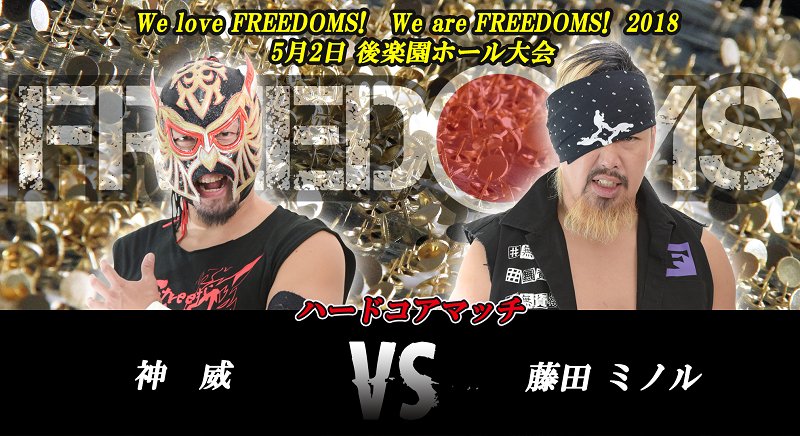 (3) Hardcore Match: Kamui vs. Minoru Fujita (FREE)
◆Winner: Kamui (7:10) with the Kamui Clutch.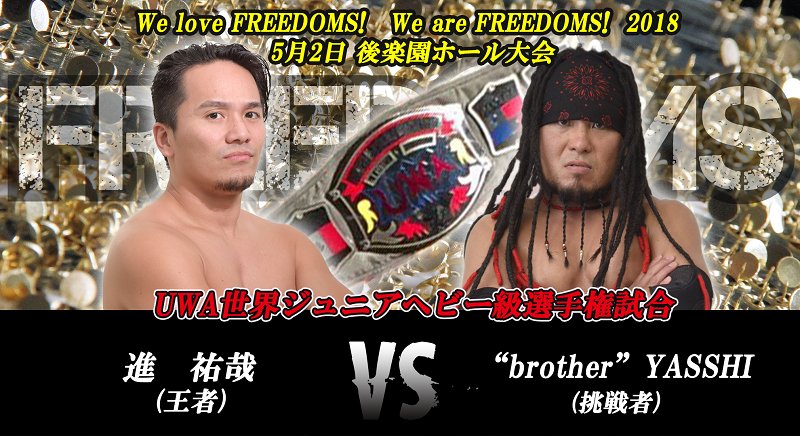 (4) UWA World Junior Heavyweight Championship Match: [31st Champion] Yuya Susumu vs. [Challenger] 'brother' YASSHI (FREE)
◆Winner: YASSHI (9:13) with the Nice Jamaica.
~ Susumu falls on his 6th title defense. YASSHI becomes the 32nd champion.
~ Then with the win, this becomes YASSHI first ever singles title to hold in his 17+ year career.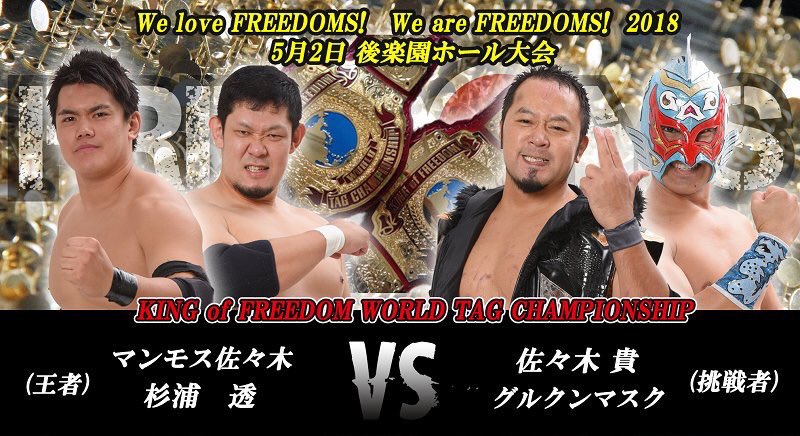 (5) KING of FREEDOM WORLD TAG CHAMPIONSHIP Match: [13th Champions] Mammoth Sasaki & Toru Sugiura vs. [Challengers] Takashi Sasaki & Gurukun Mask (Ryukyu Dragon)
◆Winner: Toru (12:28) with the Raging Tornado on Takashi.
~ 11th successful title defense.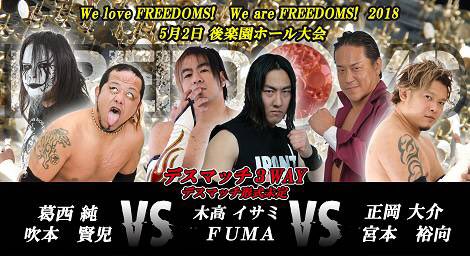 (6) TLC 3WAY Tag Death Match: Jun Kasai & Kenji Fukimoto vs. Isami Kodaka & FUMA (both BASARA) vs. Daisuke Masaoka & Yuko Miyamoto (666)
◆Winner: Kasai (10:26) following the Vertical Fall style Reverse Tiger Driver on FUMA.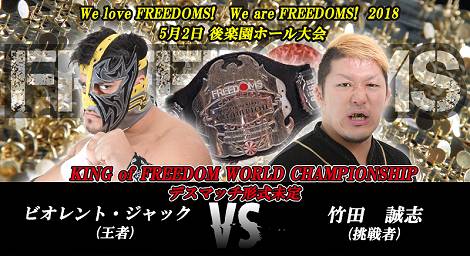 (7) KING of FREEDOM WORLD CHAMPIONSHIP ~ Fluorescent Lights + Double Glass Board + Alpha Death Match: [9th Champion] Violento Jack vs. [Challenger] Masashi Takeda (FREE)
◆Winner: Takeda (21:50) following the Reverse U-Crash Kai.
~ Jack falls on his 3rd title defense. Takeda becomes the 10th champion.
~ Takeda becomes the first ever Japanese Death Match Double Crown Champion as he also holds BJW's Death Match Heavyweight belt.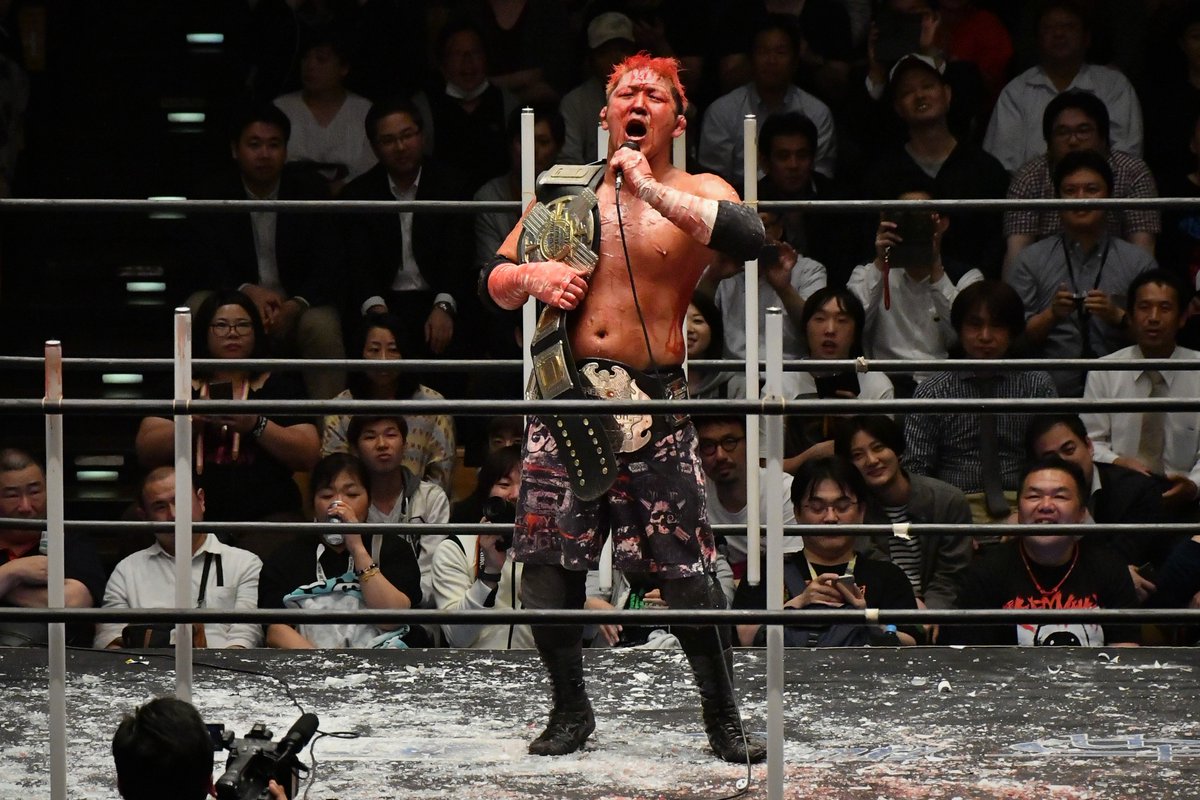 http://puroresuspirit.net/tag/freedoms/
Upcoming…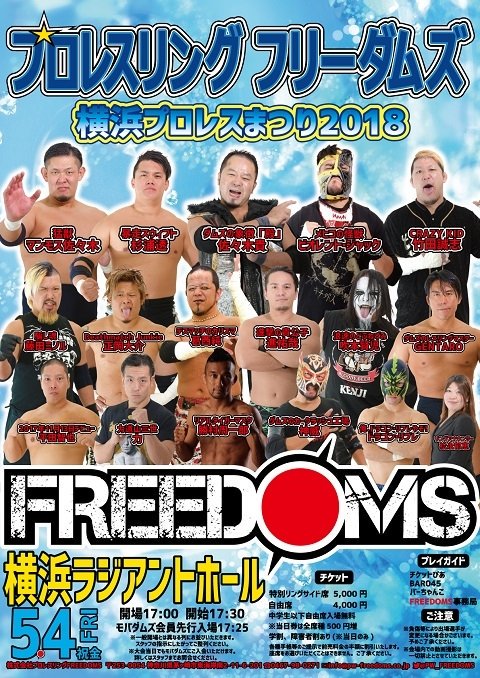 Pro-Wrestling FREEDOMS, 5/4/2018 [Fri] 17:30 @ Yokohama Radiant Hall in Kanagawa
(0) Takashi Sasaki vs. Trainee M
() Kamui & Tomoya Hirata vs. KAZMA SAKAMOTO & Dragon Libre
() Shuichiro Katsumura vs. Chikara
() Yuya Susumu vs. Yuko Miyamoto
() Jun Kasai & Kenji Fukimoto vs. Isami Kodaka & FUMA
() Hardcore 3WAY Tag Match: Violento Jack & Daisuke Masaoka vs. Masashi Takeda & Minoru Fujita vs. Mammoth Sasaki & GENTARO
() Takashi Sasaki vs. Toru Sugiura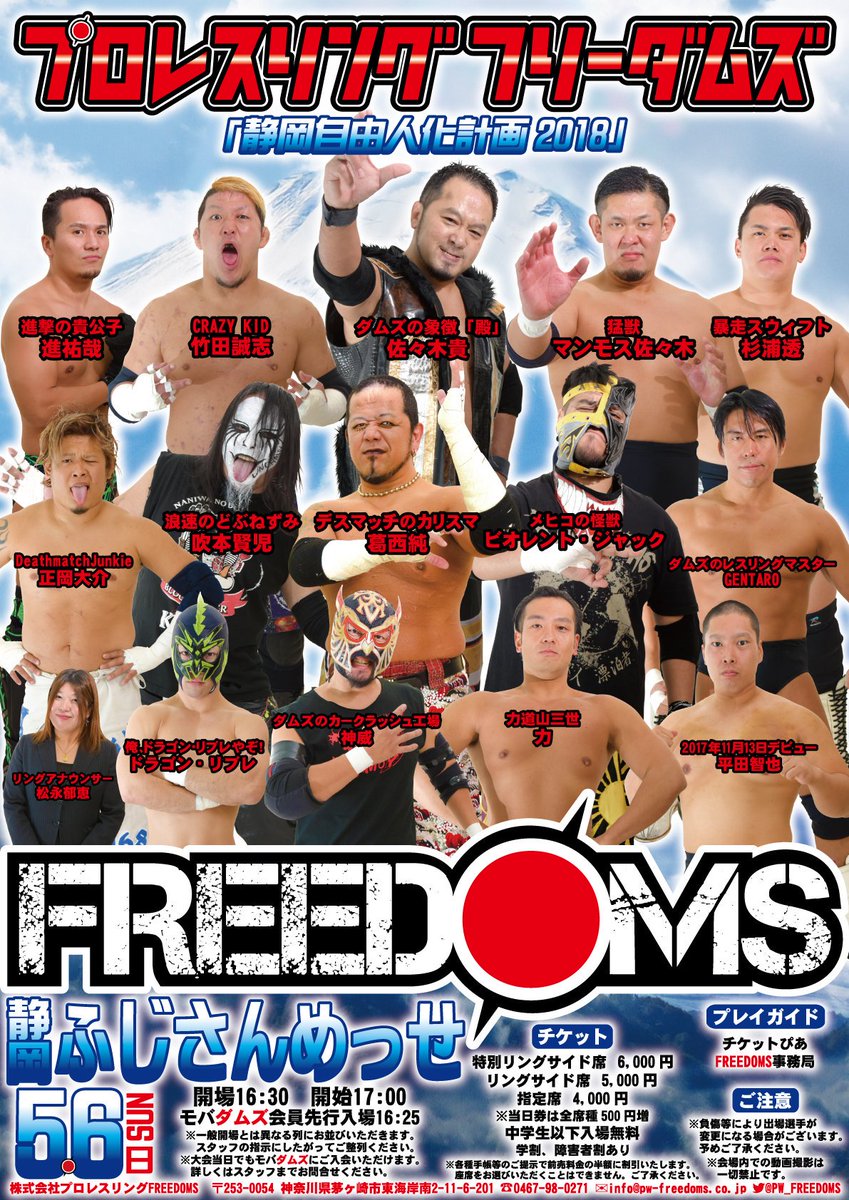 Pro-Wrestling FREEDOMS, 5/6/2018 [Sun] 17:00 @ Fuji-san Messe in Shizuoka
() Dragon Libre vs. Keisuke Goto (WAVE)
() WAVE Offer Match: Rina Yamashita vs. Hiroe Nagahama
() Toru Sugiura vs. Chikara
() Masashi Takeda & Kenji Fukimoto vs. Yuya Susumu & Shuichiro Katsumura
() Mammoth Sasaki & Kamui vs. GENTARO & Tomoya Hirata
() Fluorescent Light-tubes + Barbed-wire Board & Sawtooth Ladder Tag Death Match: Violento Jack & Daisuke Masaoka vs. Jun Kasai & Takashi Sasaki