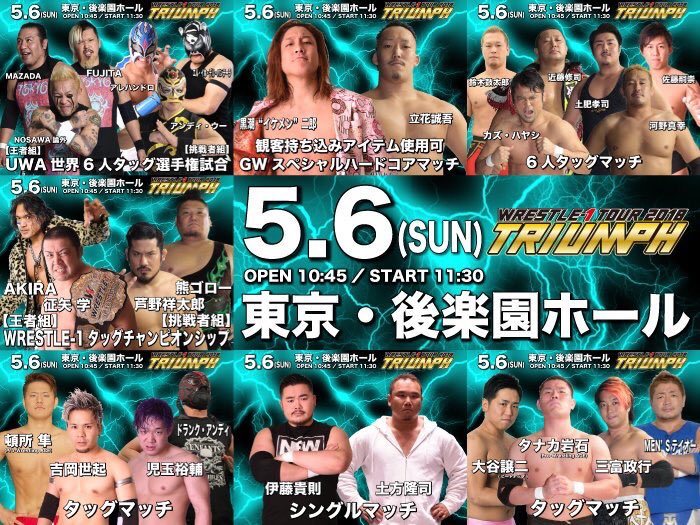 WRESTLE-1 TOUR 2018 TRIUMPH, 5/6/2018 [Sun] 11:30 @ Korakuen Hall in Tokyo
819 Spectators
(1) Ganseki Tanaka & Joji Otani (HEAT-UP) vs. Masayuki Mitomi (EPW) & MEN'S Teioh (FREE)
◆Winner: Teioh (8:19) with a Ground Cobra Twist on Ganseki.
(2) Kaz Hayashi, Shuji Kondo & Kotaro Suzuki vs. Masayuki Kono, Koji Doi & Tsugataka Sato
◆Winner: No Contest (8:38) Kumagoro appeared with a chair and disrupted the match.
(3) Takanori Ito vs. Ryuji Hijikata (FREE)
◆Winner: Hijikata (9:09) following a Fisherman's Buster.
(4) Seiki Yoshioka & Jun Tonsho vs. Yusuke Kodama & Drunk Andy
◆Winner: Kodama (10:10) with a Mad Splash on Tonsho.
~ Kodama challenged Yoshioka for a shot at the Cruiser belt. Yoshioka fired back with a comment in regards to Kodama losing in the first round of the "CRUISER FES" against Alejandro.
~ This lead to Drunk attacking Kodama from behind and Kodama dropping Yoshioka with an Modified DDT onto a chair. 
(5) Audience Brings The Weapons GW Special Hardcore Match: Jiro "Ikemen" Kuroshio vs. Seigo Tachibana
◆Winner: Kuroshio (17:03) following a Moonsault Press from off a ladder to Ikemen Clutch.
~ During the backstage interview, Tachibana proclaimed that this is far from over.
(6) UWA World 6 Tag Championship Match: [62nd Champions] NOSAWA Rongai, MAZADA & FUJITA vs. [Challengers] Andy Wu, Alejandro & El Hilo Del Pantera
◆Winner: MAZADA (15:36) with the Masada-Otoshi on Alejandro.
~ 1st successful title defense.
(7) WRESTLE-1 Tag Championship Match: [13th Champions] Manabu Soya & AKIRA vs. [Challengers] Shotaro Ashino & Kumaarashi (formerly Kumagoro)
◆Winner: Kumagoro (24:44) following a Diving Senton on AKIRA.
~ Champions fall on their 1st title defense. Ashino & Kumaarashi become the 14th champions.
~ Kumagoro (熊ゴロー) has underwent a name change to Kumaarashi (羆嵐 / くまあらし) (which roughly translates to Brown Bear Violent Storm)
~ Kumaarashi asserted himself to be the next challenger for the W-1 singles belt, as Soya accepted the challenge.
~ Ashino then urged Drunk Andy to show some action, as he took out Seigo Tachibana with a piledriver. He then removed his mask revealing himself to be Kenichiro Arai. Arai urged that he will continue fighting for "Enfants Terribles" as he and Ashino shook hands.
~ Ashino declared that the second chapter of Enfants Terribles began today.
~ Tachibana was left in the ring as Enfants Terribles exited the hall. During the backstage interview Tachibana was left wondering what all transpired, he claimed to do everything that Ashino asked of him, but this lead to Jiro "Ikemen" Kuroshio to appear an offer an invitation of an alliance.