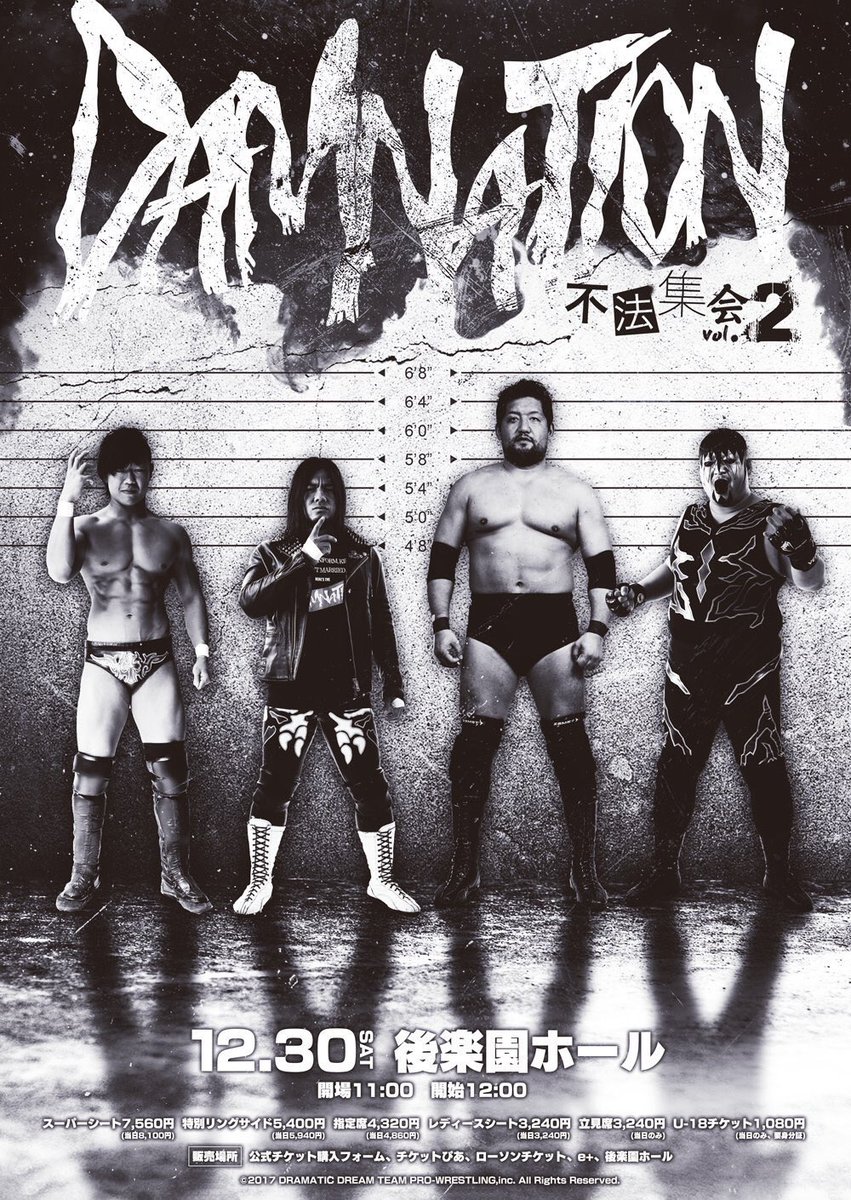 DAMNATION Produce "ILLEGAL GATHERING vol. 2", 12/30/2017 [Sat] 12:00 @ Korakuen Hall in Tokyo
1,050 Spectators
(1) Costume Change Battle Royal: HARASHIMA, Soma Takao, Saki Akai, Yuki Ueno, Ryuichi Sekine, Manman Kaikaindo, Ken Ohka & Takayuki Ueki
◆Winner: HARASHIMA (9:04) following the Somato on Ueki.
(2) Dick Togo & X = Guanchulo vs. Colt Cabana & Antonio Honda
◆Winner: Guanchulo (13:40) via pin-fall on Honda.
~ After the match Togo pinned Guanchulo to become the 1,280th Ironman Heavy Metalweight Champion.
(3) KO-D 6 Man Tag Championship Match: [32nd Champions] KUDO, Yukio Sakaguchi & Masahiro Takanashi vs. [Challengers] Paulies [Mad Paulie, Mad Paulie (Ryota Hama) & Mad Paulie (Nobuhiro Shimatani)]
◆Winner: Sakaguchi (9:36) following the Kami no Migihiza on Paulie (Shimatani).
~ 1st successful title defense.
(4) Boso Dai Kyojin Combi vs Baka Kyodai! Special Tag Match: Shuji Ishikawa (FREE) & Suwama (AJPW) vs. Shu & Kei Brahman (both FREE)
◆Winner: Ishikawa (10:03) following a Last Ride on Kei.
~ Colt Cabana pinned Dick Togo while the tag match was going on to become the 1,281st Ironman Heavy Metalweight Champion.
(5) Tetsuya Endo & Masashi Takeda (FREE) vs. Konosuke Takeshita & Masato Tanaka (ZERO1)
◆Winner: Endo (15:35) with a Shooting Star Press on Takeshita.
(6) DDT EXTREME Championship ~ 2 out of 3 falls Hardcore Match: [39th Champion] Daisuke Sasaki vs. [Challenger] Yuko Miyamoto
~ Daisuke (12:40) with a Mistika style Crossface Lock.
~ Miyamoto (15:41) with a Backslide.
◆Winner: Miyamoto (29:43) with a Moonsault Press.
~ Champion falls on his 9th title defense. Miyamoto become the 40th champion.
~ Even though their leader suffered the loss, the team showed a continued united front as they posed together, though Daisuke still out of it, to close the show.
http://puroresuspirit.net/tag/ddt/
Upcoming…
DDT Pro-Wrestling "New Year Lottery Special", 1/3/2018 [Wed] @ Korakuen Hall in Tokyo
() Daisuke Sasaki & Tetsuya Endo vs. Colt Cabana & Antonio Honda
() Road to D-Oh Grand Prix Special Single Match: Soma Takao vs. Masahiro Takanashi
() Road to D-Oh Grand Prix Special 6 Tag Match: Konosuke Takeshita, Mike Bailey & Shuji Ishikawa vs. HARASHIMA, Kazusada Higuchi & Jiro "Ikemen" Kuroshio