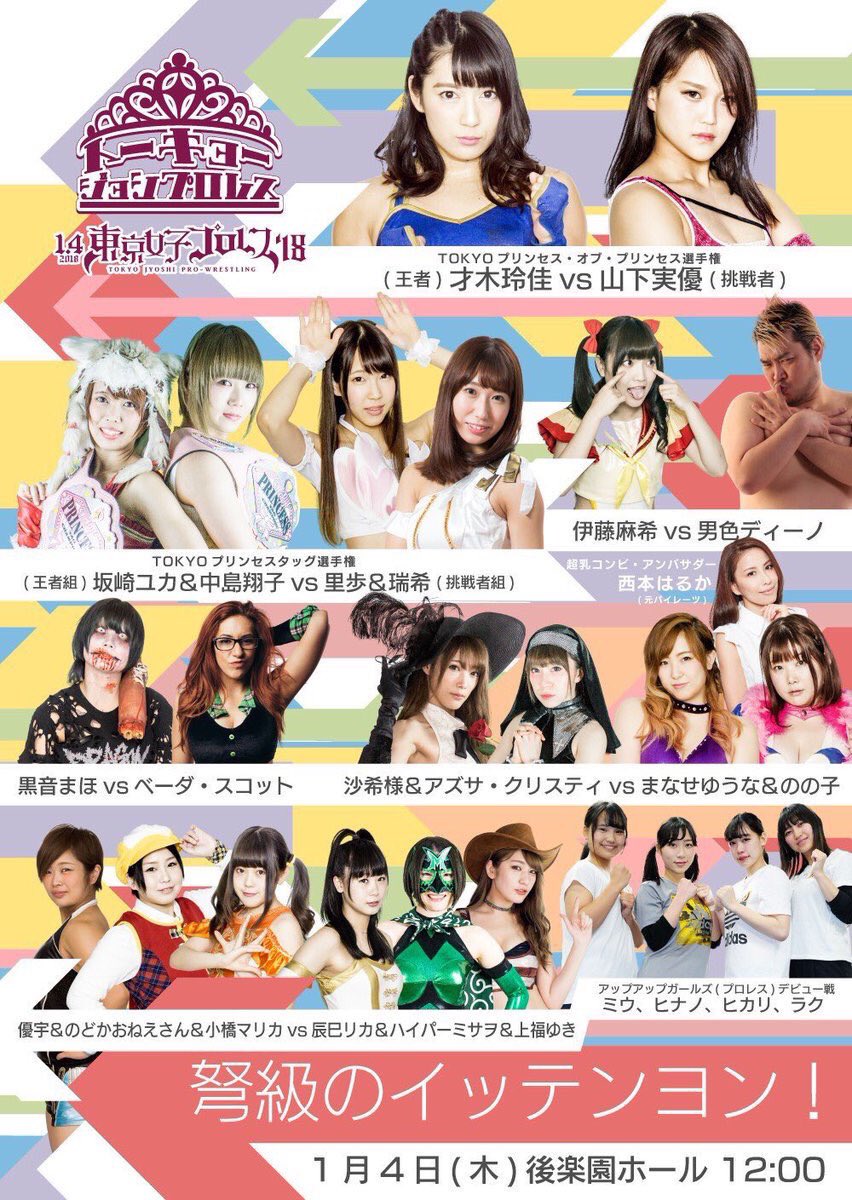 Tokyo Joshi Pro "Tokyo Joshi Pro '18" 1/4/18 [Thur] 12:00 @ Korakuen Hall in Tokyo
(1) Up Up Girls Pro Wrestling Debut Tag Match: Raku & Hikari vs Hinano & Miu
♦Winner: Miu (8:55) with a Canadian Backbreaker on Hikari
(2) Yuu, Nodoka-oneesan & Marika Kobashi vs Rika Tatsumi, Hyper Misao & Yuki Kamifuku
♦Winner: Yuu (11:05) with a Katahajime on Misao
(3) Maho Kurone vs Veda Scott
♦Winner: Scott (6:55) with a Backdrop Hold
~ It was announced that Samara will make her Tokyo Joshi Pro debut on 2/3, and will also be on the 2/12 show.

(4) Special Singles Match: Maki Ito vs Danshoku Dino
♦Winner: Dino (12:34) with the Danshoku Driver
(5) Saki-sama & Azusa Christie vs Nonoko & Yuna Manase
♦Winner: Saki-sama (12:20) with the Shinjin-shō on Nonoko
(6) TOKYO Princess Tag Championship Match: [1st Champions] Yuka Sakazaki & Shoko Nakajima vs Mizuki & Riho (Gatoh Move)
♦Winner: Sakazaki (17:46) with the Magical Girl Splash on Mizuki
~ 2nd successful defense
~ Saki-sama & Azusa Christie announced themselves as the next challengers.
(7) TOKYO Princess of Princess Championship Match: [4th Champion] Reika Saiki vs [Challenger] Miyu Yamashita
♦Winner: Yamashita (15:03) with the Crash Rabbit Heat
~ Champion falls on her 3rd defense. Miyu Yamashita becomes the 5th champion.
~ Veda Scott issued a challenge to the new champion for a title match in just 3 days, at the 1/7 show in Osaka. Yamashita accepted.