DDT Pro-Wrestling "New Year Lottery Special", 1/3/2018 [Wed] @ Korakuen Hall in Tokyo
1,187 Spectators
(0) Hoshitango & Rekka vs. Mizuki Watase & Daiki Shimomura
◆Winner: Rekka (6:23) following a Reverse Power Slam on Shimomura.
(1) Akito vs. Yuki Ueno
◆Winner: Akito (8:19) with a Sasorigatame.
(2) Infomercial Match ~ Movie : LADY NINJA Aoi-kage: KUDO, Yukio Sakaguchi & Saki Akai w/ Mai Hakase vs. Toru Owashi, Kazuki Hirata & Veda Scott
◆Winner: Yukio (11:41) following a PK on Hirata.
(3) New Year Rumble: Sanshiro Takagi, Super Sasadango Machine, Keisuke Ishi, Nobuhiro Shimatani, Mad Paulie, Gorgeous Matsuno, Tomomitsu Matsunaga, Gota Ihashi & Joey Ryan
◆Winner: Keisuke Ishii (17:46) with a Flying Body Attack on Super Sasadango Machine.
(4) Road to D-Oh Grand Prix Special Single Match: Soma Takao vs. Masahiro Takanashi
◆Winner: Takao (9:13) following a Modified Endless Waltz.
(5) NωA, Disband If Lose Special, Tornado 6 Man Tag Match: Danshoku Dieno, Shu & Kei Brahman vs. Makoto Oishi, Shunma Katsumata & MAO
◆Winner: Oishi (10:02) following the Triple Ecstacy on Dieno.
~ Sanshiro Takagi, Toru Owashi & Kazuki Hirata were announced for the final opponents to NωA on 1/28.
~ The Great Muta will be competing on the 3/25 show at the Ryogoku Kokugikan.
(6) Daisuke Sasaki & Tetsuya Endo vs. Colt Cabana & Antonio Honda
◆Winner: Endo (16:21) with a Shooting Star Press on Honda.
~ Super Sasadango Machine pinned Colt Cabana to become the 1,286th Ironman Heavy Metalweight Champion.
(7) Road to D-Oh Grand Prix Special 6 Tag Match: Konosuke Takeshita, Mike Bailey & Shuji Ishikawa vs. HARASHIMA, Kazusada Higuchi & Jiro "Ikemen" Kuroshio
◆Winner: HARASHIMA (20:17) following the Somato on Bailey.
http://puroresuspirit.net/tag/ddt/
Upcoming…
D-Oh (D-KING) GRAND PRIX 2018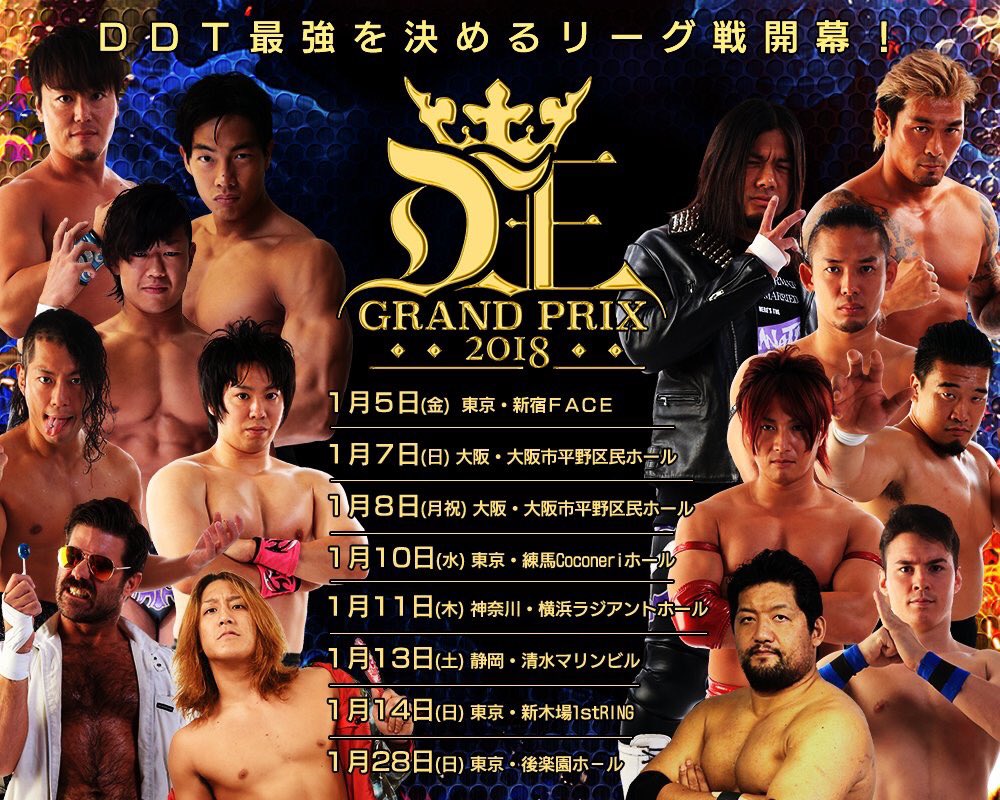 DDT Pro-Wrestling "D-oh GRAND PRIX 2018", 1/5/2018 [Fri] 19:00 @ Shinjuku FACE in Tokyo
() 4WAY Tag Match: Joey Ryan & Veda Scott vs. Antonio Honda & Soma Takao vs. KUDO & Toru Owashi vs. Makoto Oishi & Shunma Katsumata
() B BLOCK Match: Daisuke Sasaki vs. Akito
() B BLOCK Match: Kazusada Higuchi vs. Yukio Sakaguchi
() B BLOCK Match: Mike Bailey vs. Shuji Ishikawa
() A BLOCK Match: Tetsuya Endo vs. Masahiro Takanashi
() A BLOCK Match: HARASHIMA vs. Keisuke Ishii
() A BLOCK Match: Konosuke Takeshita vs. Jiro "Ikemen" Kuroshio
DDT Pro-Wrestling "D-oh GRAND PRIX 2018", 1/7/2018 [Sun] 18:00 @ Osaka City Hirano Kumin Hall
() B BLOCK Match: Akito vs. Mike Bailey
() B BLOCK Match: Soma Takao vs. Kazusada Higuchi
() B BLOCK Match: Daisuke Sasaki vs. Yukio Sakaguchi
() A BLOCK Match: Masahiro Takanashi vs. Jiro "Ikemen" Kuroshio
() A BLOCK Match: HARASHIMA vs. Joey Ryan
() A BLOCK Match: Konosuke Takeshita vs. Tetsuya Endo
DDT Pro-Wrestling "D-oh GRAND PRIX 2018", 1/8/2018 [Mon] 12:30 @ Osaka City Hirano Kumin Hall
() B BLOCK Match: Akito vs. Shuji Ishikawa
() B BLOCK Match: Soma Takao vs. Mike Bailey
() B BLOCK Match: Daisuke Sasaki vs. Kazusada Higuchi
() A BLOCK Match: Keisuke Ishii vs. Masahiro Takanashi
() A BLOCK Match: HARASHIMA vs. Jiro "Ikemen" Kuroshio
() A BLOCK Match: Konosuke Takeshita vs. Joey Ryan
DDT Pro-Wrestling "D-oh GRAND PRIX 2018", 1/10/2018 [Wed] 19:00 @ Nerima Coconeri Hall in Tokyo
() B BLOCK Match: Akito vs. Kazusada Higuchi
() B BLOCK Match: Daisuke Sasaki vs. Soma Takao
() B BLOCK Match: Yukio Sakaguchi vs. Shuji Ishikawa
() A BLOCK Match: Keisuke Ishii vs. Joey Ryan
() A BLOCK Match: Tetsuya Endo vs. Jiro "Ikemen" Kuroshio
() A BLOCK Match: Konosuke Takeshita vs. HARASHIMA
DDT Pro-Wrestling "D-oh GRAND PRIX 2018", 1/11/2018 [Thu] 19:00 @ Yokohama Radiant Hall in Kanagawa
() B BLOCK Match: Soma Takao vs. Akito
() B BLOCK Match: Yukio Sakaguchi vs. Mike Bailey
() B BLOCK Match: Daisuke Sasaki vs. Shuji Ishikawa
() A BLOCK Match: Tetsuya Endo vs. Joey Ryan
() A BLOCK Match: Jiro "Ikemen" Kuroshio vs. Keisuke Ishii
() A BLOCK Match: Konosuke Takeshita vs. Masahiro Takanashi
DDT Pro-Wrestling "D-oh GRAND PRIX 2018", 1/13/2018 [Sat] 17:00 @ Shimizu Marine Bill
() Konosuke Takeshita, Danshoku Dieno & Kouki Iwasaki vs. Daisuke Sasaki, Mad Paulie & Nobuhiro Shimatani vs. Makoto Oishi, Shunma Katsumata & MAO
() B BLOCK Match: Soka Takao vs. Shuji Ishikawa
() B BLOCK Match: Kazusada Higuchi vs. Mike Bailey
() B BLOCK Match: Yukio Sakaguchi vs. Akito
() A BLOCK Match: Joey Ryan vs. Jiro "Ikemen" Kuroshio
() A BLOCK Match: Keisuke Ishii vs. Tetsuya Endo
() A BLOCK Match: HARASHIMA vs. Masahiro Takanashi
DDT Pro-Wrestling "D-oh GRAND PRIX 2018", 1/14/2018 [Sun] 18:00 @ Shinkiba 1stRING in Tokyo
() B BLOCK Match: Kazusada Higuchi vs. Shuji Ishikawa
() B BLOCK Match: Yukio Sakaguchi vs. Soma Takao
() B BLOCK Match:Daisuke Sasaki vs. Mike Bailey
() A BLOCK Match: Masahiro Takanashi vs. Joey Ryan
() A BLOCK Match: Konosuke Takeshita vs. Keisuke Ishii
() A BLOCK Match: HARASHIMA vs. Tetsuya Endo
DDT Pro-Wrestling "D-oh GRAND PRIX 2018", 1/28/2018 [Sun] 12:00 @ Korakuen Hall in Tokyo
() NωA Final: Makoto Oishi, Shunma Katsumata & MAO vs. Sanshiro Takagi, Toru Owashi & Kazuki Hirata
() GP Final Match: (A #1) vs. (B #1)