Pro Wrestling NOAH "Global League War 2015", 11/8/2015 [Sun] 12:00 @ Korakuen Hall in Tokyo
(1) Yoshinari Ogawa, Super Crazy, Hitoshi Kumano & Shiro Tomoyose vs. Kenoh, Hajime Ohara, Mitsuhiro Kitamiya & Genba Hirayanagi
◆Winner: Kenoh (8:41) following the Kubo (high kick) on Tomoyose.
~ Ohara made it known that he would like a singles match against his tag partner Kenoh in the near future.
(2) Maybach Taniguchi, Muhammed Yone & Katsuhiko Nakajima vs. Satoshi Kojima [NJPW], Akitoshi Saito & Quiet Storm
◆Winner: Nakajima (7:26) following a Vertical Drop style Brainbuster on Storm.
~ Nakajima stated that he wants one more match against Benjamin.
(3) Junior Special Tag Match: Taichi & TAKA Michinoku vs. Daisuke Harada & Atsushi Kotoge
◆Winner: TAKA (4:02) with a School Boy on Harada.
~ El Desperado came out and took out Harada with a chair shot allowing TAKA to claim the win. Desperado stated that he and TAKA want their rematch for the GHC Jr. Tag belts against Harada & Kotoge.
(4) GHC Junior Heavyweight Contendership Match: Taiji Ishimori vs. Zack Sabre Jr.
◆Winner: Ishimori (11:13) with a 450° Splash.
~ Ishimori becomes the rightful contender for Taichi's GHC Jr. belt.
(5) Special Single Match: "British Bulldog" Davey Boy Smith Jr. vs. Colt Cabana
◆Winner: Cabana (1:45) via foul, Archer attacked Cabana.
~ Hero made the save and the next match was changed into a tag match.
(6) Special Tag Match: Lance Archer & "British Bulldog" Davey Boy Smith Jr. vs. Chris Hero & Colt Cabana
◆Winner: Cabana (9:35) with the Superman (Cabana Lock) on Smith.
(7) Suzuki-gun vs. Dangan Yankees: Minoru Suzuki [Pancrase MISSION] & Takashi Iizuka [NJPW] vs. Takashi Sugiura & Masato Tanaka [ZERO1]
◆Winner: Suzuki (15:46) following the Gotch style Piledriver on Sugiura.
~ The final moments saw Iizuka peg Sugiura with the Iron Finger From Hell on Sugiura which allowed Suzuki to claim the win.
~ Iizuka continued to attack Sugiura with a chair following the match.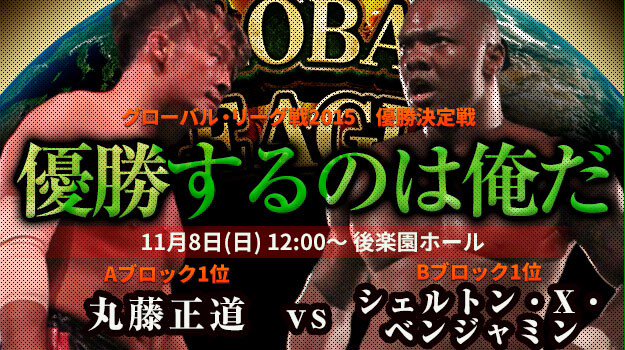 (8) Global League FINAL Match: [A BLOCK #1] Naomichi Marufuji vs. [B BLOCK #1] Shelton X Benjamin
◆Winner: Marufuji (24:06) following the Pole Shift style Emerald Flowsion.
~ Marufuji wins the Global League 2015.
~ Suzuki came out to confront Marufuji as he took a shot at Maru being the survivor. He stated that NOAH has saved themselves for now, but that will all change come 12/23 when he beats Maru once more.
~ It has been made official that Marufuji will get the GHC Heavyweight title match against Suzuki at Destiny on 12/23 at the Ota General Gymnasium.
~ Marufuji stated that he is more then grateful to earn another chance for the GHC belt as he declared that he will regain the belt.
---
Previous Days Listing
~ NOAH [Global League Day 1] results for October 16, 2015
~ NOAH [Global League Day 2] results for October 17, 2015
~ NOAH [Global League Day 3] results for October 18, 2015
~ NOAH [Global League Day 4] results for October 22, 2015
~ NOAH [Global League Day 5] results for October 23, 2015
~ NOAH [Global League Day 6] results for October 24, 2015
~ NOAH [Global League Day 7] results for October 25, 2015
~ NOAH [Global League Day 8] results for October 26, 2015
~ NOAH [Global League Day 9] results for October 29, 2015
~ NOAH [Global League Day 10] results for November 3, 2015
~ NOAH [Global League Day 11] results for November 6, 2015
~ NOAH [Global League Final Day] results for November 8, 2015 [ABOVE]