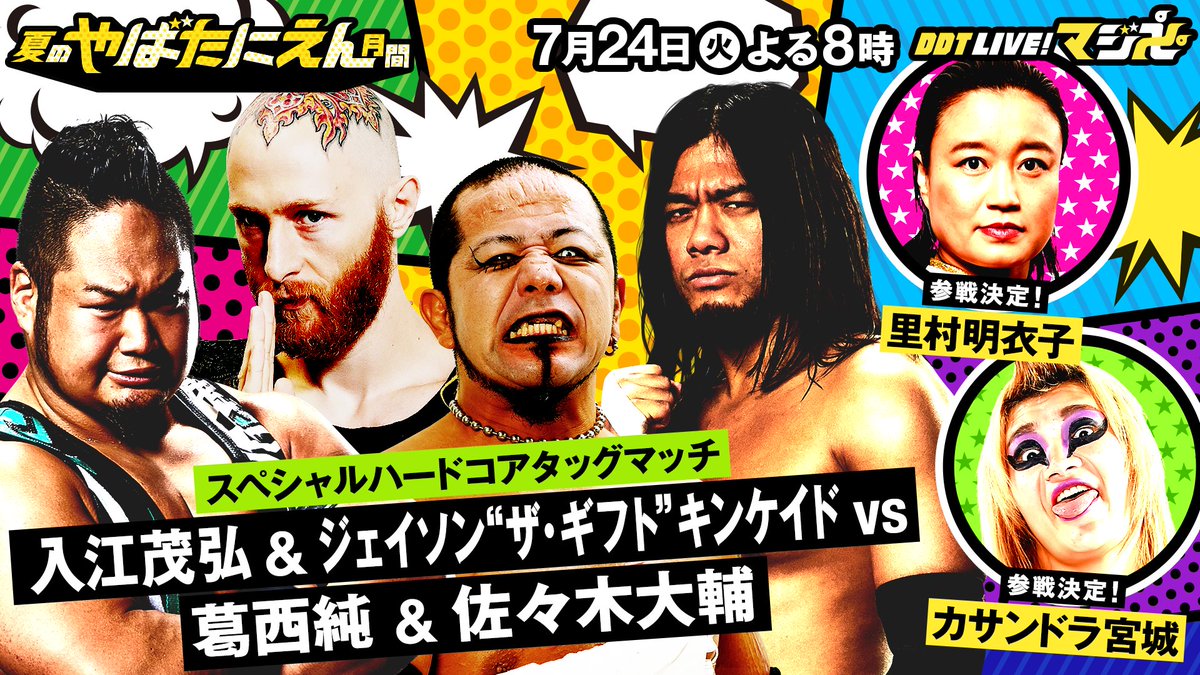 DDT "MajiManji #12", 7/24/2018 [Tue] 19:30@ Shinkiba 1stRING in Tokyo
240 Spectators (crowded)
(0) NO TV Match: Mad Paulie vs. Mizuki Watase
◆Winner: Paulie (6:07) via La Magistral counter.
(0) NO TV Match: Naomi Yoshimura vs ."Neon Ninja" Facade
◆Winner: Yoshimura (7:40) following the Shounenba.
(1) Soma Takao & Tetsuya Endo vs. Daiki Shimomura & Nobuhiro Shimatani
◆Winner: Takao (6:01) via pin-fall on Shimatani.
(2) Toru Owashi & Kazuki Hirata vs. Antonio Honda & Kazusada Higuchi
◆Winner: Hirata (11:16) with a Small Package Hold on Honda.
(3) 4WAY Tag Match: HARASHIMA & Masahiro Takanashi vs. Danshoku Dieno & Makoto Oishi vs. Mike Bailey & MAO vs. Keisuke Ishii & Yuki Ueno
◆Winner: Bailey (6:35) following the Ultima Weapon on Oishi.
(4) Special Hardcore Tag Match: Shigehiro Irie & Jason Kincaid vs. Jun Kasai (FREEDOMS) & Daisuke Sasaki
◆Winner: Irie (16:02) following the Best Bomber on Daisuke.
~ Daisuke kept getting in the way of Kasai's and causing mistakes, which led to Kasai smashing Daisuke int he head with a barbed-wire bat following the conclusion of the match.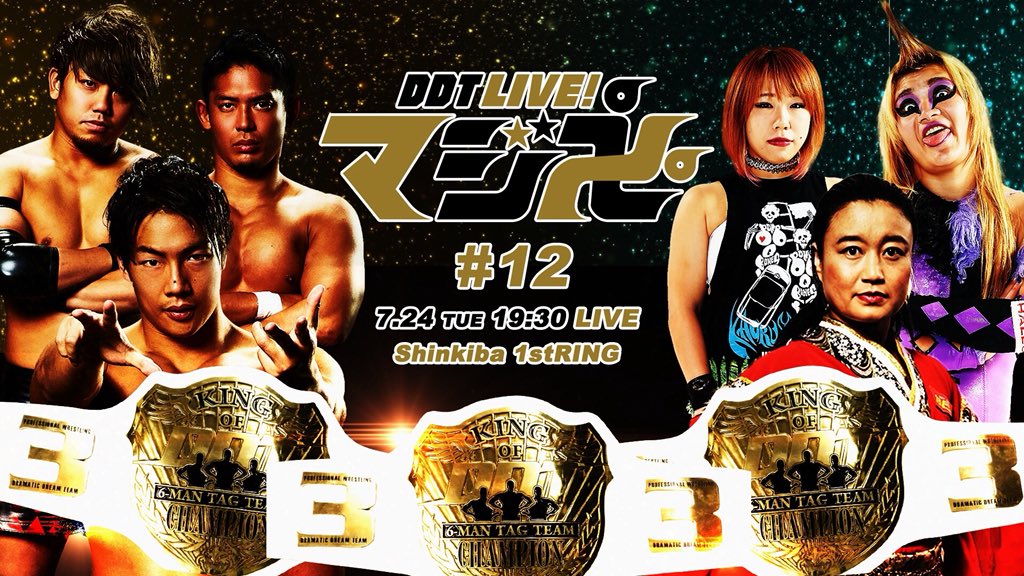 (5) KO-D 6 Person Tag Championship Match: [34th Champions] Konosuke Takeshita, Akito & Shunma Katsumata vs. [Challengers] Meiko Satomura, DASH Chisako & Cassandra Miyagi (all Sendai Girls)
◆Winner: Takeshita (17:33) with a German Suplex Hold on Miyagi.
~ 1st successful title defense.
~ Takeshita stated that one day he looks forward in facing Meiko Satomura in a singles match.
~ Then Kendo Kashin appeared and stated that he wants to challenge for the KO-D 6 Tag belts. He announced his partners to be Keisuke Okuda and NOSAWA Rongai. The match is set to take place on August 7th at 1stRING.
http://puroresuspirit.net/tag/ddt/
Upcoming…
DDT "Shigehiro Irie Debut 10th Anniversary Show", 7/29/2018 [Sun] 13:00 @ Osaka City Taisho Kumin Hall
() Dark Match: Mad Paulie & Alex Ace vs. Kouki Iwasaki & Nobuhiro Shimatani
() Sanshiro Takagi, Toru Owashi & Kazuki Hirata vs. Antonio Honda, Akito & Makoto Oishi
() 3WAY Match: Danshoku Dieno vs. Kazusada Higuchi vs. Naomi Yoshimura
() KUDO, Yukio Sakaguchi & Masahiro Takanashi vs. HARASHIMA, Gurukun Mask & Rekka
() 4WAY Tag Match: Daisuke Sasaki & Tetsuya Endo vs. Mike Bailey & MAO vs. Shunma Katsumata & Yuki Ueno vs. Jason "The Gift" Kincaid & "Neon Ninja" Facade
() Mizuki Watase vs. Kengo Takai (Team Dera)
() Konosuke Takeshita & HUB (FREE) vs. Daisuke Harada (NOAH) & Kazuaki Mihara (Doutonbori)
() Shigehiro Irie Debut 10th Anniversary Match: Shigehiro Irie vs. Keisuke Ishii vs. Soma Takao
DDT "Tatakau Beer Garden 2018 ~ DAMNATION DAY", 7/30/2018 [Mon] 19:00 @ Shinjuku FACE in Tokyo
() Dark Match ~ Crocodile Death Match: Daisuke Sasaki vs. Masahiro Takanashi
() DAMNATION New Member Assessment Match: Soma Takao & Shota vs. PSYCHO & CHANGO
() Shuji Ishikawa & Kohei Sato vs. Kazusada Higuchi & Yuki Iino
() DAMNATION vs Sakigake! Kotetsu Kazoku: Tetsuya Endo & Mad Paulie vs. Trans Am ★ Hiroshi & SAGAT
() DAMNATION vs NOBUNATION!: (tba)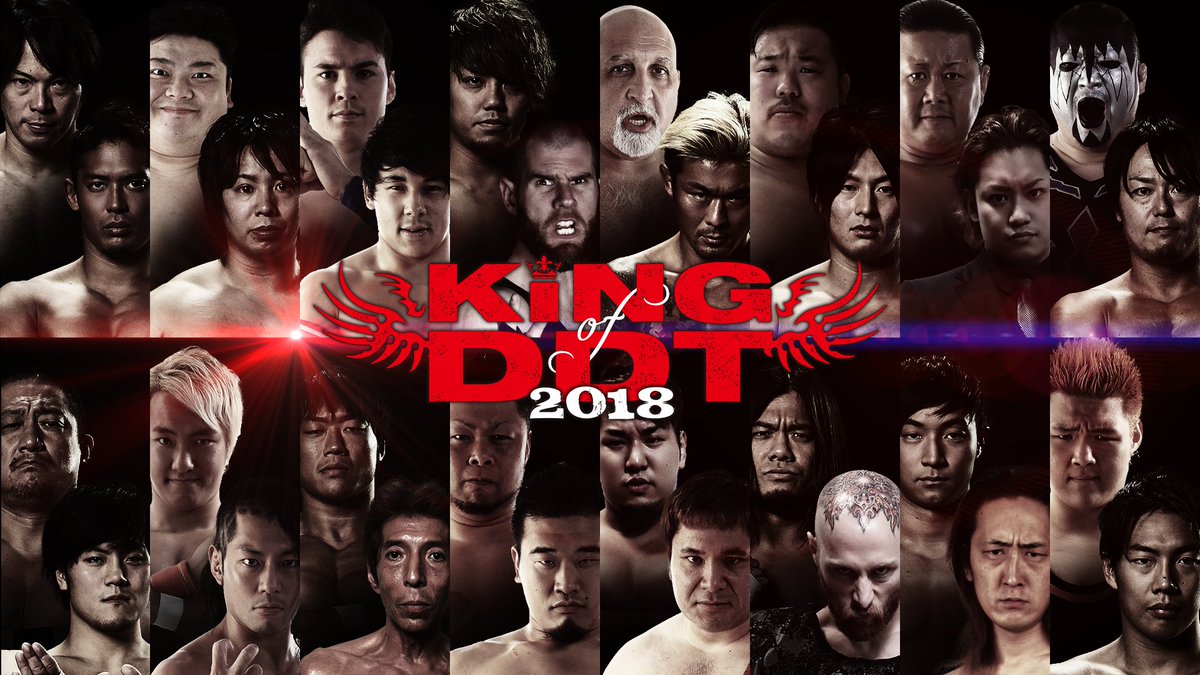 KING OF DDT 2018 1st ROUND, 7/31/2018 [Tue] 19:00 @ Shinjuku FACE in Tokyo
(1) KUDO vs. Akito
(2) Mike Bailey vs. Nobuhiro Shimatani
(3) Gota Ihashi vs. Keisuke Ishii
(4) Shunma Katsumata vs. Alex Ace
(5) Hoshitanto vs. Yukio Sakaguchi
(6) Yuki Iino vs. Soma Takao
(7) Toru Owashi vs. Mizuki Watase
(8) Mad Paulie vs. HARASHIMA
(9) Sanshiro Takagi vs. MAO
(10) Daiki Shimomura vs. Masahiro Takanashi
(11) Tetsuya Endo vs. Gorgeous Matsuno
(12) Tomomitsu Matsunaga vs. Kazusada Higuchi
(13) Kouki Iwasaki vs. Antonio Honda
(14) Daisuke Sasaki vs. Jason "The Gift" Kincaid
(15) Yuki Ueno vs. Tanomusaku Toba
(16) Naomi Yoshimura vs. Konosuke Takeshita