All Japan Pro-Wrestling "2018 Champion Carnival", 4/29/2018 [Sun] 18:30 @ Korakuen Hall in Tokyo
1,605 Spectators (crowded)
(1) Atsushi Aoki & Yusuke Okada vs. Koji Iwamoto & Ishikiri (LAND'S END)
◆Winner: Aoki (10:54) with a Boston Crab on Ishikiri.
(2) Takao Omori, Atsushi Maruyama & TAJIRI vs. Masanobu Fuchi, Osamu Nishimura & Yoshitatsu
◆Winner: Yoshitatsu (11:49) following the CBJ on Maruyama.
(3) Jun Akiyama, Suwama, Zeus & Hikaru Sato vs. Yutaka Yoshie, KAI, Dylan James & Yohei Nakajima
◆Winner: Zeus (15:29) with a Jackhammer on Yohei.
(4) Carnival A Block Match: Ryoji Sai vs. Bodyguard
◆Winner: Bodyguard (11:43) with a Camel Clutch.
★ Bodyguard [2 wins, 5 losses = 4 points]
★ Sai [3 win, 4 losses = 6 points]
(5) Carnival A Block Match: Joe Doering vs. Naoya Nomura
◆Winner: Nomura (4:28) with a Jacknife Hold.
★ Nomura [2 wins, 5 losses = 4 points]
★ Doering [4 wins, 3 losses = 8 points]
(6) Carnival A Block Match: Shuji Ishikawa vs. Shingo Takagi
◆Winner: Ishikawa (18:37) following the Giant Slam.
★ Ishikawa [4 wins, 3 losses = 8 points]
★ Shingo [4 wins, 3 losses = 8 points]
(7) Carnival A Block Match: Kento Miyahara vs. Yuji Hino
◆Winner: Miyahara (19:32) with the Shutdown German Suplex Hold.
★ Miyahara [5 wins, 2 losses = 10 points]
★ Yuji Hino [4 wins, 3 losses = 8 points]
Final Standings
A BLOCK
★ Miyahara [5 wins, 2 losses = 10 points] *block winner
★ Yuji Hino [4 wins, 3 losses = 8 points]
★ Doering [4 wins, 3 losses = 8 points]
★ Ishikawa [4 wins, 3 losses = 8 points]
★ Shingo [4 wins, 3 losses = 8 points]
★ Sai [3 win, 4 losses = 6 points]
★ Nomura [2 wins, 5 losses = 4 points]
★ Bodyguard [2 wins, 5 losses = 4 points]
B BLOCK
★ Marufuji [5 wins, 2 losses = 10 points] *block winner
★ Suwama [4 wins, 3 losses = 8 points]
★ Zeus [4 wins, 3 losses = 8 points]
★ Akiyama [4 wins, 3 losses = 8 points]
★ KAI [3 wins, 4 losses = 6 points]
★ Yoshitatsu [3 wins, 4 losses = 6 points]
★ James [3 wins, 4 losses = 6 points]
★ Yoshie [2 wins, 5 losses = 4 points]
~ With the win, the Triple Crown champion Kento Miyahara will move on to tomorrow's final match against Naomichi Marufuji. The show will look as follows…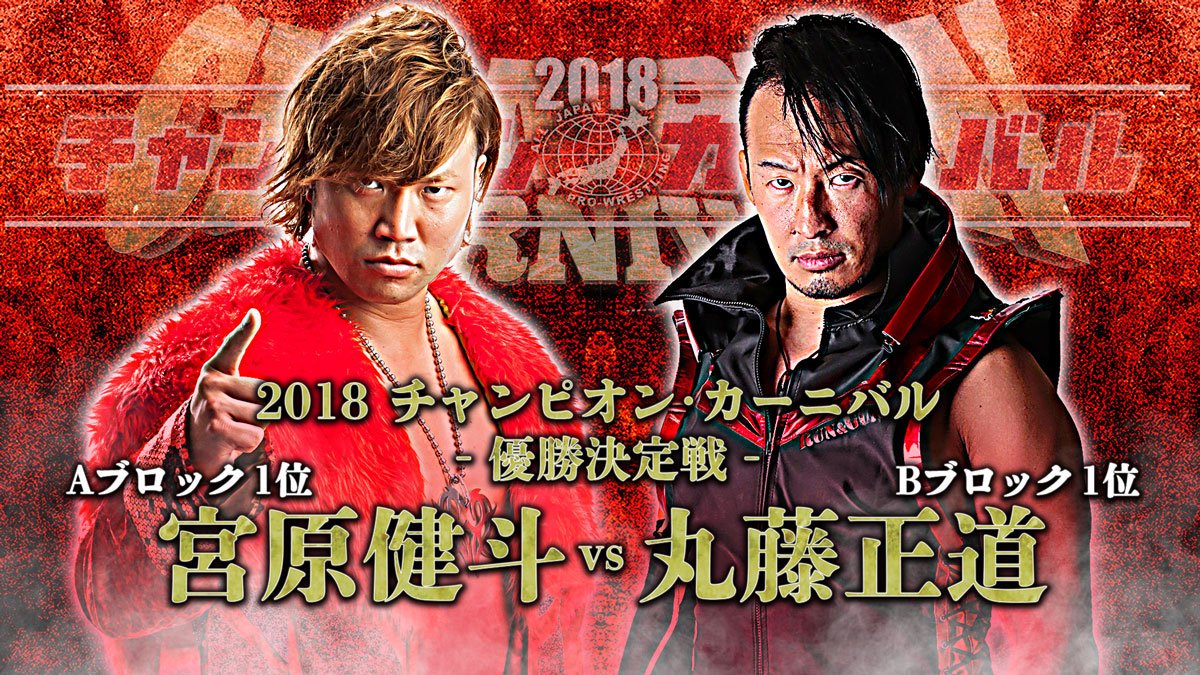 All Japan Pro-Wrestling "2018 Champion Carnival", 4/30/2018 [Mon] 18:30 @ Korakuen Hall in Tokyo
() Takao Omori & Yutaka Yoshie vs. Masanobu Fuchi & Osamu Nishimura
() Beauty and Health Research presents 3vs3 Elimination Match: Atsushi Aoki, Hikaru Sato & Yusuke Okada vs. Koji Iwamoto, Yohei Nakajima & Atsushi Maruyama
() Suwama & Shuji Ishikawa vs. Naoya Nomura & Yoshitatsu
() Ryoji Sai & Dylan James vs. TAJIRI & KAI
() Jun Akiyama, Joe Doering & Yuji Hino vs. Zeus, The Bodyguard & Shingo Takagi
() Champion Carnival Final Match: (A BLOCK #1) Kento Miyahara vs. (B BLOCK #1) Naomichi Marufuji
http://puroresuspirit.net/2018/02/ajpw-event-cards-for-march-april-2018/embed/#?secret=1EQSaIpvZD
Previous Day Results
~ 4/7 – Day 1 [RESULTS]
~ 4/8 – Day 2 [RESULTS]
~ 4/10 – Day 3 [RESULTS]
~ 4/11 – Day 4 [RESULTS]
~ 4/12 – Day 5 [RESULTS]
~ 4/14 – Day 6 [RESULTS]
~ 4/15 – Day 7 [RESULTS]
~ 4/16 – Day 8 [RESULTS]
~ 4/18 – Day 9 [RESULTS]
~ 4/20 – Day 10 [RESULTS]
~ 4/21 – Day 11 [RESULTS]
~ 4/22 – Day 12 [RESULTS]
~ 4/25 – Day 13 [RESULTS]
~ 4/29 – Day 14 *above*
~ 4/30 – Day 15 Final