BJW "両極譚 ~ RYOGOKUTAN", 7/24/2016 [Sun] @ Ryogoku Kokugikan in Tokyo
3,293 Spectators
(1) Daichi Hashimoto & Atsushi Maruyama [FREE] vs. Tatsuhiko Yoshino [GUTS] & Kazumi Kikuta
◆Winner: Daichi (9:43) with a Triangle Choke on Yoshino.
(2) Tsutomu Osugi & Hercules Senga [both FREE] vs. Tsubasa & Billyken Kid [both FREE]
◆Winner: Osugi (8:20) with a Front Roll Cradle on Tsubasa.
(3) Great Kojika, Shinobu [666] & Toshiyuki Sakuda vs. The Great Sasuke [MichiPro], Shu & Kei Brahman [both FREE]
◆Winner: Sasuke (9:29) following the Messiah Korin on Sakuda.
(4) Hideki Suzuki [FREE] & Takuya Nomura vs. Yasufumi Nakanoue [FREE] & Yoshihisa Uto
◆Winner: Hideki (9:30) following a Double Arm Suplex on Uto.
(5) 8th Generation Decision Yokohama Shopping Street 6 Man Tag Championship ~ Deathmatch Iron Maiden ~ run to the hell ~: Jaki Numazawa, Masashi Takeda [U-FILE] & Takumi Tsukamoto [BASARA] vs. Abdullah Kobayashi, Takayuki Ueki & Masaya Takahashi [ASUKA]
◆Winner: Kobayashi (11:38) with a Diving Bakachinga Elbow from off the cage onto Numazawa.
~ Koabayashi, Ueki & Masaya become the 8th generation champions.
(6) Kawakami's Return Match: Daisuke Sekimoto vs. Ryuichi Kawakami
◆Winner: Sekimoto (11:18) with a Deadlift German Suplex Hold.
~ Kawakami received a big cheer reaction following the match as he thanked everyone for coming out and supporting Strong BJ.
(7) AJPW Sanctioned Asia Tag Championship Match: [98th Champions] Isami Kodaka (BASARA) & Yuko Miyamoto (666) vs. [Challengers] Hikaru Sato (Pancrase MISSION) & Atsushi Aoki (AJPW)
◆Winner: Aoki (18:24) with the Trap Over on Kodaka.
~ Champions fall on their 7th title defense.
~ Aoki & Hikaru become the 99th generation champions. (This will definitely open up a huge hunt for the belts as many teams should be looking to capture the 100th milestone spot.)
(8) BJW Tag Championship Match: [42nd Champions] "Twin Towers" Kohei Sato (ZERO1) & Shuji Ishikawa (FREE) vs. [Challengers] "SMOP" Akebono (Oudou) & Ryota Hama (FREE)
◆Winner: Ishikawa (12:37) following the TSUNAMI (Running Knee) on Hama.
~ 1st successful title defense.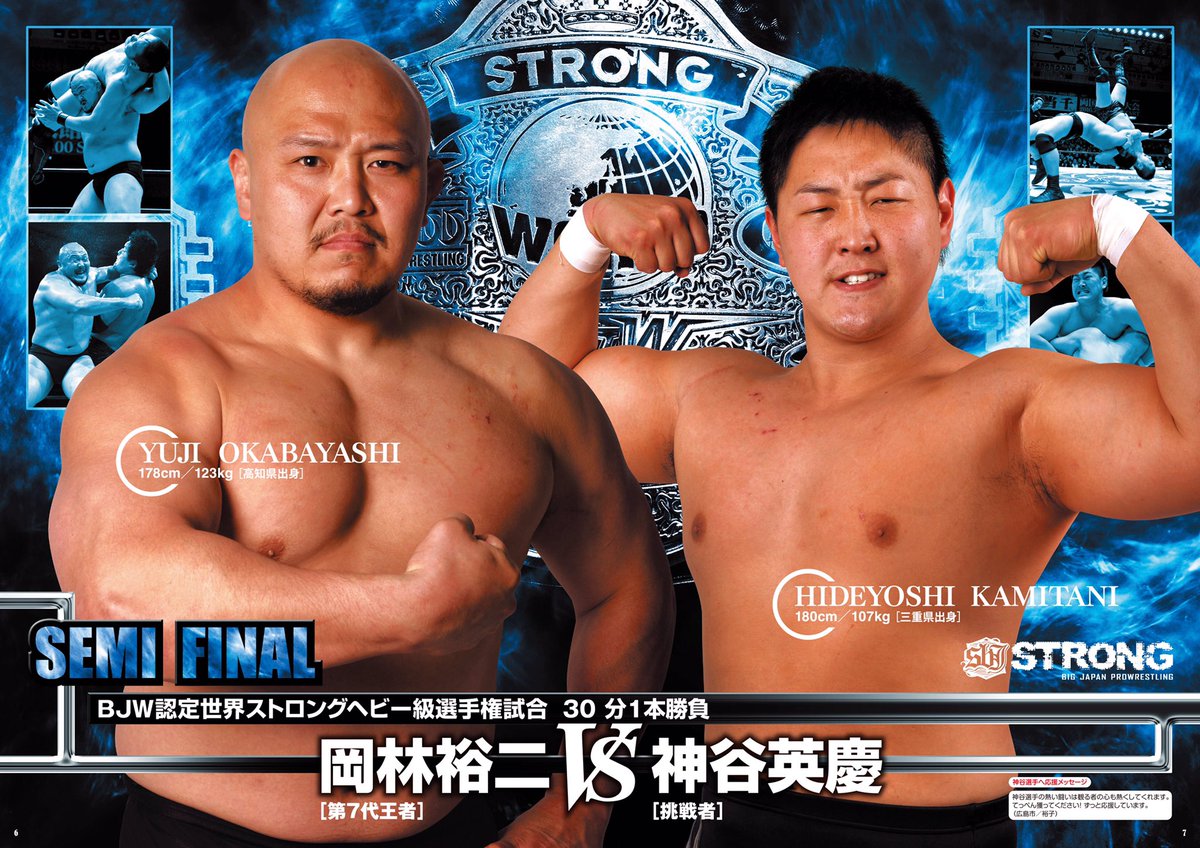 (9) BJW World Strong Heavyweight Championship Match: [7th Champion] Yuji Okabayashi vs. [Challenger] Hideyoshi Kamitani
◆Winner: Kamitani (26:53) following a High Angle Backdrop.
~ Champion falls on his 4th title defense.
~ The 24 year old Kamitani becomes the 8th generation champion.
~ Kamitani's tag partner Ryota Hama came out and put the belt around the new champions waist.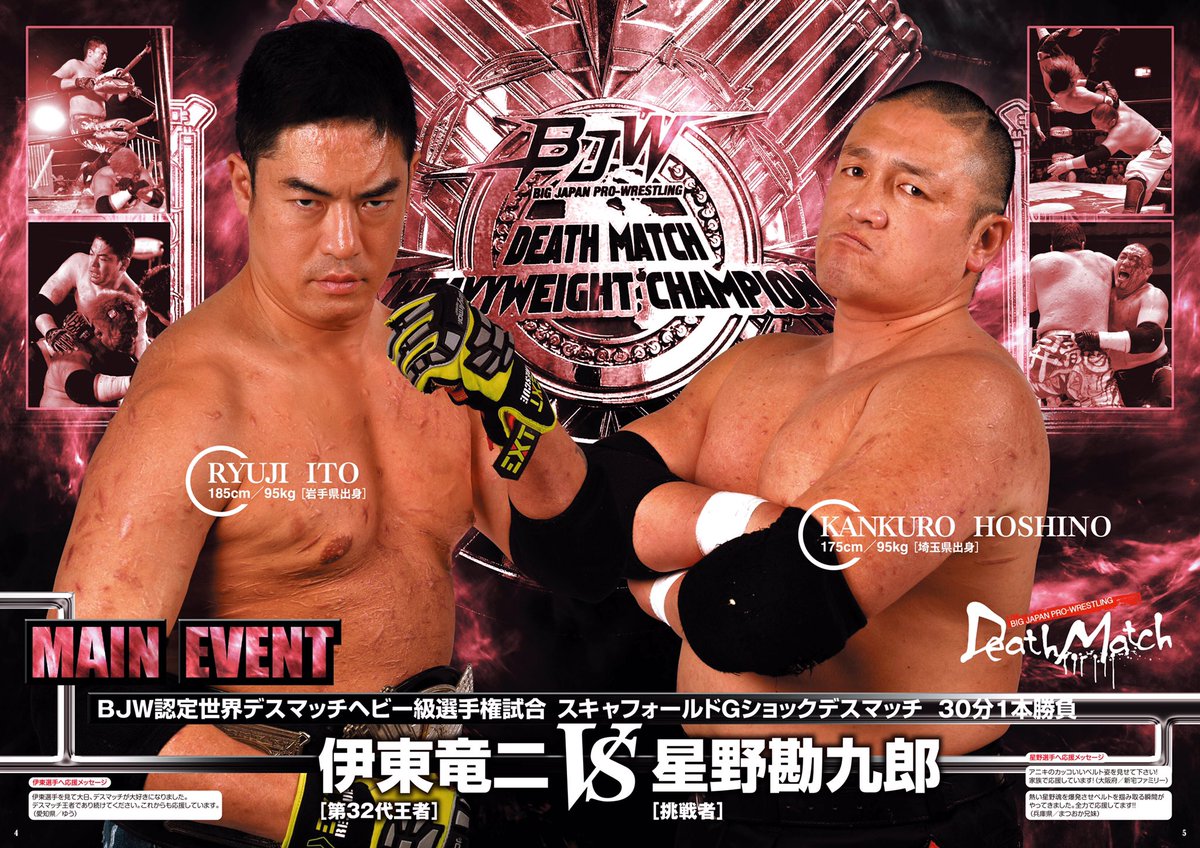 (10) BJW Deathmatch Heavyweight Championship ~ Scaffold G Shock Match: [32nd Champion] Ryuji Ito vs. [Challenger] Kankuro Hoshino
◆Winner: Hoshino (20:31) following a Diving Senton from off the scaffolding.
~ Champion falls on his 6th title defense.
~ Hoshino becomes the 33rd generation champion.
~ Masato Inaba appeared at ringside with Hoshino's son as they celebrated the win as well. Hoshino dedicated the win to his 3 year old son for giving him the passion to finally achieve his dream of being champion.
~ It was announced that they will be returning to Ryogoku next year on 7/17/2017.
http://puroresuspirit.net/tag/bjw/
upcoming…
BJW "Death Market 33", 7/31/2016 [Sun] 18:00 @ Nagoya Diamond Hall in Aichi
(1) Yuichi Taniguchi vs. Takuya Nomura
(2) Tsutomu Osugi & Hercules Senga vs. Shu & Kei Brahman
(3) Atsushi Maruyama & Yoshihisa Uto vs. Kengo Takai & Kazumi Kikuta
(4) Sakuda's Deathmatch Debut – Barbed-wire Board Tag Deathmatch: Takumi Tsukamoto & Toshiyuki Sakuda vs. Takayuki Ueki & Masaya Takahashi
(5) Yuji Okabayashi, Hideyoshi Kamitani & Yasufumi Nakanoue vs. Daisuke Sekimoto, Daichi Hashimoto & Ryuichi Kawakami
(6) Deathmatch: Ryuji Ito, Kankuro Hoshino & Jaki Numazawa vs. Abdullah Kobayashi, Yuko Miyamoto & Isami Kodaka
BJW "12th Rokkbkubashi Shopping District Pro-Wrestling", 8/6/2016 [Sat] 17:30 @ Rokkakubashi 
(1) Tatsuhiko Yoshino vs. Takuya Nomura
(2) Jaki Numazawa vs. Yuichi Taniguchi
(3) Yoshihisa Uto vs. Kazumi Kikuta
(4) Deathmatch: Ryuji Ito & Toshiyuki Sakuda vs. Masashi Takeda & Takumi Tsukamoto
(5) Hideyoshi Kamitani & Ryota Hama vs. Yasufumi Nakanoue & Ryuichi Kawakami
(6) Deathmatch: Abdullah Kobayashi, Takayuki Ueki & Masaya Takahashi vs. Yuko Miyamoto, Isami Kodaka & Kankuro Hoshino
BJW "Osaka Surprise 27 ~ STRONG WORLD 2016~", 8/11/2016 [Thu] 17:00 @ EDION Arena Osaka, 2nd Gymnasium
() Joshi Offer Match: Drake Morimatsu & Kagetsu vs. Kyoko Kimura & Hana Kimura
() Shinobu, TORU [Doutonbori] & Kazumi Kikuta vs. YO-HEY [DOVE], Yoshihisa Uto & Takuya Nomura
() Tsutomu Osugi, Hercules Senga, Takumi Tsukamoto & Toshiyuki Sakuda vs. ZERO, Tsubasa, Billyken Kid & Atsushi Maruyama [all FREE]
() Abdullah Kobayashi & Jaki Numazawa vs. Shu & Kei Brahman
BJW, 8/14/2016 [Sun] 12:00 @ Edogawa-ku Tobu Friend Hall in Tokyo
(1) Kankuro Hoshino vs. Kazumi Kikuta
(2) Ryuichi Kawakami vs. Yoshihisa Uto
(3) Daisuke Sekimoto vs. Takuya Nomura
(4) Barbed-wire Board Tag Deathmatch: Ryuji Ito & Toshiyuki Sakuda vs. Masashi Takeda & Takumi Tsukamoto
(5) Yuji Okabayashi & Yasufumi Nakanoue vs. Ryota Hama & Hideyoshi Kamitani
(6) Deathmatch: Yuko Miyamoto, Jaki Numazawa & (tba) vs. Abdullah Kobayashi, Takayuki Ueki & Masaya Takahashi
BJW, 8/15/2016 [Mon] 19:00 @ Shinkiba 1stRING in Tokyo
(1) Yuji Okabayashi vs. Takuya Nomura
(2) Deathmatch: Jaki Numazawa vs. Toshiyuki Sakuda
(3) Takumi Tsukamoto vs. Kazumi Kikuta
(4) Ryota Hama [FREE] & Hideyoshi Kamitani vs. Ryuichi Kawakami & Tatsuhiko Yoshino
(5) Yankee Nichokenju vs 3rd Generation Blood Brothers: Yuko Miyamoto & Isami Kodaka vs. Takayuki Ueki & Masaya Takahashi
(6) Daisuke Sekimoto & Daichi Hashimoto vs. Yasufumi Nakanoue [FREE] & Yoshihisa Uto
(7) Deathmatch: Ryuji Ito & Abdullah Kobayashi vs. Kankuro Hoshino & Masashi Takeda