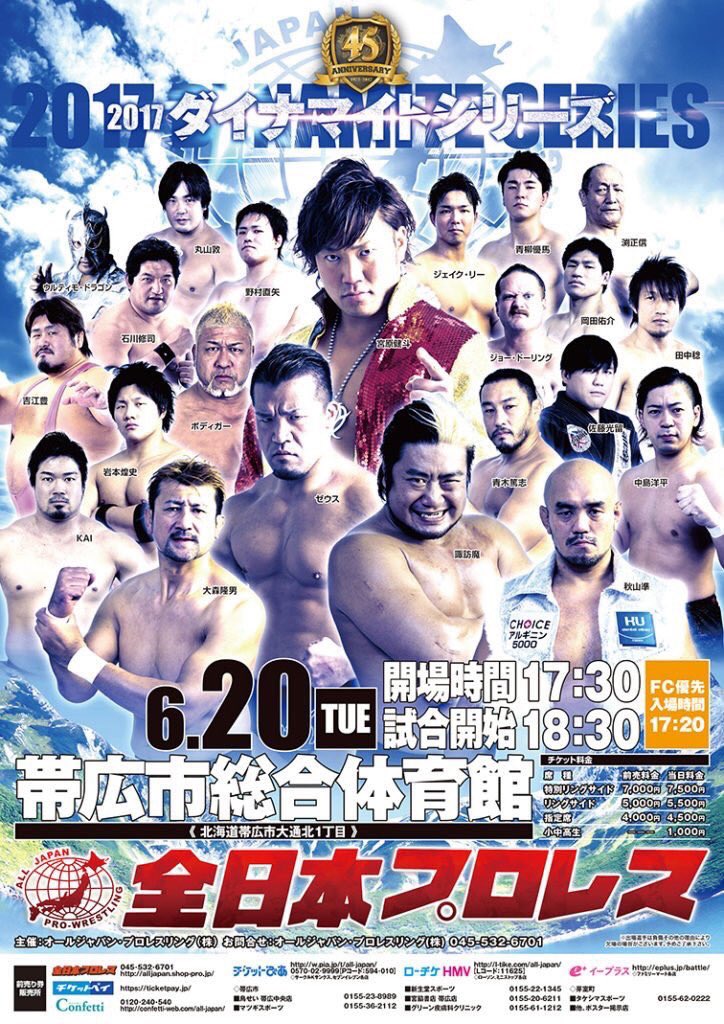 All Japan Pro-Wrestling "2017 Dynamite Series", 6/20/2017 [Tue] 18:30 @  Obihiro City General Gymnasium in Hokkaido
703 Spectators (crowded)
(1) Yohei Nakajima vs. Minoru Tanaka (FREE)
♦Winner: Minoru (4:37) with the HEAT Clutch.
(2) Jun Akiyama, Takao Omori & Ultimo Dragon (Toryumon MEXICO) vs. Zeus, The Bodyguard (FREE) & Yutaka Yoshie (FREE)
♦Winner: Yoshie (12:19) with a Diving Body Press on Akiyama.
~ Yoshie with the direct win over the GAORA TV champion before tomorrow's title challenge.
(3) Jake Lee & Naoya Nomura vs. Joe Doering & Koji Iwamoto
♦Winner: Lee (9:10) following a Backdrop on Iwamoto.
(4) Kento Miyahara & Yuma Aoyagi vs. Shuji Ishikawa & Atsushi Maruyama (FREE)
♦Winner: Miyahara (14:33) with a German Suplex Hold on Maruyama.
(5) Suwama vs. KAI (FREE)
♦Winner: Suwama (11:11) with a Backdrop Hold.
(6) Asia Tag Championship Match: [110th Champions] Masanobu Fuchi & Atsushi Onita (Fire Pro) vs. [Challengers] Atsushi Aoki & Hikaru Sato (Pancrase MISSION)
♦Winner: Aoki (13:03) with a Seated Armlock on Fuchi.
~ Champions fall on their 2nd title defense. Aoki & Hikaru become the 101st Champions.
~ Aoki & Hikaru recapture the belts after losing them to the now former champions just 7 months ago. A new standard looks to be set with the belts as the 100th milestone, for the oldest active belts in Japan today, has now been crossed.
http://puroresuspirit.net/2017/04/ajpw-event-cards-for-may-june-2017/