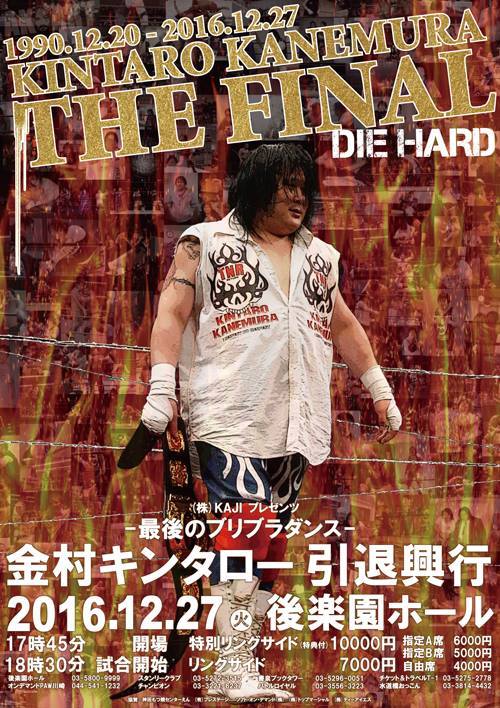 Kintaro Kanemura Retirement Show "THE FINAL DIE HARD ~ The Last", 12/27/2016 [Tue] @ Korakuen Hall in Tokyo
1,350 Spectators (crowded)
(1) Shinjiro Otani (ZERO1) & Kazushi Miyamoto (FREE) vs. Naoshi Sano (Sano-Damashii) & Shota (GUTS)
◆Winner: Miyamoto (9:24) with a Liger Bomb on Sano.
(2) High Fly Style: Hi69 (FREE), Makoto Oishi (DDT) & Shiori Asahi (K-DOJO) vs. Madoka (FREE), Yusaku Obata (ZERO1) & Saburo Inematsu (K-DOJO)
◆Winner: Hi69 (7:51) with the Stuka Splash on Madoka.
(3) FREEDOMS Offer Match: Takashi Sasaki, Mammoth Sasaki & Toru Sugiura vs. Jun Kasai, GENTARO & Kenji Fukimoto
◆Winner: Toru (12:19) following the Swift Driver on GENTARO.
(4) Street Fight 6 Man Tag Deathmatch: Yoshihiro Takayama, Hideki Hosaka & Raiden vs. Ichiro Yaguchi, Buffalo & Keiichi Sato
◆Winner: Takayama (11:56) following a Running Knee Lift on Buffalo.
~ Atsushi Onita missed this match due to complications with an injury, Takayama took his place.
(5) Battle Royal: Shinjiro Otani, Magnitude Kishiwada, The Bodyguard, Shinjuku-same, Kazunori Yoshida, Kuuga, RG, Masato Shibata, Keisuke Okudo, Hayate, Nobutaka Moribe, Miss Mongol, Youseki, Keiichi Sato, Kotaro Nasu, Yousuke Enosimoto, DJ Nira, and Honey Hachiko
◆Winner: Shinjuku-same (13:12) sent Razor Ramon RG over the top rope.
(6) FMW 10 Person Tag Match: Mr. Gannosuke (GUTS World), NOSAWA Rongai (Tokyo Gurentai), Onryo (FREE), Gosaku Goshogawara (FREE) & Yuki Miyazaki (FREE) vs. TAKA Michinoku (K-DOJO), Ricky Fuji (K-DOJO), GOEMON (FREE), Minoru Tanaka (FREE) & TAJIRI (FREE)
◆Winner: Gannosuke (11:21) following a Fire Thunder on GOEMON.
(7) Kanemura Retirement Match: Kintaro Kanemura, Masato Tanaka (ZERO1) & Tetsuhiro Kuroda (FREE) vs. Daisuke Sekimoto (BJW), Kohei Sato (ZERO1) & Yuji Hino (FREE)
◆Winner: Sekimoto (15:41) with a Deadlift German Suplex Hold on Kanemura.
~ Atsushi Onita came out on crutches to as the two showed their final respects. Onita apologized for being unable to compete today.
~ Tanaka and Kuroda came back into the ring as they took part in a final trademark dance with Kanemura.
~ Kanemura bid farewell to the fans as he respectfully ends his career after 26 years of competing in the ring.
~ Kanemura has been an active pro-wrestling since 1990 and became famous for matches, more notably death matches, in W★ING and FMW throughout the mid-90's. He helped form the Apache Pro-Wrestling Army (in 2004) following the demise of FMW in 2002. He leaves the ring as the last WEW Champion which will be sealed away with is retirement.