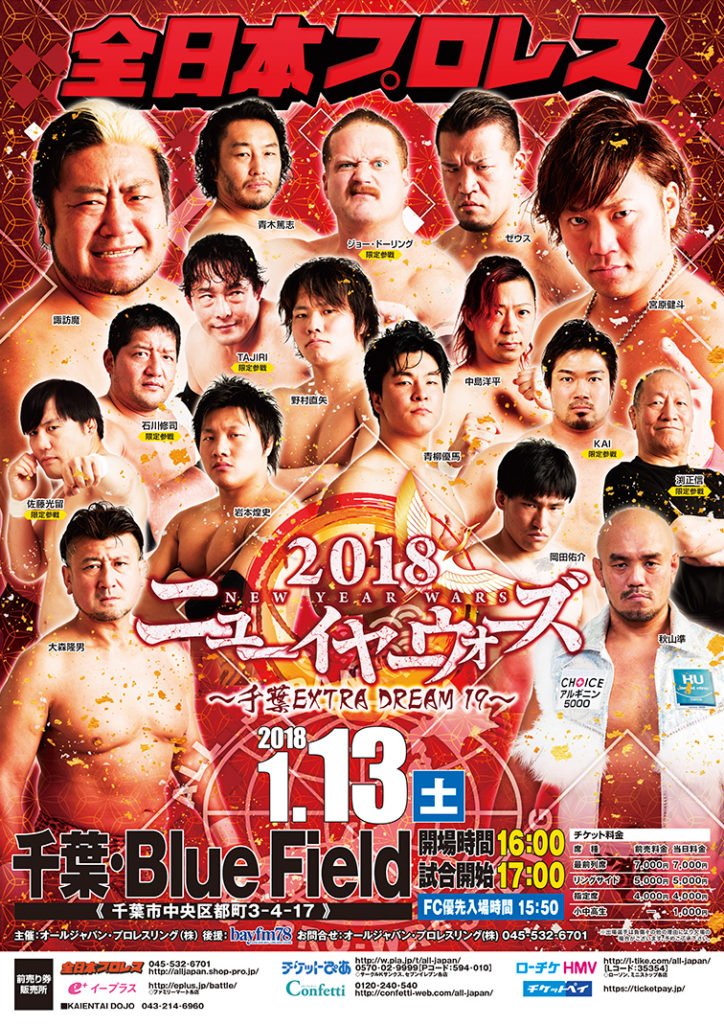 All Japan Pro-Wrestling "Chiba EXTRA DREAM 19", 1/13/2018 [Sat] 17:00 @ Blue Field in Chiba
(1) Koji Iwamoto vs. Keiichi Sato (FREE)
◆Winner: Iwamoto (6:12) with the Koko no Geijutsu.
(2) Jun Akiyama & Naoshi Sano (Sano-Damashii) vs. Kotaro Yoshino & Dinosaur Takuma (both K-DOJO)
◆Winner: Yoshino (9:41) with the Gaobababa on Sano.
(3) Suwama vs. Yusuke Okada
◆Winner: Suwama (9:55) following a Lariat.
~ The rookie asked to be aligned with Suwama's Evolution group, but the veteran declined the offer.
(4) Joe Doering, Hikaru Sato & Atsushi Aoki vs. Yohei Nakajima, Ryoji Sai (LAND'S END) & Tank Nagai (K-DOJO)
◆Winner: Doering (12:54) with a Running Body Attack on Yohei.
(5) Atsushi Aoki vs. TAJIRI (FREE) vs. Black Tiger VII (FREE)
◆Winner: TAJIRI (9:31) with a Small Package Hold on Aoki.
~ The World Junior Champion with the direct win over the next challenger for his belt. During the match, TAJIRI forcefully removed the mask that Aoki has been wearing in recent times. Then following TAJIRI demanded that Aoki to not wear a mask for the upcoming title match.
(6) Kento Miyahara, Yoshitatsu (FREE), Naoya Nomura & Yuma Aoyagi vs. Zeus, KAI (FREE), Yutaka Yoshie (FREE) & Atsushi Maruyama
◆Winner: Miyahara (18:15) with a German Suplex Hold on Maruyama.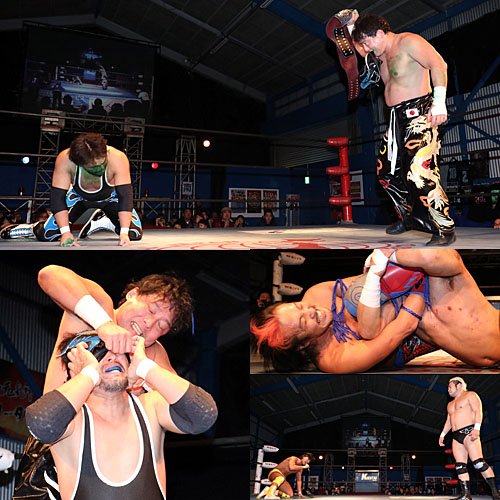 http://puroresuspirit.net/2017/12/ajpw-event-cards-for-january-february-2018/