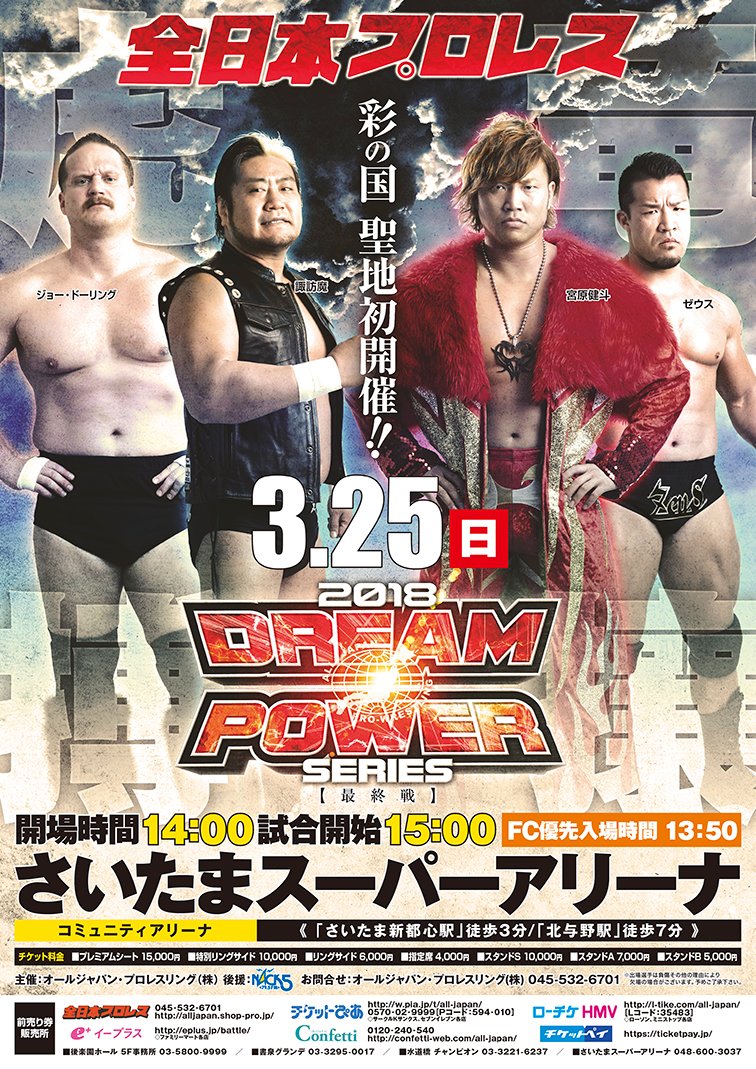 All Japan Pro-Wrestling "2018 Power Dream Series", 3/25/2018 [Sun] 15:00 @ Saitama Super Arena, Community Hall
2,257 Spectators
(1) Atsushi Maruyama, Yutaka Yoshie (FREE), Naoshi Sano (Sano-Damashii), Keiichi Sato (FREE) & CarBell Ito vs. Masakado, Ishikiri, Revlon, So Daimonji & FG Mask (all LAND'S END)
◆Winner: Yoshie (5:15) with a Running Jumping Body Press on Revlon.
(2) Masanobu Fuchi, TAJIRI (FREE) & Yohei Nakajima vs. Osamu Nishimura, Ultimo Dragon & Kotaro Suzuki (all FREE)
◆Winner: Dragon (8:14) with a La Magistral on Fuchi.
(3) Koji Iwamoto vs. Josh Bodom (UK)
◆Winner: Iwamoto (8:25) with the Koko no Geijutsu.
(4) The Road to 2018 Champion Carnival Special Tag Match: Naoya Nomura & KAI (FREE) vs. Yoshitatsu & Yuji Hino (both FREE)
◆Winner: Hino (4:51) following the Fucking BOMB on Nomura.
(5) Evolution vs Hagure IGF International Special 6 Man Tag Match: Suwama, Hikaru Sato & Yusuke Okada vs. Kazuyuki Fujita, Kendo Kashin & NOSAWA Rongai
◆Winner: NOSAWA (11:21) via referee stop, a Camel Clutch on Yusuke.
~ Masked Freddy Kruger was in the corner for Hagure IGF as the match was out of control in terms of weapon use and the teamwork advantage.
~ Hagure IGF continued to humiliate Suwama after the match.
~ During the backstage interview, Suwama stated that this is not over yet as he seeks out a rematch against the invaders.
~ Jake Lee appeared and stated that he will be returning to active competition on May 24 at the Korakuen Hall. Lee has been out of action since August after he suffered a left knee ACL rupture. He and Naoya Nomura were also forced to vacate the World Tag belts due to his injury.
(6) Asia Tag Championship Match: [Champions] Jun Akiyama & Yuji Nagata (NJPW) vs. [Challengers] Takao Omori & Manabu Nakanishi (NJPW)
◆Winner: Akiyama (15:46) following a Wrist Clutch style Exploder on Omori.
~ 1st successful title defense.
(7) AJPW World Junior Championship Match: [47th Champion] Atsushi Aoki vs. [Challenger] Shuji Kondo (W-1)
◆Winner: Aoki (18:35) with the Trap Over.
~ 1st successful title defense.
(8) AJPW World Tag Championship Match: [81st Champions] Zeus & The Bodyguard (FREE) vs. [Challengers] Ryoji Sai (LAND'S END) & Dylan James (New Zealand)
◆Winner: Sai (17:50) following the Nachi no Taki on Bodyguard.
~ Champions fall on their 1st title defense. Sai & James becomes the 82nd champions.
(9) Triple Crown Heavyweight Championship Match: [59th Champion] Joe Doering vs. [Challenger] Kento Miyahara
◆Winner: Miyahara (17:34) with the Shutdown German Suplex Hold.
~ Champion falls on his 4th title defense. Miyahara becomes the 60th champion.
~ Miyahara now heads into next month's Champion Carnival as the defending champion.
http://puroresuspirit.net/2018/02/ajpw-event-cards-for-march-april-2018/embed/#?secret=tRA5qQ13bk