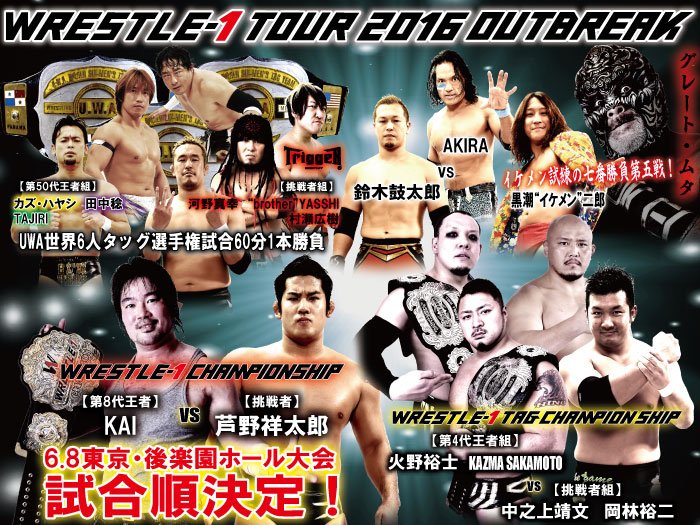 WRESTLE-1 TOUR 2016 OUTBREAK, 6/8/2016 [Wed] 19:00 @ Korakuen Hall in Tokyo
1,009 Spectators
(1) Ryota Hama, Andy Wu & Kohei Fujimura vs. Daiki Inaba, Seiki Yoshioka & Shota [GUTS]
◆Winner: Andy (7:13) with the Feihong on Inaba.
(2) new Wild order vs REAL DESPERADO: Manabu Soya, Jun Kasai [FREEDOMS] & Kumagoro vs. NOSAWA Rongai, MAZADA & Koji Doi
◆Winner: Soya (8:39) with a Pearl Harbor Splash (w/ Kasai's goggles) on Doi.
(3) UWA World 6 Man Tag Championship Match: [50th Champions] Kaz Hayashi, Minoru Tanaka & TAJIRI vs. [Challengers] Masayuki Kono, "brother" YASSHI & Hiroki Murase
◆Winner: TAJIRI (11:12) via pin-fall on Murase, following a poison mist.
~ 4th successful title defense.
~ Shuji Kondo announced that he will be returning on the 7/1 Korakuen Hall show.
(4) WRESTLE-1 Cruiserweight Championship Match: [4th Champion] Kotaro Suzuki (FREE) vs. [Challenger] AKIRA
◆Winner: Kotaro (15:21) with a Tiger Driver.
~ 4th successful title defense.
~ The former champion Andy Wu came out to make the challenge.
---
~ Michinoku Pro's The Great Sasuke and freelance wrestler Kota Ibushi were announced to be competing on big Yokohama show on August 11. They will be joining the previously announced special match featuring W-1 vs. AJPW.
"Pro-Wrestling LOVE in YOKOHAMA", 8/11/2016 [Thu] 15:00 @ Yokohama Cultural Gymnasium in Kanagawa
(-) WRESTLE-1 vs AJPW Special 6 Man Tag Match: Keiji Mutoh, X & XX vs. Jun Akiyama, X & XX
---
(5) Ikemen Single Match Trial Series: Jiro "Ikemen" Kuroshio vs. Great Muta
◆Winner: Muta (6:23) following a Shining Wizard.
(6) WRESTLE-1 Tag Championship Match: [4th Champions] Yuji Hino (FREE) & KAZMA SAKAMOTO vs. [Challengers] Yasufumi Nakanoue & Yuji Okabayashi (BJW)
◆Winner: Nakanoue (15:32) following the Nakaue (Running Elbow) on KAZMA.
~ Champions fall on their 3rd title defense. Nakanoue & Okabayashi become the 5th generation champions.
(7) WRESTLE-1 Championship Match: [8th Champion] KAI vs. [Challenger] Shotaro Ashino
◆Winner: KAI (17:29) with the Originator certified Gannosuke Clutch.
~ 1st successful title defense.