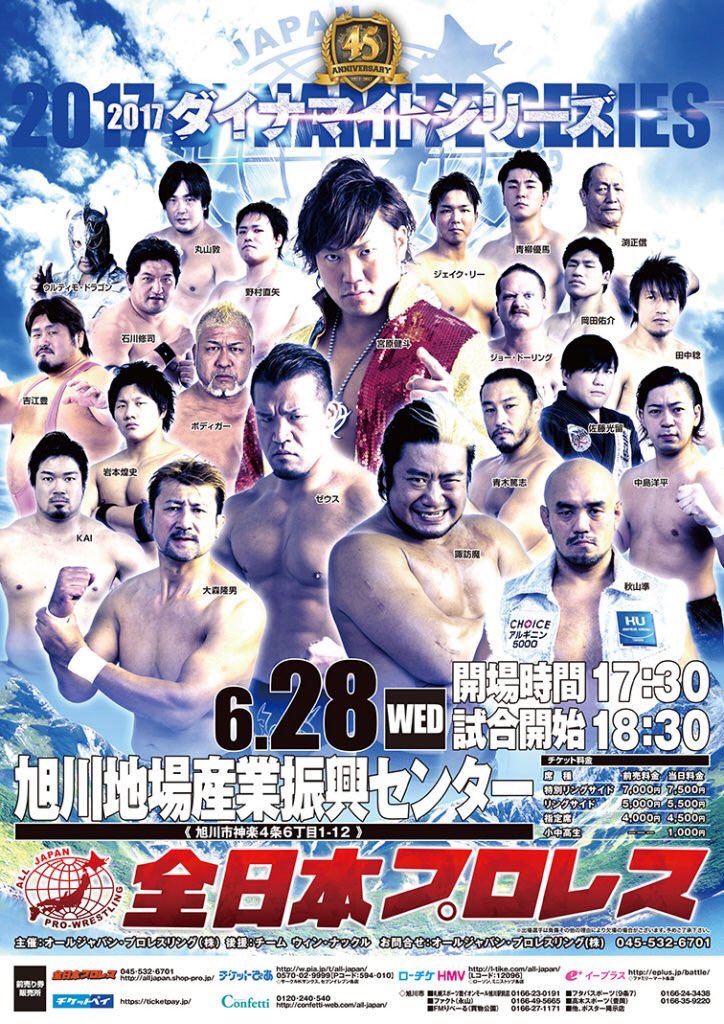 All Japan Pro-Wrestling "2017 Dynamite Series", 6/28/2017 [Wed] 18:30 @ Asahikawa Jiba Sangyo Shinko Center in Hokkaido
(1) Naoya Nomura & Yuma Aoyagi vs. Minoru Tanaka (FREE) & Yusuke Okada
♦Winner: Nomura (5:03) with a Boston Crab on Yusuke.
(2) Yohei Nakajima vs. Atsushi Maruyama (FREE)
♦Winner: Maruyama (4:51) with the M5.
(3) Fuchi vs Dragon Hokkaido Series Final Match: Masanobu Fuchi vs. Ultimo Dragon
♦Winner: Dragon (9:31) with a La Magistral.
(4) Joe Doering vs. Yutaka Yoshie (FREE)
♦Winner: Doering (4:55) following a Lariat.
~ Doering in the tour in his continued dominate fashion. As he has his eyes set on overcoming Miyahara next month and earning the shot for the Triple Crown belt.
(5) Suwama & Atsushi Aoki vs. Zeus & The Bodyguard (FREE)
♦Winner: Zeus (10:19) with a Jackhammer on Aoki.
~ Suwama continues to show frustrations, but stated that he his own expectations for the upcoming Ryogoku show in August. That the Triple Crown belt is still something that he aims to compete for and inevitably recapture.
(6) World Junior Heavyweight Championship Match: [43rd Champion] Hikaru Sato (Pancrase MISSION) vs. [Challengers] Koji Iwamoto
♦Winner: Hikaru (16:11) with a Capture style Cross Armbar.
~ 3rd successful title defense.
~ Minoru Tanaka stepped forward to challenge the champion. (Knowing their backgrounds we could expect to see a solid shoot based bout.)
(7) Hokkaido Tour Last Special 6 Man Tag Match: Jun Akiyama, Takao Omori & Jake Lee vs. Kento Miyahara, Shuji Ishikawa (FREE) & KAI (FREE)
♦Winner: Miyahara (20:16) with the Shutdown German Suplex Hold on Omori.
~ Miyahara takes out the veteran as the momentum is coming back on his side. He acknowledged Doering's showings of power, but Miyahara stated that he is at his highest point once more since initially losing the Triple Crown.
http://puroresuspirit.net/2017/06/ajpw-event-cards-for-july-august-2017/