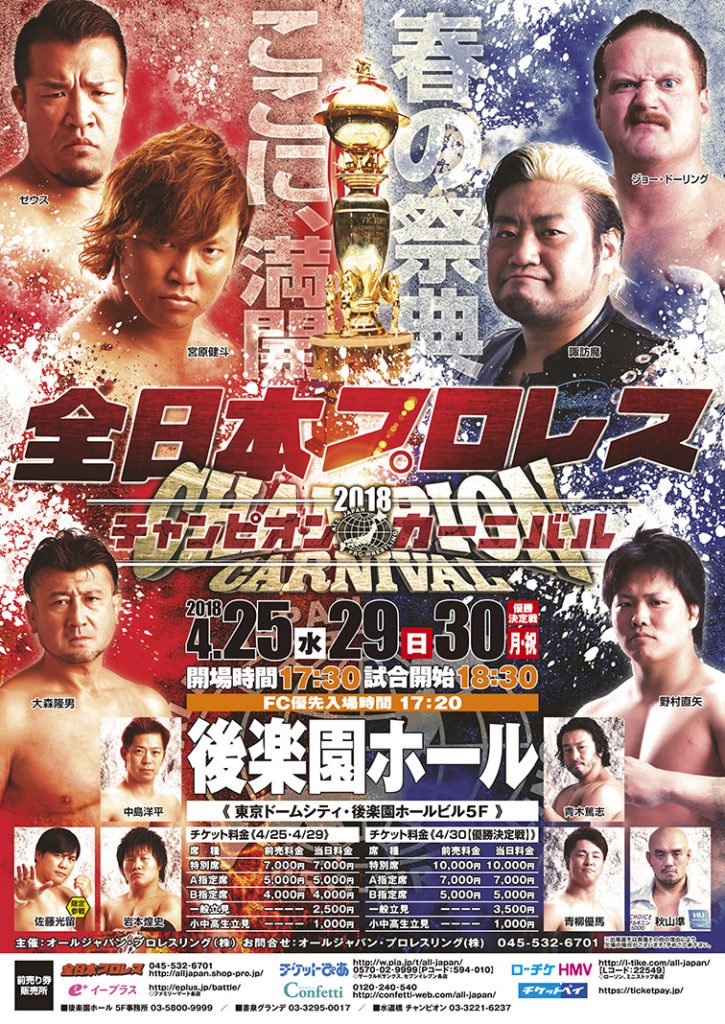 All Japan Pro-Wrestling "2018 Champion Carnival", 4/30/2018 [Mon] 18:30 @ Korakuen Hall in Tokyo
1,647 Spectators (overcrowded)
(1) Takao Omori & Yutaka Yoshie (FREE) vs. Masanobu Fuchi & Osamu Nishimura (FREE)
◆Winner: Omori (8:48) following the Axe Bomber on Fuchi.
(2) Beauty and Health Research presents 3vs3 Elimination Match: Atsushi Aoki, Hikaru Sato & Yusuke Okada vs. Koji Iwamoto, Yohei Nakajima & Atsushi Maruyama
~ Order of elimination: Yohei, Iwamoto & Yusuke, Hikaru..
◆Winner: Maruyama (11:49) with a standing Hurricanrana on Aoki.
~ Maruyama with the direct win over the World Junior Champion, as he asserted himself as the next challenger. Aoki accepted the challenge.
(3) Suwama & Shuji Ishikawa (FREE) vs. Naoya Nomura & Yoshitatsu (FREE)
◆Winner: Suwama (15:00) with the Manriki Sleeper on Yoshitatsu.
~ Suwama would not let go of the hold even after the referee called the match. As he was clearly looking to enact some revenge following his loss in the Carnival against Yoshitatsu.
~ Yuma Aoyagi announced that he will be making his return on June 5 at the Differ Ariake in a special 8 man tag match. Unlike Jake Lee, who returns next month, Aoyagi stated that he is still a part of NEXTREAM.
(4) Ryoji Sai & Dylan James vs. TAJIRI & KAI (both FREE)
◆Winner: KAI (6:20) with the Splash Plancha on James.
~ KAI & TAJIRI claim the win over the World Tag Champions. As the two signaled that they want the belts around their waists.
(5) Jun Akiyama, Joe Doering & Yuji Hino (FREE) vs. Zeus, The Bodyguard (FREE) & Shingo Takagi (DG)
◆Winner: Doering (18:43) with the Revotion Bomb on Bodyguard.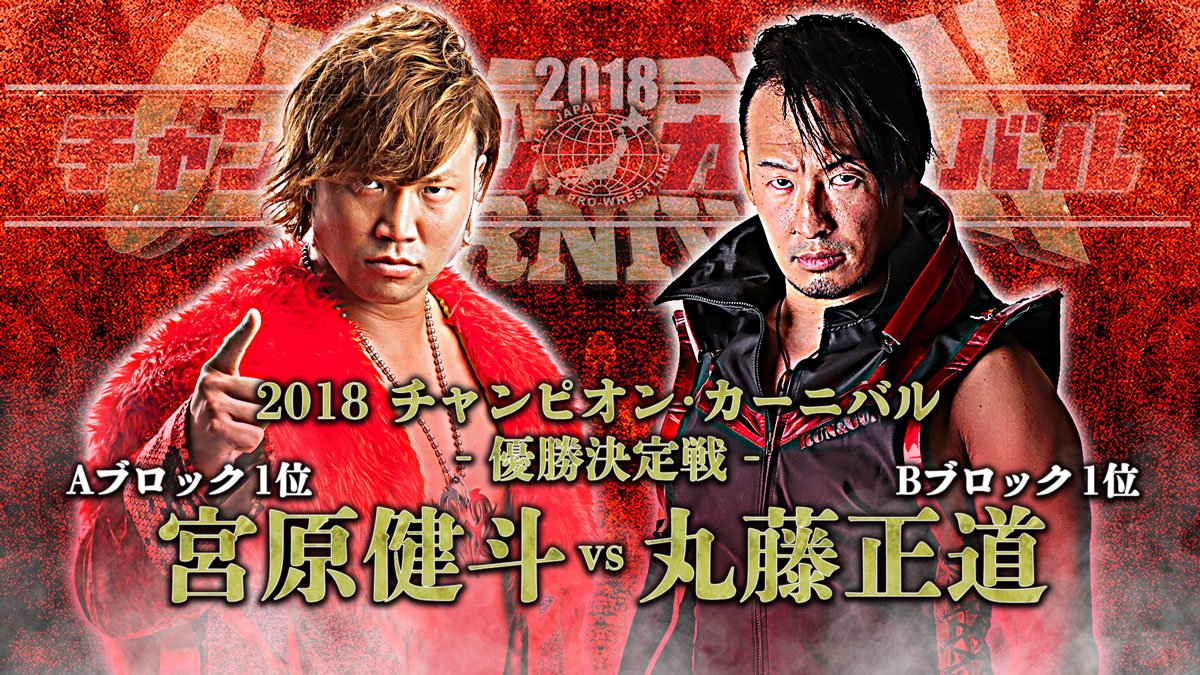 (6) Champion Carnival Final Match: (A BLOCK #1) Kento Miyahara vs. (B BLOCK #1) Naomichi Marufuji (NOAH)
◆Winner: Marufuji (24:50) following a Poleshift style Emerald Flowsion.
~ Marufuji wins the 2018 Champion Carnival.
~ Marufuji stated that his goals for the league were to beat Akiyama and win the Carnival. Though as for the Triple Crown he is not focused on that at this moment. As right now he has a match set against Takashi Sugiura for the GHC Heavyweight belt on May 29. With that said though, he will accept a match for the belt if and when it is presented to him.
~ Though he did state that the door is open for Miyahara to return and compete in the NOAH ring if All Japan permits it.
Previous Day Results
~ 4/7 – Day 1 [RESULTS]
~ 4/8 – Day 2 [RESULTS]
~ 4/10 – Day 3 [RESULTS]
~ 4/11 – Day 4 [RESULTS]
~ 4/12 – Day 5 [RESULTS]
~ 4/14 – Day 6 [RESULTS]
~ 4/15 – Day 7 [RESULTS]
~ 4/16 – Day 8 [RESULTS]
~ 4/18 – Day 9 [RESULTS]
~ 4/20 – Day 10 [RESULTS]
~ 4/21 – Day 11 [RESULTS]
~ 4/22 – Day 12 [RESULTS]
~ 4/25 – Day 13 [RESULTS]
~ 4/29 – Day 14 [RESULTS]
~ 4/30 – Day 15 Final *above*