AJPW "2017 Champion Carnival ~ 45th Anniversary Series", 4/30/2017 [Sun] 16:00 @ Hakata StarLanes in Fukuoka
875 Spectators (overcrowded)
(1) Yuma Aoyagi vs. Yusuke Okada
♦Winner: Aoyagi (7:03) with a Fisherman Suplex Hold.
(2) Atsushi Aoki vs. Koji Niizumi [Kageki]
♦Winner: Aoki (4:51) with a Texas Clover Hold.
(3) Yohei Nakajima & Koji Iwamoto vs. Ultimo Dragon [Toryumon MEXICO] & KING [Kageki]
♦Winner: Yohei (10:05) following the Tobiushiro-mawa shigeri on KING.
(4) Jun Akiyama & Daichi Hashimoto [BJW] vs. Suwama & Hikaru Sato
♦Winner: Akiyama (9:16) following a Wrist Clutch style Exploder on Hikaru.
~ Daichi offered the inviation to Akiyama to be his partner as he mades a previous challenge for the World Tag belts during the CC.
~ It was formally announced earlier in the day that Hikaru will be defending the World Junior belt against Black Tiger VII on 5/21. A prelude match will be taking place on 5/21 as well. (AJPW Event Cards for May & June 2017)
(5) Champion Carnival Special Tag Match: Takao Omori & The Bodyguard vs. Jake Lee & Naoya Nomura
♦Winner: Lee (10:15) following a Backdrop on Bodyguard.
~ Jake Lee and Nomura are both eager for their chance at the World Tag belts. Which was announced to be taking place on May 12.
(6) Champion Carnival Special 6 Man Tag Match: Kento Miyahara, Daisuke Sekimoto [BJW] & Kengo Mashimo [K-DOJO] vs. Zeus, Ryoji Sai [LAND'S END] & KAI [FREE]
♦Winner: Miyahara (25:20) with the Shutdown German Suplex Hold on Zeus.
~ During the backstage interview, KAI approached Mashimo to form a potential alliance. With the K's in their name being an early connecting point to their union.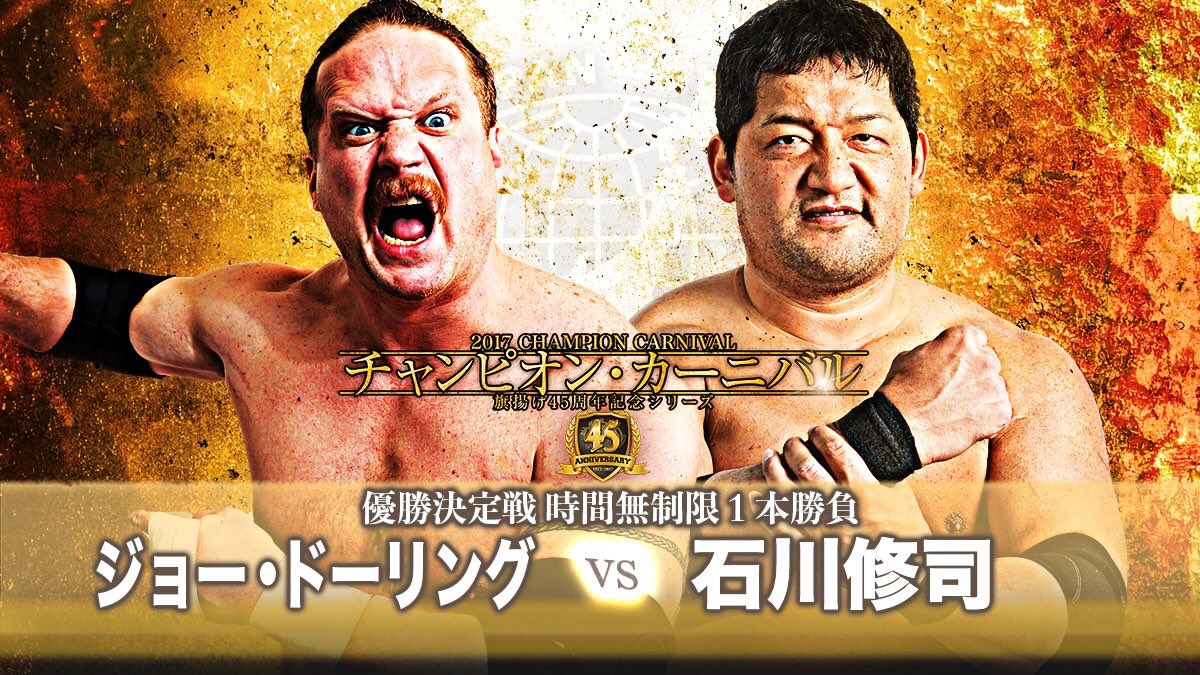 (7) 2017 Champion Carnival Final Match: [A BLOCK #1] Joe Doering vs. [B BLOCK #1] Shuji Ishikawa (FREE)
♦Winner: Ishikawa (15:13) following a Fire Thunder.
~ Ishikawa wins the 2017 Champion Carnival.
~ Ishikawa declared that he shall become the Triple Crown Champion.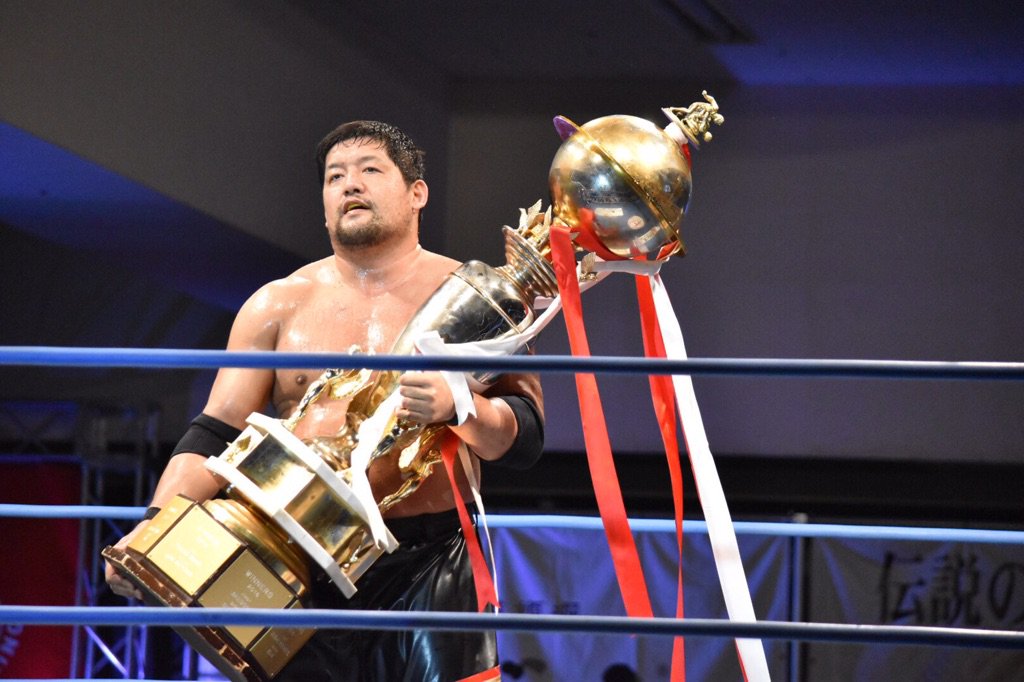 http://puroresuspirit.net/tag/ajpw/
http://puroresuspirit.net/2017/04/ajpw-event-cards-for-may-june-2017/
Previous Days Results
~ 4/16 – Day 1 [RESULTS]
~ 4/18 – Day 2 [RESULTS]
~ 4/19 – Day 3 [RESULTS]
~ 4/20 – Day 4 [RESULTS]
~ 4/22 – Day 5 [RESULTS]
~ 4/23 – Day 6 [RESULTS]
~ 4/25 – Day 7 [RESULTS]
~ 4/26 – Day 8 [RESULTS]
~ 4/28 – Day 9 [RESULTS]
~ 4/29 – Day 10 [RESULTS]
~ 4/30 – Day 11 Final * above