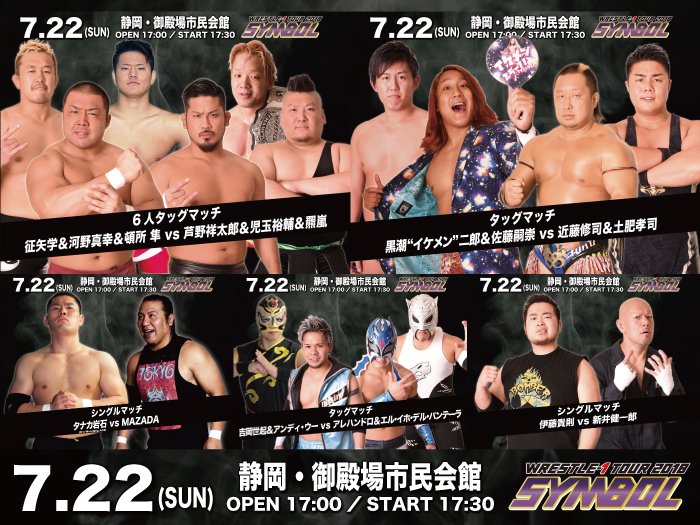 WRESTLE-1 TOUR 2018 SYMBOL, 7/22/2018 [Sun] 17:30 @ Gotenba Shimin Kaikan in Shizuoka
(1) Takanori Ito vs. Kenichiro Arai (DG)
◆Winner: Ito (6:08) with a German Suplex Hold.
(2) Seiki Yoshioka & Andy Wu vs. Alejandro & El Hijo del Pantera
◆Winner: Yoshioka (14:16) following the SK on Alejandro.
(3) Ganseki Tanaka vs. MAZADA
◆Winner: MAZADA (10:05) following a Fisherman Buster.
(4) Jiro "Ikemen" Kuroshio & Tsugataka Sato vs. Shuji Kondo & Koji Doi
◆Winner: Doi (14:01) with the Nankinjogatame on Tsugataka.
(5) Manabu Soya, Masayuki Kono & Jun Tonsho vs. Shotaro Ashino, Yusuke Kodama & Kumaarashi
◆Winner: Soya (17:38) following the Wild Bomber on Kumaarashi.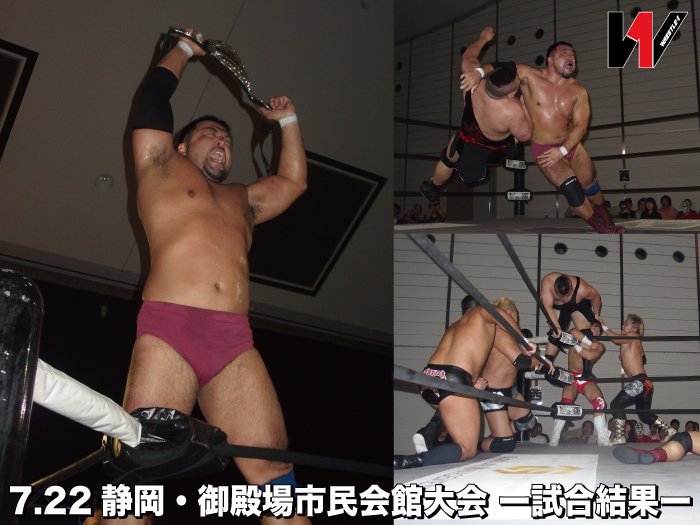 http://puroresuspirit.net/tag/w-1/
Upcoming…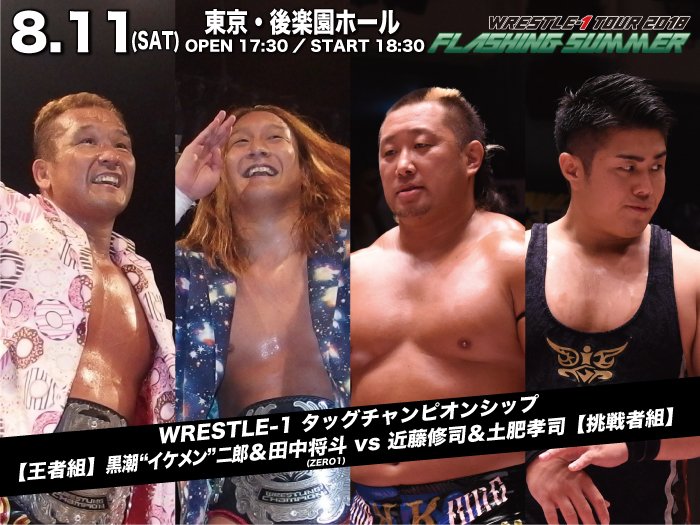 WRESTLE-1 TOUR 2018 FLASHING SUMMER, 8/11/2018 [Sat] 18:30 @ Korakuen Hall in Tokyo
(-) Tsugataka Sato vs. X
(-) WRESTLE-1 Tag Championship Match: [15th Champions] Jiro "Ikemen" Kuroshio & Masato Tanaka vs. [Challengers] Shuji Kondo & Koji Doi
~ 1st title defense.
PRO-WRESTLING MASTERS, 8/21/2018 [Tue] 19:00 @ Korakuen Hall in Tokyo
() Samoan no Kaicho Shurai! Special 6 Man Tag Match: Tatsumi Fujinami, Jushin Thunder Liger & Takuma Sano vs. Hisakatsu Oya, Black Tiger V & Wild Samoan
(-) Idainaru Tatsujin vs Yomigaetta Kaizoku Gaspars Special Tag Match: Great Kojika & Kim Duk vs. Curry Gaspar & Cory Gaspar
(-) Lucha Master Assemble! Special 6 Man Tag Match: Kendo, Shiryu & SATO vs. NOSAWA Rongai, MAZADA & FUJITA (all Tokyo Gurentai)
(-) MASTERS Special Single Match: Yoshiaki Fujiwara vs. Ishinriki
(-) Special 8 Man Tag Match: Hiroshi Hase (FREE), Jinsei Shinzaki (Michinoku), Taiyo Kea (FREE) & Shinjiro Otani (ZERO1) w/ Keiji Mutoh vs. Shiro Koshinaka (FREE), AKIRA (Makai), Masashi Aoyagi (FREE) & Akitoshi Saito (NOAH) w/ The Great Kabuki
WRESTLE-1 "2018 Pro-Wrestling LOVE in YOKOHAMA", 9/2/2018 [Sun] 15:00 @ Yokohama Cultural Gymnasium in Kanagawa
(-) WRESTLE-1 Championship Match: [12th Champion] Manabu Soya vs. [Challenger] Shotaro Ashino
~ 2nd title defense.