VKF SUMMER SLAM 2018, 7/15/2018 [Sun] 17:00 @ Tenmabashi Dawn Center in Osaka
(1) Yuto Kikuchi (Doutonbori) vs. Osamu Suganuma (Doutonbori)
◆Winner: Suganuima (10:36) following the TORU-Koroshi.
(2) Akira Joe (FREE) vs. Voltage
◆Winner: Joe (8:13) following a Cross Rhodes.
(3) VKF Machine #3, Yasu Kubota & VKF Machine #1 vs. CHANGO, Billyken Kid & Tsubasa (all FREE)
◆Winner: CHANGO (12:13) following a Diving Senton on Yasu.
(4) Goa (FREE) vs. Joji Otani (HEAT-UP)
◆Winner: Goa (9:08) with the Makai-ichi no Splash.
(5) UWA Middleweight Championship Match: [67th Champion] Masamune (FREE) vs. [Challenger] Takaku Fuke (Pancrase MISSION)
◆Winner: Masamune (15:05) with a Japanese Leg Roll Clutch.
~ Masamune successful defense.
(6) TORU (Doutonbori) & Daisuke Kanehira (HEAT-UP) vs. Buffalo (Makai) & Hide Kubota (FREE)
◆Winner: No Contest (16:37)
~ Rematch
(-) TORU, Daisuke Kanehira & Osamu Suganuma vs. Buffalo, Hide Kubota & Akira Joe
◆Winner: TORU (2:21) following a Vertical Drop style Brainbuster on Joe.
http://puroresuspirit.net/tag/vkf/
Upcoming…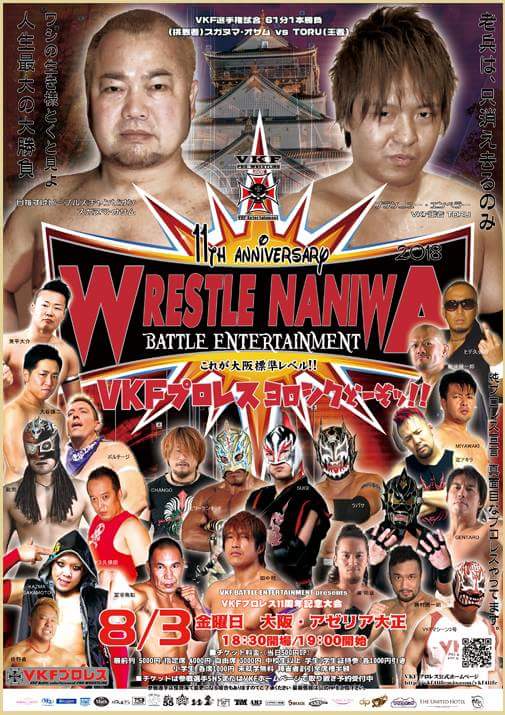 VKF 11th Anniversary Show WRESTLE NANIWA 2018, 8/3/2018 [Fri] 19:00 @ Azalea Taisho in Osaka
(-) VKF Championship Match: [Champion] TORU vs. [Challenger] Osamu Suganuma