Pro-Wrestling FREEDOMS "Shinkiba Death Match Carnival 2018", 7/15/2018 [Sun] 18:30 @  Shinkiba 1stRING in Tokyo
375 Spectators (overcrowded)
(1) Yuya Susumu & Dragon Libre vs. Shinobu & Koju Takeda (both 666)
◆Winner: Shinobu (11:12) with a Single Leg Crab on Libre.
(2) Takashi Sasaki & Tomoya Hirata vs. GENTARO & Heisenberg (New Taiwan)
◆Winner: GENTARO (13:54) with a Diving Elbow Drop on Hirata.
(3) Mammoth Sasaki, KAZMA SAKAMOTO (FREE) & Chikara (Riki Enterprise) vs. Toru Sugiura, Kamui & Sugiuraman Great
◆Winner: Toru (12:13) with the Raging Tornado on Chikara.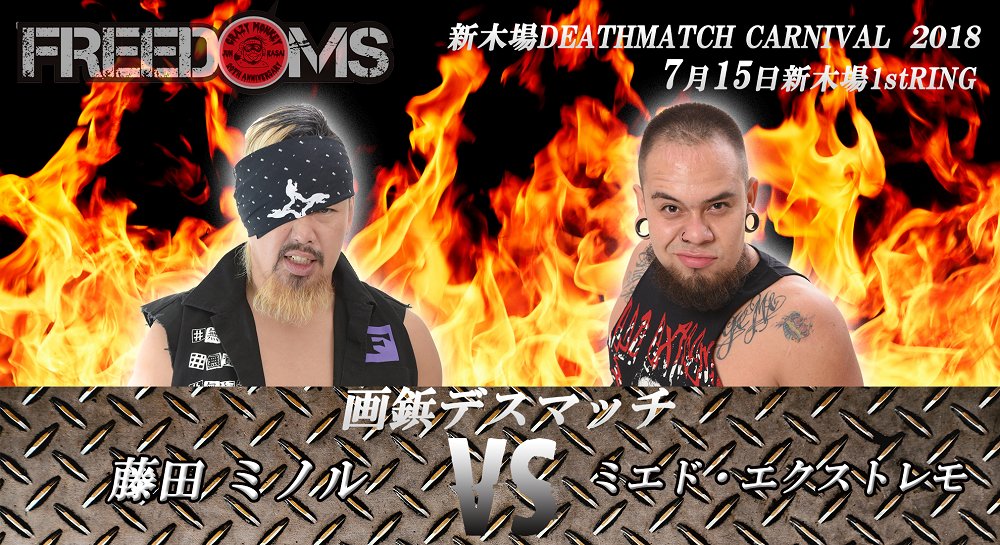 (4) Thumbtack Death Match: Minoru Fujita (FREE) vs. Miedo Extremo
◆Winner: Extremo (12:18) with a Figure Four on Thumbtacks.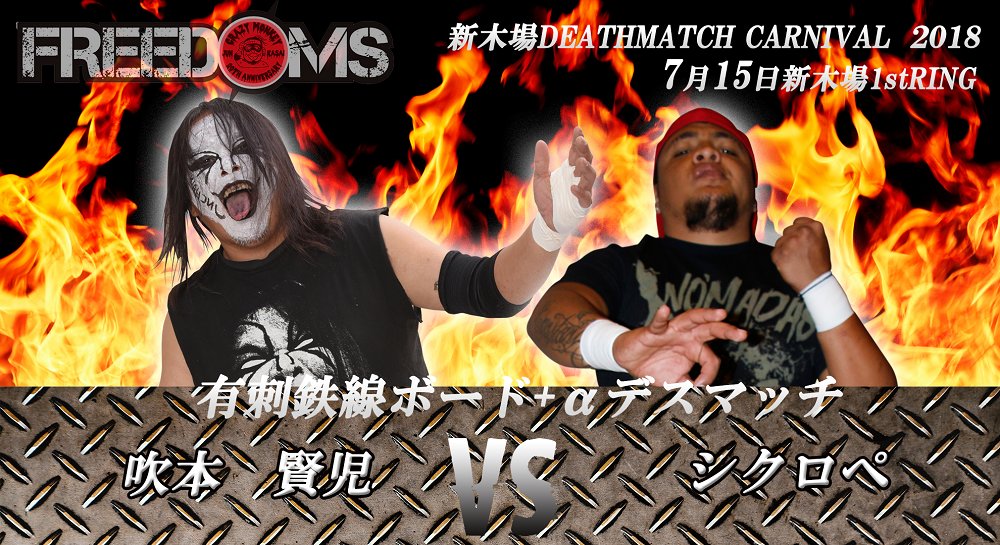 (5) Barbed-wire + Alpha Death Match: Kenji Fukimoto vs. Ciclope
◆Winner: Ciclope (11:50) following a Shining Wizard w/ barbed-wire.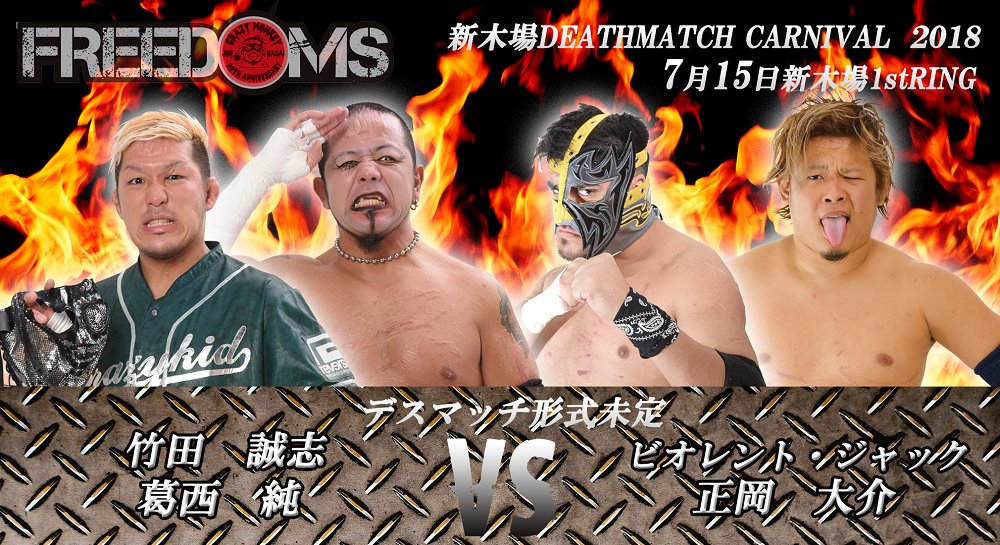 (6) j Fluorescent Light-tubes Death Match: Masashi Takeda (FREE) & Jun Kasai vs. Violento Jack & Daisuke Masaoka
◆Winner: Kasai (14:57) with the Pearl Harbor Splash on Jack.
~ After the match, Los Nomads continued to assault the other team, as Masaoka even cut at Takeda's hair. This following Masaoka chopping off Kasai's ponytail at the previous show.
~ Takeda declared that next time he will show Masaoka the correct way to use scissors in a death match.
http://puroresuspirit.net/tag/freedoms/
Upcoming…
FREEDOMS, 7/22/2018 [Sun] 14:00 @ Ichinoseki Sogo Taiikukan U-Dome, Main Arena in Iwate
(-) Yuya Susumu, Masamune & Aizawa #1 vs. Kamui, Dragon Libre & Heisenberg
(-) GENTARO & Tomoya Hirata vs. Shinobu & Koju Takeda (both 666)
(-) Joshi Match: Tsukasa Fujimoto & Makoto vs. Hamuko Hoshi & Ibushi Hoshi
(-) Kenji Fukimoto, Minoru Fujita & Chikara vs. The Great Sasuke, Brahman Shu & Brahman Kei
(-) FREEDOMS vs NOAH Tag Match: Mammoth Sasaki & Toru Sugiura vs. Go Shiozaki & Hi69
(-) FREEDOMS vs The Nomads Bring Your Own Weapons 8 Man Tag Death Match: Masashi Takeda, Takashi Sasaki, Jun Kasai & Yuko Miyamoto vs. Violento Jack, Daisuke Masaoka, Miedo Extremo & Ciclope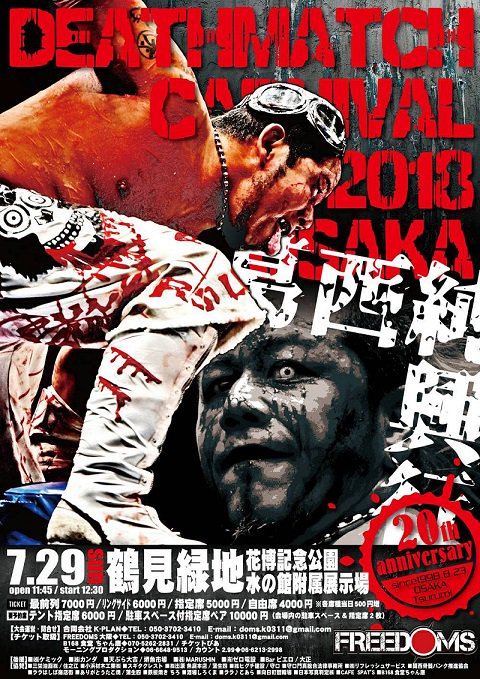 Jun Kasai Produce ~ Osaka Death Match Carnival 2018, 7/29/2018 [Sun] 12:30 @ Tsurumi Greenland Flower Expo Memorial Park, Museum Exhibition Hall in Osaka
~ Announced to compete: Jun Kasai, GENTARO, Mammoth Sasaki, Kamui, Yuya Susumu, Kenji Fukimoto, Toru Sugiura, Dragon Libre & Tomoya Hirata
~ Masashi Takeda, Minoru Fujita, Daisuke Masaoka, Violento Jack, Miedo Extremo & Ciclope
DOVE : Gusno, Naoki Tanizaki & 'brother' YASSHI
– Heisenberg (New Taiwan) & Tiida Heat (Ryuku Dragon)
– Brahman Brothers, Kubota Brothers, Drake Morimatsu, Dyna Mido & Idea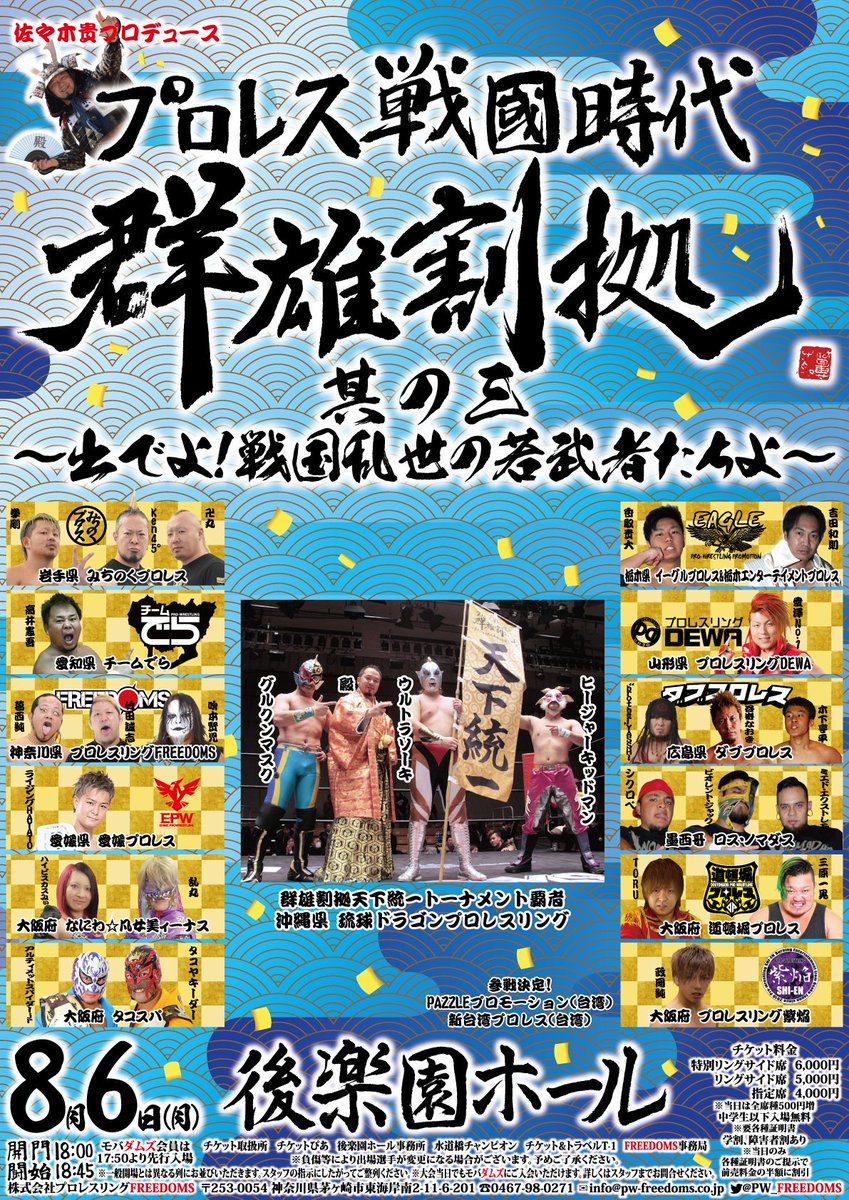 Pro-Wrestling Sengoku-Jidai, 8/6/2018 [Mon] 18:45 @ Korakuen Hall in Tokyo
(-) FREEDOMS vs TakoSpi Tag Match: Kamui & Dragon Libre vs. Takoyakida & Ultimate Spider Jr. (both Osaka Pro)
(-) FREEDOMS vs PUZZLE Promotion & New Taiwan 6 Man Tag Match: Mammoth Sasaki, GENTARO & Tomoya Hirata vs. Touyu, Senshin & Heisenberg
(-) Damz & DEWA vs. Shi-en Ikemen Tag Match: Yuya Susumu & Aizawa #1 (FREE) vs. Daisuke Masaoka & Jun Masaoka (Shi-en)
(-) FREEDOMS vs Gamashara Single Match: Toru Sugiura vs. Yoju
(-) Naniwa ☆ Bonjobinasu vs Team Dera Tag Match: Kyusei Ninja Ranmaru & Hibiscus Mii vs. Kengo takai & Grandpa Sho Mask #4
(-) The Nomads vs BADBOY (Michinoku): Violento Jack, Miedo Extremo & Ciclope vs. Ken45° & Manjimaru & Kengo (all MichiPro)
(-) FREEDOMS vs DOVE 6 Man Tag Match: Jun Kasai, Masashi Takeda & Kenji Fukimoto vs. Naoki Tanizaki, 'brother' YASSHI & Kenshin Chikano
(-) Tonogata vs Wakamusha "Gekokujo" 6 Man Tag Match: Takashi Sasaki, Gurukun Mask & Kazunori Yoshida vs. Takahiro Katori (Eagle), Rising HAYATO (EPW) & Kohei Kinoshita (DOVE)
(-) Tenka Toitsu Noborihata Sodatsu 6 Man Tag Match: [Champions] Churaumi Saber, Shuri Joe & Hejor Kidman (Ryukyu Dragon) vs. [Challengers] TORU, Kazuaki Mihara & Katsumi Oribe (all Doutonbori)