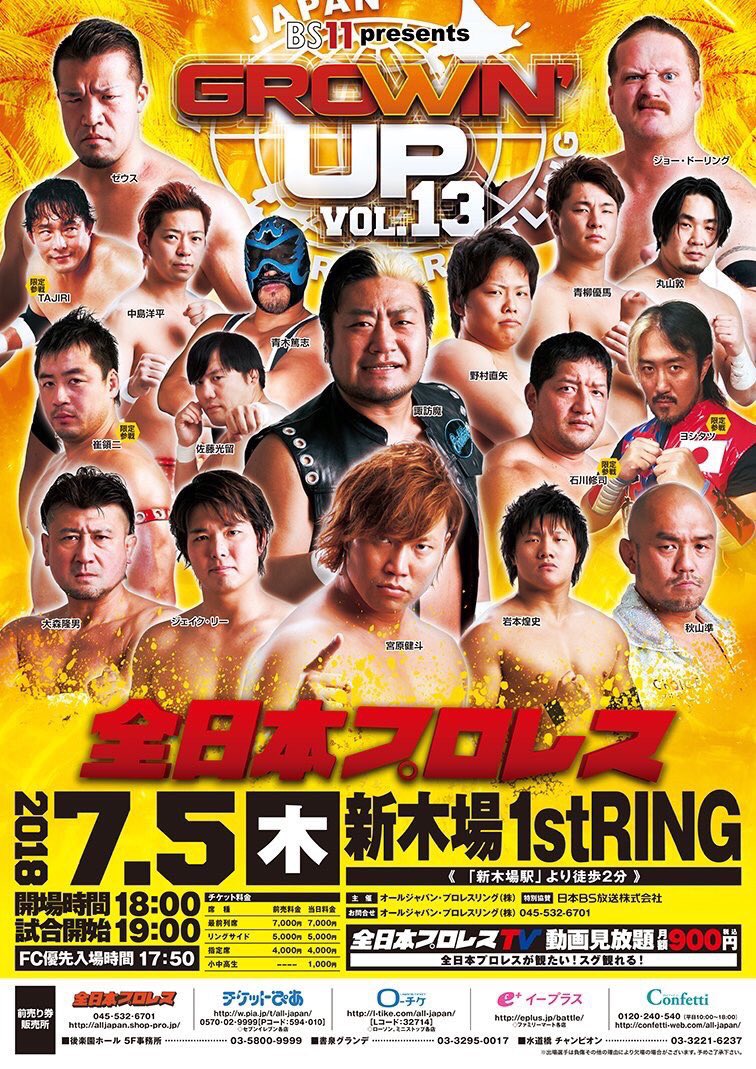 All Japan Pro-Wrestling "GROWIN' UP vol. 13", 7/5/2018 [Thu] 19:00 @ Shinkiba 1stRING in Tokyo
289 Spectators (crowded)
(1) Opening Tag Match: Naoya Nomura & Yuma Aoyagi vs. Yohei Nakajima & Black Tiger VII (FREE)
◆Winner: Aoyagi (9:39) following the Rock Star Buster on Yohei.
~ It was announced that Nomura & Aoyagi will once more challenge Akiyama & Nagata for the Asia Tag belts on July 29th in Osaka. Aoyagi declared that they shall defeat the veteran team this time around.
~ Even though the loss, Black Tiger still raised his partners hand as he stated that they will be ready for next month's junior tag league.
(2) Yoshi Army vs. Maru Navy: Takao Omori & Yoshitatsu (FREE) vs. Atsushi Maruyama & KAI (FREE)
◆Winner: Yoshitatsu (10:35) following the CBJ on Maruyama.
(3) ~GROWIN' UP~: Jun Akiyama vs. Keiichi Sato (FREE)
◆Winner: Akiyama (6:47) following an Exploder.
(4) Sweeper vs Fujigiri dai Kyojin: Ryoji Sai (LAND'S END) & Dylan James vs. Shuji Ishikawa (FREE) & Revlon (LAND'S END)
◆Winner: James (10:18) with a Doctor Bomb on Revlon.
(5) The Road to Jr. TAG BATTLE OF GLORY: Atsushi Aoki & Hikaru Sato vs. Koji Iwamoto & TAJIRI (FREE)
◆Winner: TAJIRI (15:31) following a Buzzsaw Kick on Hikaru.
~ Iwamoto & TAJIRI prove to be a solid team as they look to win next month's junior tag league.
(6) Tanabata Chokuzen (Just Before Star Festival) Special Tag Match: Kento Miayahara & Suwama vs. Zeus & Jake Lee
◆Winner: DRAW (30:00) Time Limit Expired.
~ All four men pushed themselves to the limit as neither team wanted to suffer defeat. As the upcoming Triple Crown match gets closer the tension also appears to be an all-time high between Miyahara and Zeus.
~ More matches were announced for the EDION Arena Osaka show on July 29th.
http://puroresuspirit.net/2018/06/ajpw-event-cards-for-july-august-2018/