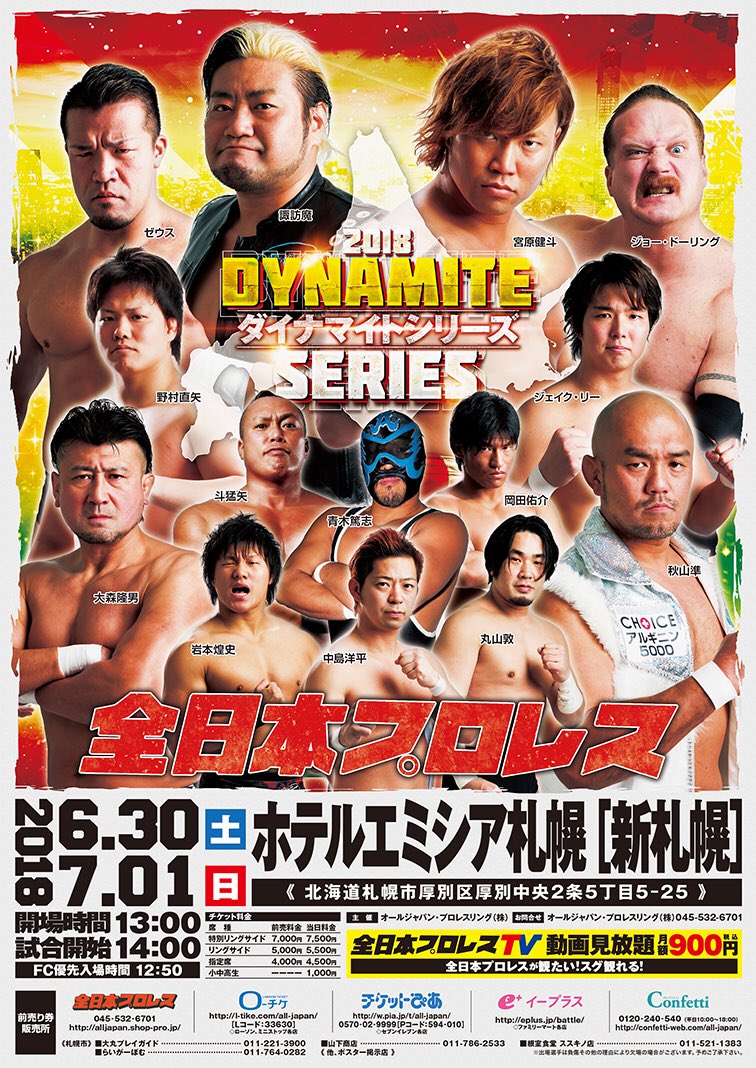 All Japan Pro-Wrestling "2018 Dynamite Series", 6/30/2018 [Sat] 14:00 @ Hotel Emisia Sapporo in Hokkaido
482 Spectators (crowded)
(1) Atsushi Maruyama vs. Ishikiri (LAND'S END)
◆Winner: Maruyama (6:43) with a Hurricanrana.
(2) Atsushi Aoki, Hikaru Sato & Tomoya (FREE) vs. Yohei Nakajima, Ultimo Dragon & TAJIRI (FREE)
◆Winner: TAJIRI (8:09) following a Buzzsaw Kick on Hikaru.
(3) Takao Omori & Mushuku no 'Sekiko' vs. Joe Doering & The Bodyguard (FREE)
◆Winner: Doering (9:24) with a Revolution Bomb on Sekiko.
(4) Jun Akiyama vs. Yuma Aoyagi
◆Winner: Akiyama (10:44) following a Wrist Clutch style Exploder.
~ Even though the loss, Aoyagi stated that he will not give up on his drive to reclaim the Asia Tag belts.
(5) Kento Miyahara, Yoshitatsu (FREE) & Naoya Nomura vs. Jake Lee, Koji Iwamoto & Keiichi Sato (FREE)
◆Winner: Miyahara (12:26) with a German Suplex Hold on Keiichi.
~ Miyahara with the final prelude win before tomorrow's singles match against Lee.
(6) Zeus vs. KAI (FREE)
◆Winner: Zeus (14:12) with a Jackhammer.
~ Zeus with a solid win as he maintains his rightful position as the next challenger for the Triple Crown belt.
(7) World Tag Championship ~ World Tag 30th Anniversary Match: [82nd Champions] Ryoji Sai (LAND'S END) & Dylan James vs. [Challengers] Suwama & Shuji Ishikawa (FREE)
◆Winner: Suwama (19:48) with a Backdrop Hold on James.
~ Champions fall on their 2nd title defense. Suwama & Ishikawa becomes the 83rd champions.
~ TAJIRI asserted the first challenge against the new champions, with Gianni Valletta, who will be coming in from Pro Wrestling Malta.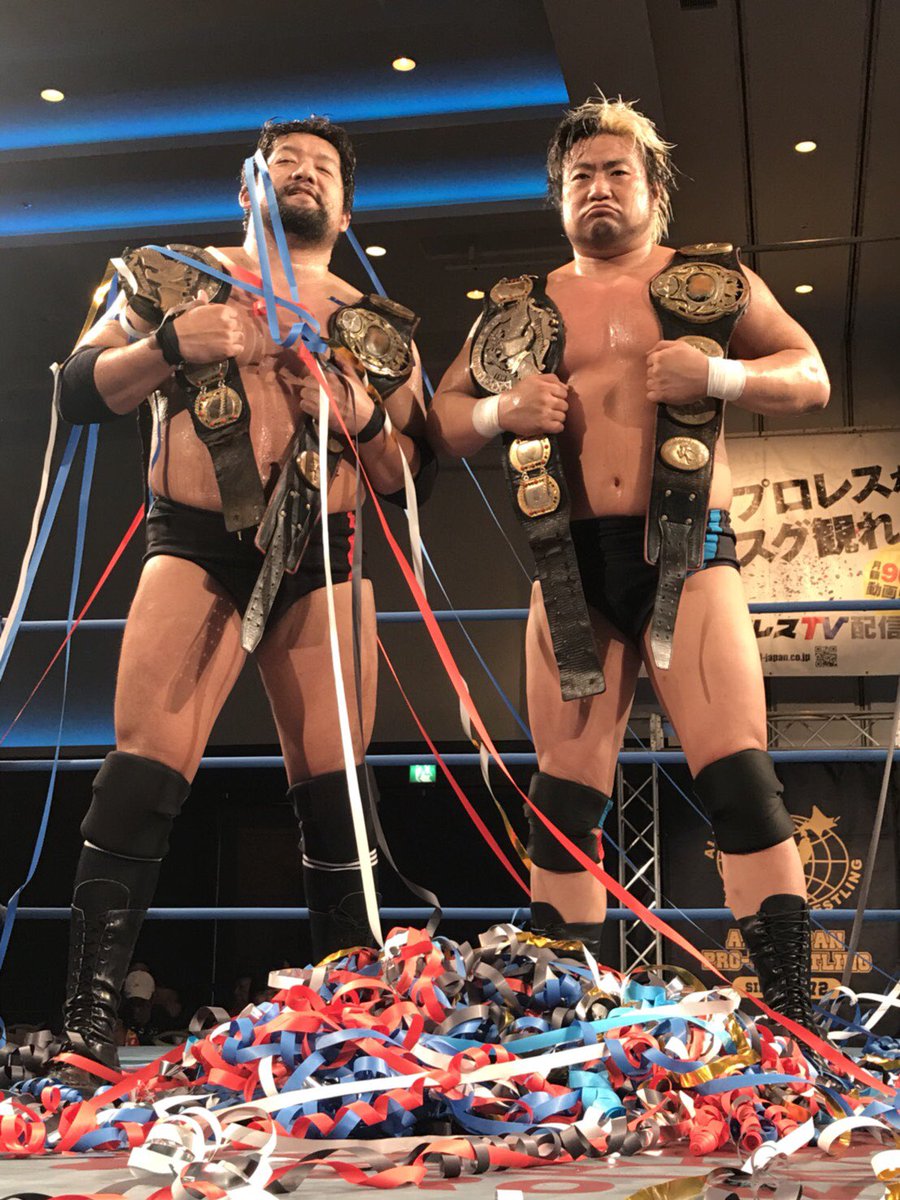 http://puroresuspirit.net/2018/04/ajpw-event-cards-for-may-june-2018/
http://puroresuspirit.net/2018/06/ajpw-event-cards-for-july-august-2018/