BASARA, 6/24/2018 [Sat] @ Hotel Cent Inn Kurashiki in Okayama
333 Spectators (overcrowded)
(1) Daichi Kazato vs. Yuki Aoki (DOVE)
◆Winner: Kazato (8:44) following the Bakuhatsuteki-na Axe Bomber.
(2) Takumi Tsukamoto, Akiyori Takizawa (ASUKA) & Daiki Shimomura (DNA) vs. Goma Ryu, Minoru Fujita (FREE) & Yasu Urano (FREE)
◆Winner: Tsukamoto (13:55) following a Dragon Kicker on Goma.
(3) Fuminori Abe vs. Manabu Hara (FREE)
◆Winner: Hara (8:50) with a Jumping Rolling Cross Armbar.
(4) FUMA & Yusuke Kubo vs. Gunso & Kabuki Kid (both DOVE)
◆Winner: Gunso (13:05) following a Vertical Drop style Brainbuster on Kubo.
(5) Ryuichi Sekine & Ryota Nakatsu vs. Trans Am ★ Hiroshi & SAGAT
◆Winner: Sekine (12:43) with the Let's Combine on SAGAT.
(6) Isami Kodaka vs. Takato Nakano
◆Winner: Kodaka (13:00) following the Zesso.
~ Kodaka put over his student following the loss. As he stated that he hopes to see his student where he is now in 15 years.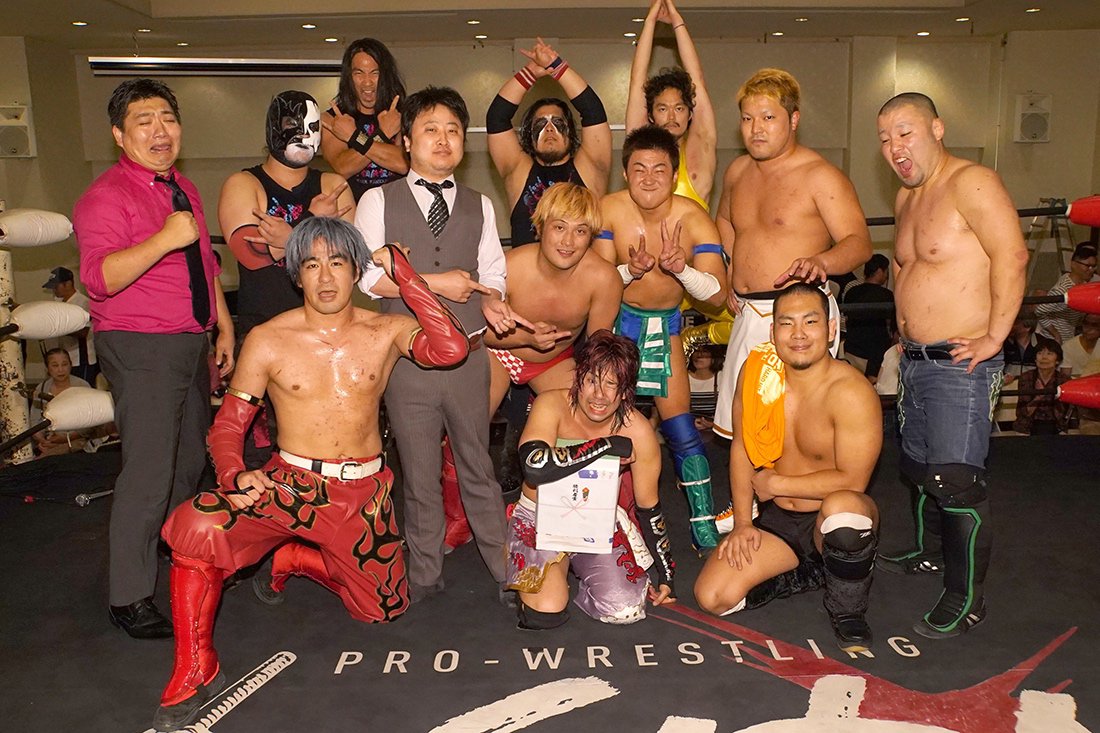 http://puroresuspirit.net/tag/basara/
Upcoming…
BASARA, 6/28/2018 [Thu] 19:30 @ Shinkiba 1stRING in Tokyo
() Takumi Tsukamoto & Goma Ryu vs. Aaron Anders & Daiki Shimomura
() Takato Nakano & Akiyori Takizawa vs. Manabu Hara & Fuminori Abe
() Best Stretch Man V3 & Best Stretch Man Amazon vs. Banana Senga & Ryuichi Sekine
() Isami Kodaka, Ikuto Hidaka & Minoru Fujita vs. Trans Am ★ Tomato, SAGAT & Yusuke Kubo
() Itadaki Semi-final Match: Yasu Urano (FREE) vs. Ryota Nakatsu
() Itadaki Semi-final Match: FUMA vs. vs. Trans Am ★ Hiroshi
BASARA, 7/12/2018 [Thu] 19:00 @ Shinjuku FACE in Tokyo
(-) Goma Ryu vs. Yoshihisa Uto (BJW)
(-) Trans Am ★ Ryuichi (BJW) vs. Ryuichi Sekine
(-) Isami Kodaka Debut 16th Anniversary Tag Match: Isami Kodaka & Naomichi Marufuji (NOAH) vs. Ikuto Hidaka (ZERO1) & Minoru Fujita (FREE)
(-) Itadaki Tournament Final Match:
~ Also announced to compete : Manabu Hara, Yasu Urano, Tsutomu Oosugi, Hercules Senga, Akiyori Takizawa (ASUKA PROJECT) & Takuya Nomura (BJW)