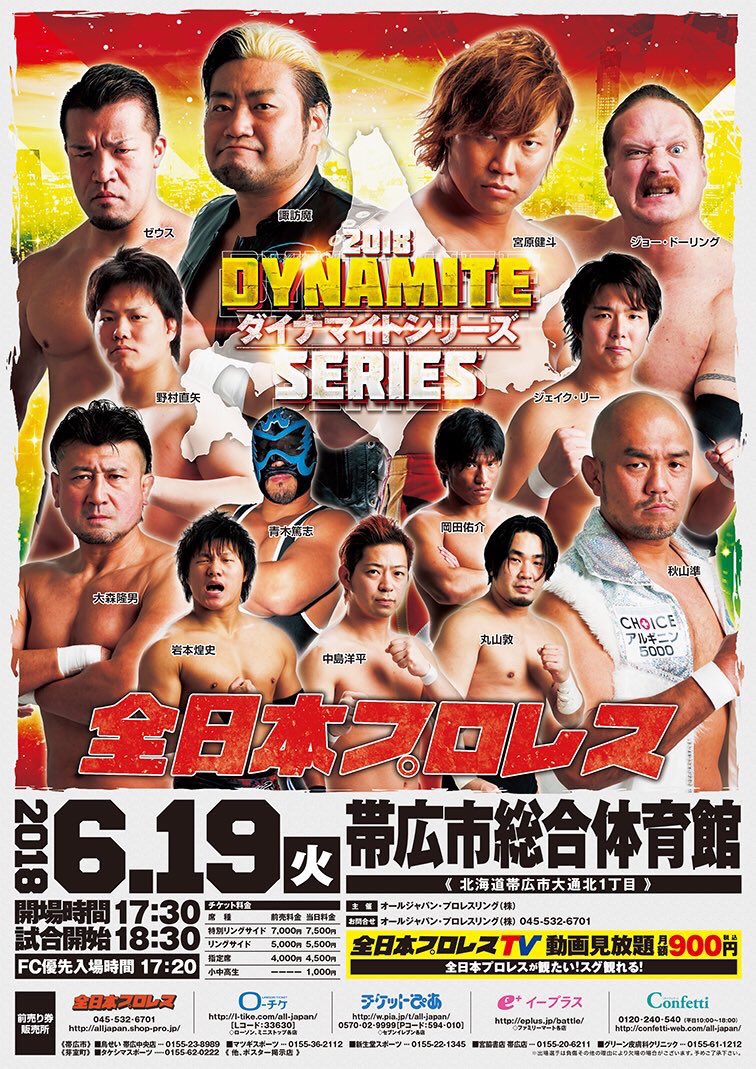 All Japan Pro-Wrestling "2018 Dynamite Series", 6/19/2018 [Tue] 18:30 @ Obuhiro City Gymnasium in Hokkaido
513 Spectators (crowded)
(1) Takao Omori vs. Keiichi Sato (FREE)
◆Winner: Omori (8:43) following an Axe Bomber.
(2) Atsushi Aoki & Ishikiri (LAND'S END) vs. Ultimo Dragon & Yohei Nakajima
◆Winner: Dragon (10:29) with a La Magistral on Ishikiri.
~ Even though he did not claim the direct win himself, Yohei continue to claim that he is ready for the World Junior challenge on the 30th.
(3) Jun Akiyama & Atsushi Maruyama vs. TAJIRI & KAI (both FREE)
◆Winner: KAI (10:06) with the Meteor Impact on Maruyama.
(4) Suwama, Shuji Ishikawa (FREE) & Hikaru Sato vs. Joe Doering, Zeus & The Bodyguard (FREE)
◆Winner: Bodyguard (14:35) with a Camel Clutch on Hikaru.
(5) Asia Heavyweight Championship Match: [8th Champion] Ryoji Sai (LAND'S END) vs. [Challenger] Yoshitatsu (Naofumi Yamamoto) (FREE)
◆Winner: Sai (17:21) with the Sidmouth.
~ 3rd successful title defense.
~ Yoshitatsu dawned his pre-WWE attire and real name for his match against Sai. This bout stemmed back 12 years when both competed in New Japan.
~ After the match, Bodyguard made a challenge for the belt.
(6) Kento Miyahara, Naoya Nomura & Yuma Aoyagi vs. Jake Lee, Dylan James & Koji Iwamoto
◆Winner: Miyahara (19:25) with a German Suplex Hold on Iwamoto.
~ Miyahara with the win, as he continued to show that he is the Saiko (highest) before his single match against Lee on the July 1st.
~ The full event card was announced for the Shinkiba 1stRING show on July 5th.
http://puroresuspirit.net/2018/04/ajpw-event-cards-for-may-june-2018/
http://puroresuspirit.net/2018/06/ajpw-event-cards-for-july-august-2018/