K-DOJO "GRAND SLAM in Blue Field", 6/17/2018 [Sun] 13:00 @ Blue Field in Chiba
192 Spectators (overcrowded)
(1) Tatsuya Hanami, Taylor Adams & Yuki Shizuku (FREE) vs. Yoshihiro Horaguchi, Latrell Apton & Bambi
◆Winner: Horaguchi (7:05) following a Pump Kick on Hanami.
(2) Ricky Fuji vs. Ayame Sasamura
◆Winner: Fuji (7:52) with the Onore No Tamashi.
(3) Kaji Tomato vs. Chojin Yusha G Valion
◆Winner: Kaji (9:42) with the Speed.
(4) Taishi Takizawa, Marines Mask & Hiroshi Yamato (FREE) vs. Shu Asakawa, Yuki Sato & Kyu Mogami
◆Winner: Takizawa (14:53) following a Wrist Clutch style Takabisha on Mogami.
~ Asakawa confronted Takizawa after the match and asserted that he wants to challenge for the ST-K belt.
(5) Chiba 6 Tag Championship Match: [6th Champions] Yuma, Kotaro Yoshino & Dinosaur Takuma vs. [Challengers] TAKA Michinoku, Shiori Asahi & Masamune
◆Winner: Yuma (15:49) via counter pin-fall on Asahi.
~ 2nd successful title defense.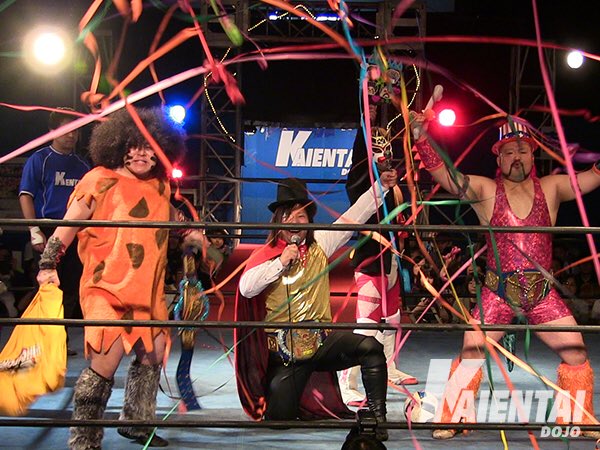 (6) Tank Nagai vs. Ayumu Honda (Special referee : Yuki Sato and MIO)
◆Winner: Tank (8:33) following a Diving Senton.
~ Yuki Sato was incapacitated during the match and Tank's wife MIO (Mio Shirai) stepped in as the replacement.
~ It was announced that previously announced tag match on 7/1 will now determine the next challenger for the ST-K TAG belts.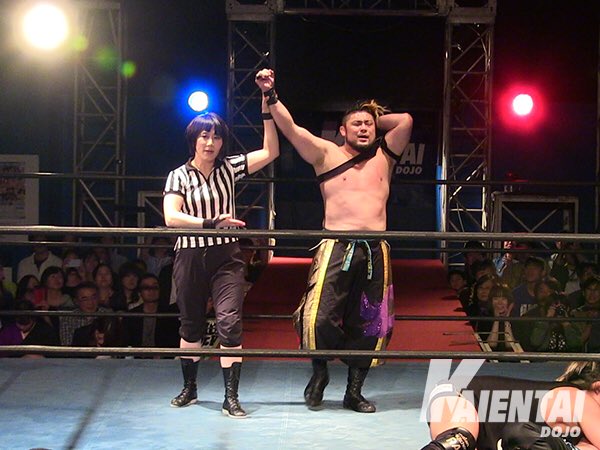 (7) Daigoro Kashiwa's Retirement Match: Daigoro Kashiwa & Ayato Yoshida vs. Kengo Mashimo & Kunio Toshima
◆Winner: Mashimo (30:06) with the Mudo on Kashiwa.
~ Kashiwa ends his career after being loyal to TAKA Michinoku and K-DOJO since his debut in 2001.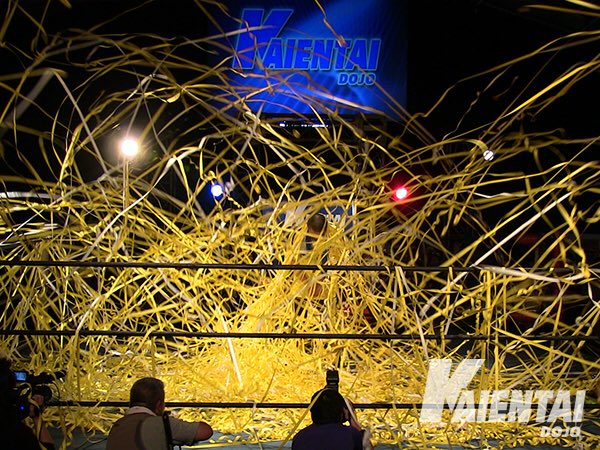 http://puroresuspirit.net/tag/k-dojo/
Upcoming…
KAIENTAI DOJO Tsukuba Taikai, 7/1/2018 [Sun] 13:00 @ Tsukuba International Conference Hall, Multi-Hall in Ibaraki
(-) Ayame Sasamura vs. Rina Shingaki
(-) Tatsuya Hanami vs. Ayumu Honda
(-) Shiori Asahi & Yoshihiro Horaguchi vs. Yuma & Marines Mask
(-) TAKA Michinoku & Shiro Koshinaka (FREE) vs. Ricky Fuji, Bambi
(-) Taishi Takizawa, Kaji Tomato & Hiroshi Yamato (FREE) vs. Shu Asakawa, Kengo Mashimo & Kyu Mogami
(-) ST-K TAG Next Challenger Match: Tank Nagai & Ayato Yoshida vs. Kotaro Yoshino & Dinosaur Takuma
KAIENTAI DOJO "K-UP IMPACT in Blue Field ~ 2018 SUMMER ~", 7/8/2018 [Sun] 13:00 @ Blue Field in Chiba
() Bambi & Ayame Sasamura vs. Saori Anno & Himeka Arita (both Actwres Girl'Z)
() Tatsuya Hanami vs. Hiroshi Yamato (FREE)
() Yuma, Kotaro Yoshino & Dinosaur Takuma vs. Yuji Kito, Mitoshichi Shinose & Akiyori Takizawa (all ASUKA PROJECT)
() Taishi Takizawa vs. Shunsuke Sayama (ASUKA PROJECT)
() TAKA Michinoku & Ricky Fuji vs. Keiichi Sato (FREE) & Chikara (Riki Enterprise)
() Kengo Mashimo & GO Asakawa vs. Koji Doi & Tsugataka Sato (both W-1)
() Tank Nagai vs. Suwama (AJPW)
Ricky Fuji Debut 30th Anniversary Produce ~ Battle of Fire ~, 7/15/2018 [Sun] 13:00 @ Blue Field in Chiba
() Blue Hearts vs Pink Lady Tag Match: Hiroto Hanami & Horror vs Aya & Rina
() YuMichael Jackson vs. Badonna
() T☆TAKIZAWA & Adam Springsteen vs. Komon Kotaro & Demon Takuma
() Mags KISS vs Beatles 8 Tag Match: Shu Stanley, Gene Mashimons, Kyu Frehley & Peter Ayumu vs. Shiori McCartney, Tank Lennon, Ayato Harrison & Tomato Star
() Rock 'n' Roll Death Match: Ricky Fuji vs. Hiroshi Yamato