Michinoku Pro-Wrestling "Michinoku 2018 Tokyo Vol. 3 ~Kikikaikai~", 6/15/2018 [Fri] 18:30 @ Korakuen Hall in Tokyo
1,215 Spectators
(1) Michinoku vs ZERO1 Young War Vol. 3: Yasutaka Osera & Koji Kawamura vs. Towa Iwasaki & Shoki Kitamura
◆Winner: Osera (10:26) with a Single Leg Crab on Kitamura.
(2) Joshi Pro Super Fight: Yapperman #3 vs. Hiroe Nagahama
◆Winner: Yapper #3 (7:27) following a Fisherman Buster.
(3) Michinoku Pro-Wrestling 25th Anniversary Special Match: Jinsei Shinzaki, Dick Togo & Ultimo Dragon vs. Genjin Yone (Numajiro Kesen), Hayate & GAINA
◆Winner: Shinzaki (14:57) with the Nenbetsu Powerbomb on Kesen.
(4) Kenbai's Return Match: Taro Nohashi, Kenbai, Rasse, Yapperman #1 & Yapperman #2 vs. Rui Hyugaji, Manjimaru, Ken45°, Kengo & Ayumu Gunji
◆Winner: Hyugaji (18:40) following a Diving Elbow Drop on Rasse.
(5) The Great Sasuke Alliance vs Brahman Brothers Alliance ~ Mascara Contra Cabellera 2/3 Fall Match: The Great Sasuke, Mini Master, Gorgeous Matsuno & Ryuichi Sekine vs. Brahman Shu, Brahman Kei, Ultraman Robin & Abdullah Kobayashi
~ Sasuke (:20) following a DDT on Robin.
~ Shu (15:38) on Matsuno.
◆Winner: Robin (9:11) following a Diving Baka Chinga Elbow from Abby on Mini-Master.
~ Brahman Brothers, Ultraman Robin & Abdullah Kobayashi win 2-1.
~ Due to the loss, Mini-Master was forced to remove his mask. He was revealed as midget wrestler Pretty Ota.
~ Sasuke, and the Brahman's settled their grudge, reclaimed his position as the master of Mu no Taiyo.
http://puroresuspirit.net/tag/michipro/
Upcoming…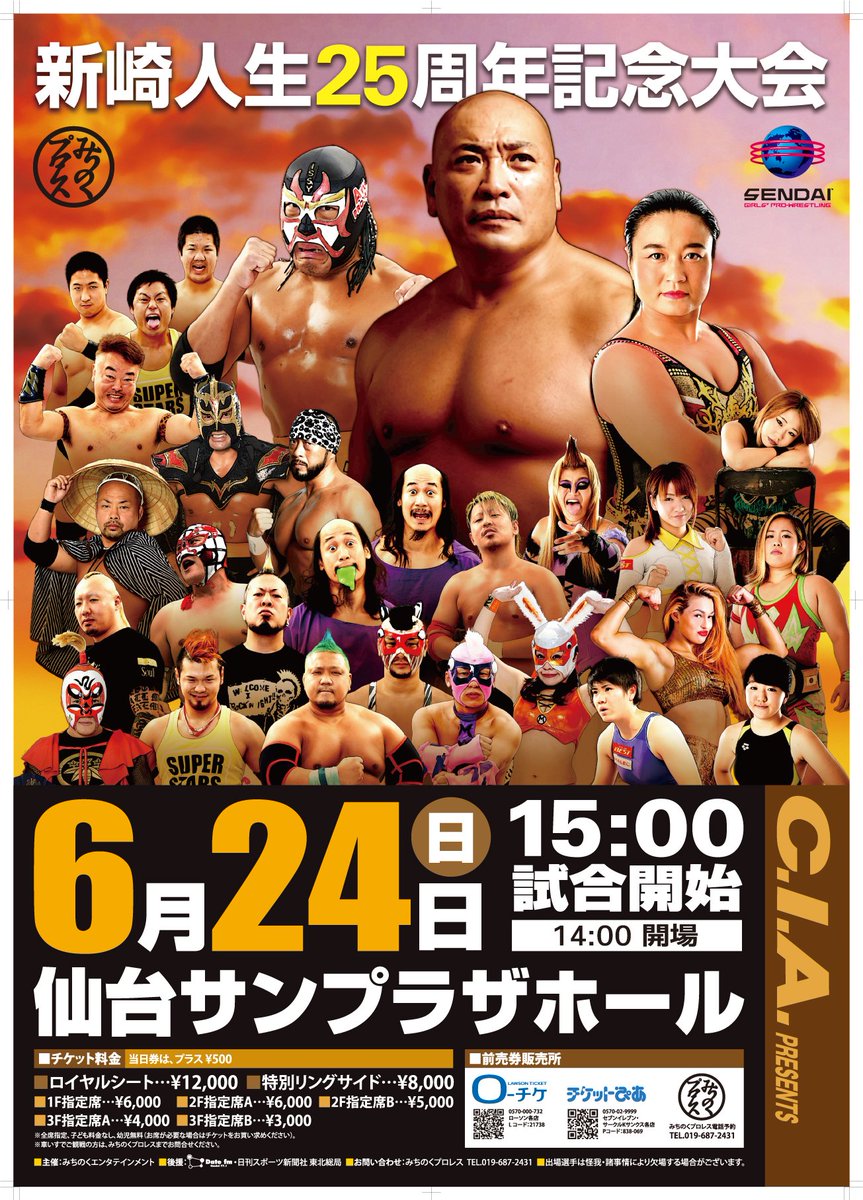 Michinoku Pro-Wrestling "Jinsei Shinzaki 25th Anniversary Show", 6/24/2018 [Sun] 15:00 @ Sendai City Sun Plaza Hall
(-) Sendai Girls World Championship Match: [7th Champion] Chihiro Hashimoto vs. [Challenger] DASH Chisako
(-) Tohoku Junior Heavyweight Championship Match: [21st Champion] Rui Hyugaji vs. [Challenger] Taro Nohashi
~ 2nd title defense.
Michinoku Pro-Wrestling, 7/7/2018 [Sat] @ Shinkiba 1stRING in Tokyo
(-) Tohoku & UWA World Tag Double Championship Match: [25th & 24th Champions] GAINA & Taro Nohashi vs. [Challengers] Misaki Ohata & Ryo Mizunami
~ 2nd title defense.