Pro-Wrestling FREEDOMS "Reach for the star 2018", 6/14/2018 [Thu] 19:00 @ Shinkiba 1stRING in Tokyo
234 Spectators
(0) Exhibition Match: Trainee K vs. X
(0) Exhibition Match: Hayatada Miki vs. Takashi Sasaki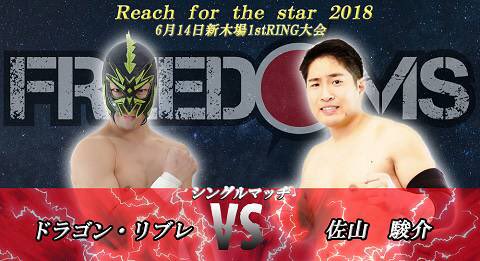 (1) Dragon Libre vs. Shunsuke Sayama (ASUKA PROJECT)
◆Winner: Libre (6:33) with a Moonsault Press.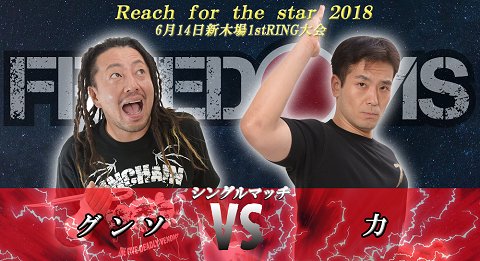 (2) Gunso (DOVE) vs. Chikara (Riki Enterprise)
◆Winner: Gunso (9:56) following a Diving Guillotine Drop.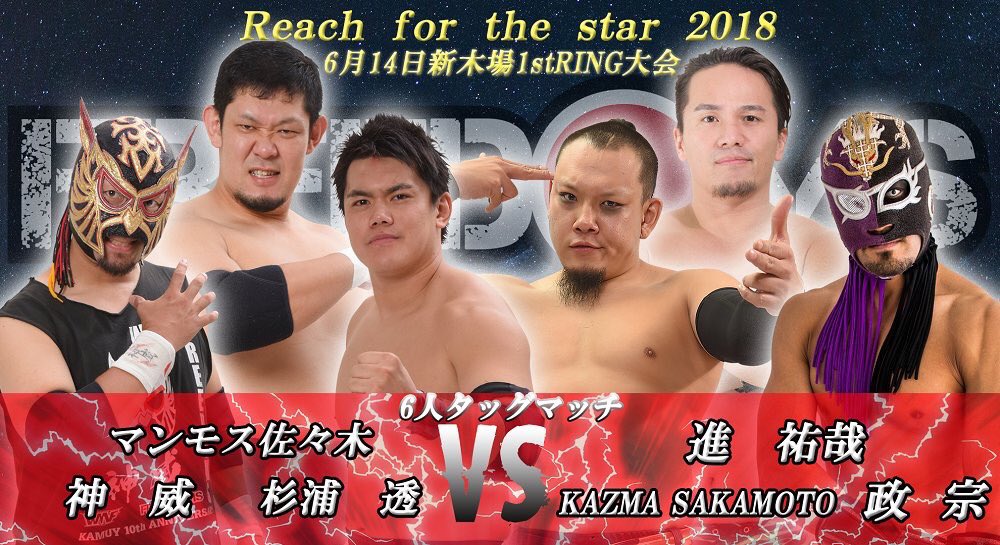 (3) Mammoth Sasaki, Toru Sugiura & Kamui vs. Yuya Susumu, Masamune (FREE) & KAZMA SAKAMOTO (FREE)
◆Winner: KAZMA (10:58) following a Modified Package Piledriver on Toru.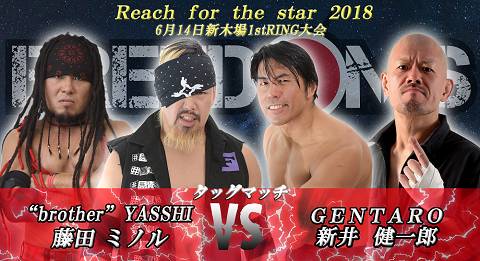 (4) 'brother' YASSHI & Minoru Fujita (both FREE( vs. GENTARO & Kenichiro Arai (DG)
◆Winner: Arai (10:06) following a Tombstone Piledriver from Fujita on YASSHI.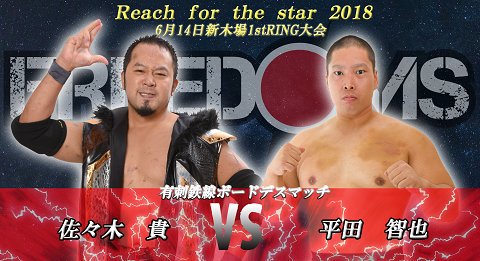 (5) Barbed-wire Board Death Match: Takashi Sasaki vs. Tomoya Hirata
◆Winner: Takashi (16:07) following the Migi-ashi with a barbed-wire board.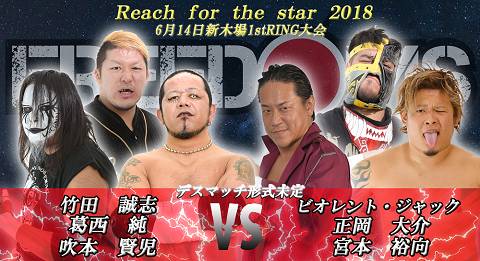 (6) Fluorescent Light-tube 6 Man Tag Death Match: Masashi Takeda (FREE), Jun Kasai & Kenji Fukimoto vs. Violento Jack, Daisuke Masaoka & Yuko Miyamoto (666)
◆Winner: Fukimoto (14:54) following a Package Piledriver on Masaoka.
~ Fukimoto takes the win over the Freedom Tag Champion, as he made the challenge for the belts.
~ Jack announced that Miedo Xtremo and Ciclope will be returning to Japan next month.