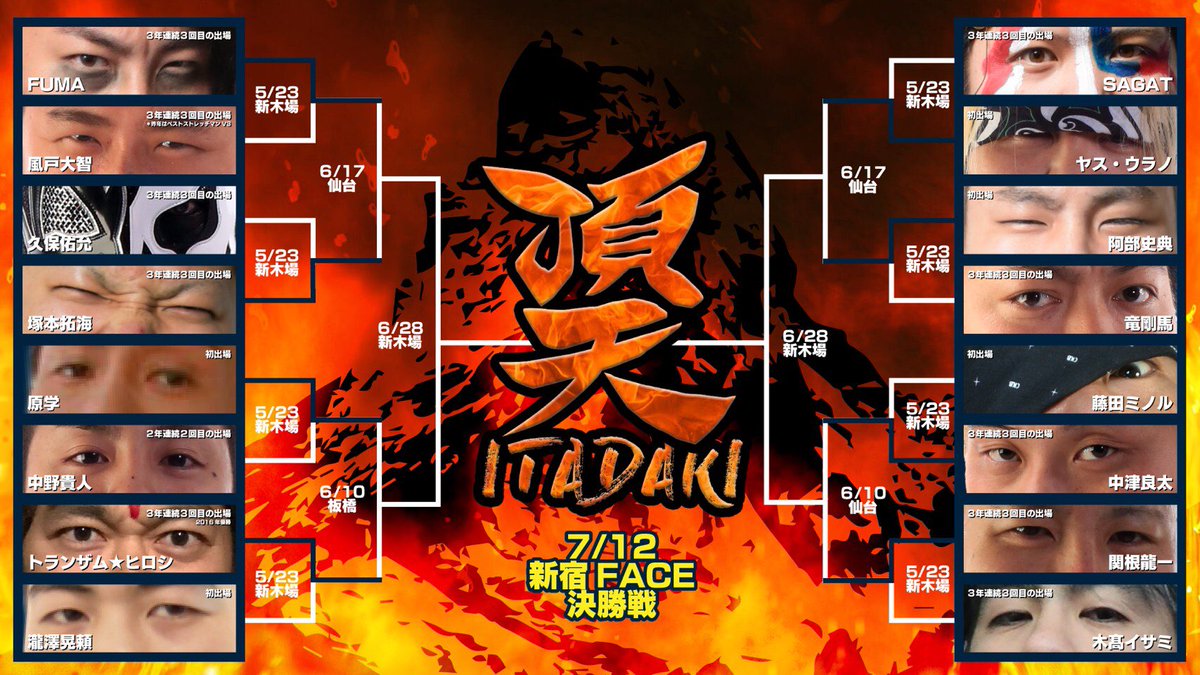 BASARA, 6/10/2018 [Sun] 18:00 @ Itabashi Green Hall in Tokyo
(1) FUMA & Yusuke Kubo vs. Yasu Urano (FREE) & Daiki Shimomura (DNA)
◆Winner: FUMA (12:58) with the Heavy Metal Anthem on Shimomura.
(2) Goma Ryu vs. Akiyori Takizawa (ASUKA PROJECT)
◆Winner: Akiyori (6:07) following a Step style Enzuigiri.
(3) Best Stretch Man V3 & Best Stretch Man Amazon vs. Banana Senga & SAGAT
◆Winner: Senga (9:23) with a Small Package Hold on Best Stretch V3.
(4) Isami Kodaka, Ikuto Hidaka (ZERO1) & Minoru Fujita (FREE) vs. Takumi Tsukamoto, Fuminori Abe & Takato Nakano
◆Winner: Fujita (15:29) following a Tombstone Piledriver on Nakano.
(5) Itadaki 2nd Round Match: Manabu Hara (FREE) vs. Trans Am ★ Hiroshi
◆Winner: Hiroshi (11:24) with a Ground Cobra Twist Hold.
(6) Itadaki 2nd Round Match: Ryuichi Sekine vs. Ryota Nakatsu
◆Winner: Nakatsu (16:37) with the V Slider.
~ Trans Am ★ Hiroshi and Ryota Nakatsu move on to the semi-final match on 6/28 at the Shinkiba 1stRING.
http://puroresuspirit.net/tag/basara/
Upcoming…
BASARA, 6/17/2018 [Sun] @ Sendai Miyagino Bunka Center
() Yusuke Kubo & Takato Nakano vs. Yasutaka Osera (MichiPro) & Daiki Shimomura
() Isami Kodaka, Ryuichi Sekine & Ryota Nakatsu vs. Trans Am ★ Hiroshi, SAGAT & GAINA (FREE)
() Itadaki 2nd Round Match: FUMA vs. Takumi Tsukamoto
() Itadaki 2nd Round Match: Yasu Urano vs. Fuminori Abe