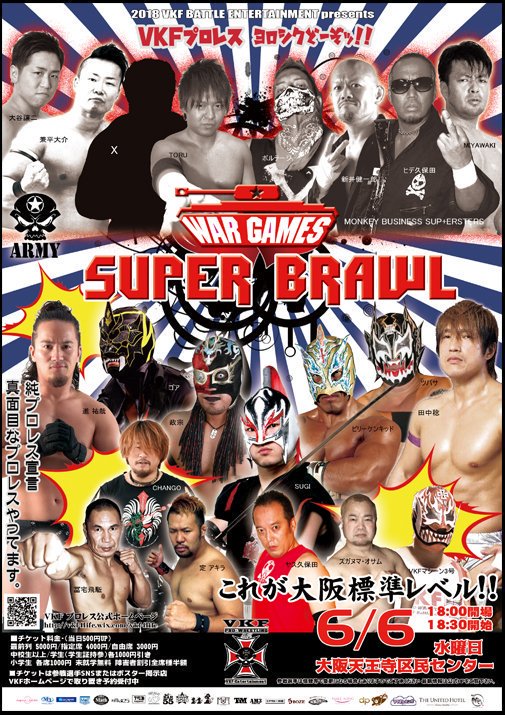 VKF Pro-Wrestling "SUPER BRAWL 2018", 6/6/2018 [Wed] 18:30 @ Tennoji Kumin Center in Osaka
(1) Yasu Kubota (FREE) vs. VKF Machine #3
◆Winner: Yasu (7:51) following the Yasuton Bomb.
(2) Tsubasa & Billyken Kid (both FREE) vs. CHANGO (FREE) & SUGI (ZERO1)
◆Winner: Tsubasa (9:39) with a La Magistral on CHANGO.
~ After the match, all 4 men shook hands and it was hinted that they would form some sort of group. 
(3) Minoru Tanaka (FREE) & Takaku Fuke (Pancrase MISSION) vs. Akira Joe & Masamune (both FREE)
◆Winner: Fuke (7:50) with a Dojime Sleeper Hold on Masamune.
~ Fuke challenger Masamune for a chance at the UWA Middleweight belt.
(4) Yuya Susumu (FREEDOMS) vs. Goa (FREE)
◆Winner: DRAW (11:57) via double pin-fall.
(5) Monkey Business Superstars vs VKF Corporation 4 vs 4 Elimination Tag Match: MIYAWAKI (FREE), Hide Kubota (FREE), Kenichiro Arai (DG) & Voltage vs. TORU (Doutonbori), Joji Otani (HEAT-UP), Daisuke Kanehira (HEAT-UP) & Osamu Suganuma (Doutonbori)
~ Voltage (6:50) eliminated by Joji via pin-fall.
~ Hide (8:24) sent over the top rope by Kanehira.
~ Kanehira (9:22) eliminated by Arai with Small Package Hold.
~ Arai (11:32) sent over the top rope by TORU.
~ TORU (11:35) sent over the top rope by MIYAWAKI.
~ Joji (14:00) eliminated by MIYAWAKI via pinfall.
◆Winner: Suganuma (16:05) with the Nu on MIYAWAKI.
~ Suganuma wins the match for his team.
~ Suganuma challenged TORU for the VKF Championship, as TORU accepted in which it will take place on the August 3rd.
~ Voltage was also kicked out of the mBs unit, with Akira Joe accepted to fill the vacant position.
http://puroresuspirit.net/tag/vkf/
Upcoming…
VKF SUMMER SLAM 2018, 7/15/2018 [Sun] 17:00 @ Tenmabashi Dawn Center in Osaka
(-) UWA Middleweight Championship Match: [Champion] Masamune vs. [Challenger] Takaku Fuke
VKF 11th Anniversary Show WRESTLE NANIWA 2018, 8/3/2018 [Fri] 19:00 @ Azalea Taisho in Osaka
(-) VKF Championship Match: [Champion] TORU vs. [Challenger] Osamu Suganuma