All Japan Pro-Wrestling "2018 SUPER POWER SERIES ~ All Japan at Differ Ariake Final Show", 6/5/2018 [Tue] 19:00 @ Differ Ariake in Tokyo
886 Spectators
(1) Yohei Nakajima vs. Keiichi Sato
◆Winner: Yohei (7:16) following the Urayakei.
(2) Masanobu Fuchi & Ishikiri (LAND'S END) vs. Osamu Nishimura (FREE) & Atsushi Maruyama
◆Winner: Maruyama (11:06) following a Buzzsaw Kick on Ishikiri.
(3) Suwama, Shuji Ishikawa (FREE) & Hikaru Sato vs. Zeus, KAI (FREE) & Black Tiger VII (FREE)
◆Winner: Suwama (8:20) following a Shingata Last Mountain on Black Tiger.
(4) Differ Ariake All Japan Wrestling Final Memorial Special Tag Match: Jun Akiyama & Takao Omori vs. Tamon Honda & Masao Inoue (both FREE)
◆Winner: Akiyama (17:54) following an Exploder on Inoue.
~ Akiyama addressed Fujita's appearance at the Kobe show as he stated that he is not in favor of Fujita competing in his ring.
(5) Differ Ariake All Japan Wrestling Final Memorial Special Single Match: Atsushi Aoki vs. Kotaro Suzuki (FREE)
◆Winner: Aoki (18:58) with the Object.
(6) Yuma Aoyagi's Return Special 8 Man Tag Match: Kento Miayahara, Yoshitatsu (FREE), Naoya Nomura & Yuma Aoyagi vs. Dylan James, Ryoji Sai (LAND'S END), Jake Lee & Koji Iwamoto
◆Winner: Lee (23:05) following a Backdrop on Aoyagi.
~ Aoyagi declared that he seeks to revenge this loss against Lee.
~ Jake Lee further alluded to the formation of a team unit, including Iwamoto, Sai, James, and even Keiichi Sato.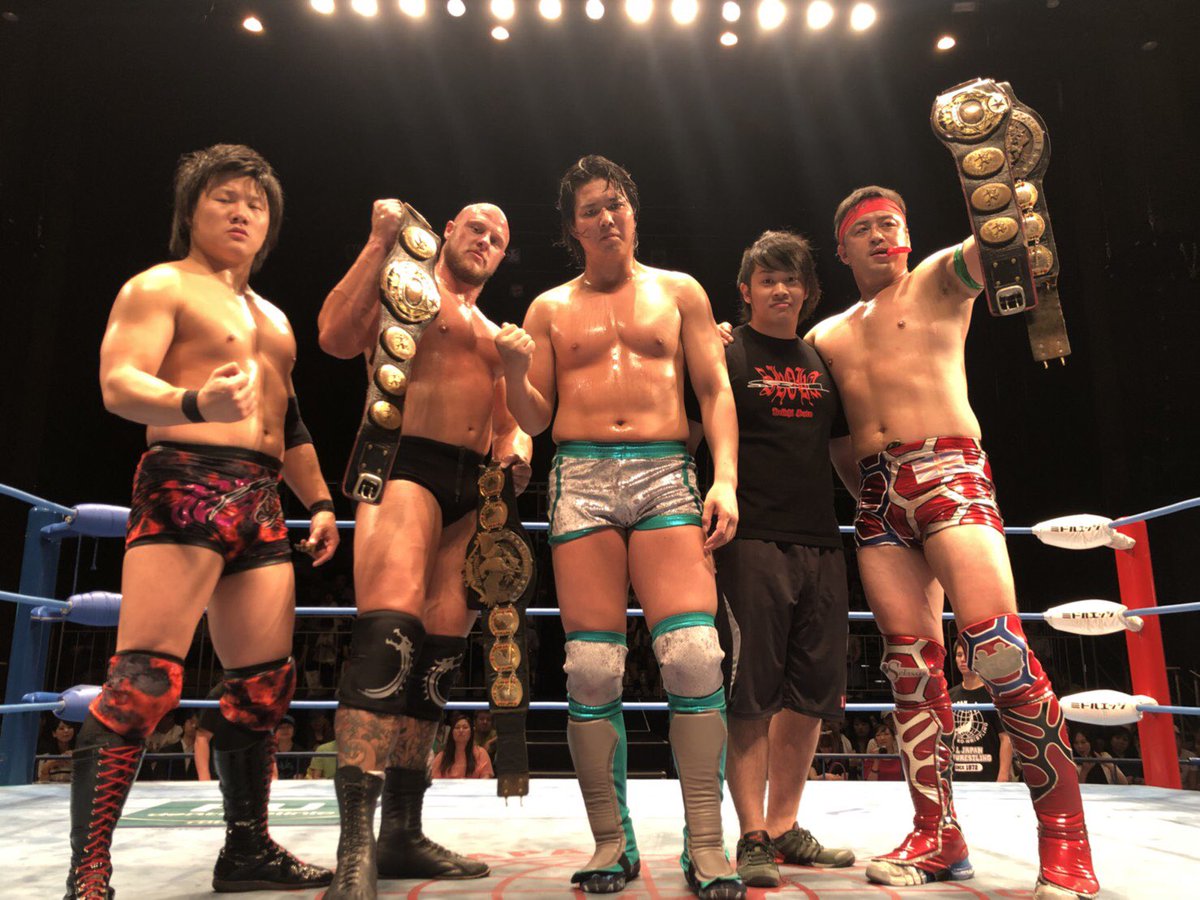 ~ Several events are still scheduled to take place in the venue before its closure on June 30. The building and land will be re-developed for the upcoming 2020 Tokyo Olympics. The building was originally opened in July of 1988 where it used to be a disco/live music venue, known as the MZA Ariake, before becoming known as Differ Ariake and the main home for Pro-Wrestling NOAH in 2000. Though an interesting note is that All Japan was the first to use the renamed building on July 1, 2000. Which is fitting as they are now the last for pro-wrestling to use it.
http://puroresuspirit.net/2018/04/ajpw-event-cards-for-may-june-2018/