K-DOJO "ChiBattle 3", 6/3/2018 [Sun] 13:00 @ Blue Field in Chiba
130 Spectators
(1) Tatsuya Hanami vs. Ayumu Honda
◆Winner: Ayumu (5:31) with a Jumping Rolling Cross Armbar.
(2) Bambi & Yuki Shizuku (FREE) vs. Ayame Sasamura & Rina Shingaki
◆Winner: Shizuku (9:52) following a Death Valley Bomb on Shingaki.
(3) TAKA Michinoku, Ricky Fuji, Shiori Asahi & Yoshihiro Horaguchi vs. Yuma, Kotaro Yoshino, Dinosaur Takuma & Taylor Adams
◆Winner: Asahi (9:52) following the Aun on Yuma.
(4) Daigoro Kashiwa Final Countdown ~ The Last Clash of First Class Students: Daigoro Kashiwa vs. Yasu Urano (FREE)
◆Winner: Urano (19:03) with a Camel Clutch.
(5) Tank Nagai & Ayato Yoshida vs. Yuki Sato & Kunio Toshima
◆Winner: Tank (7:13) via foul, Ayumu interfered.
(6) Taishi Takizawa, Kaji Tomato & Hiroshi Yamato (FREE) vs. Kengo Mashimo, GO Asakawa & Kyu Mogami
◆Winner: Asakawa (14:57) following a Lariat on Kaji.
~ Askawa with win after joining Magatsuki last week.
~ Following the win, he announced his new name to be Shu Asakawa (浅川紫悠).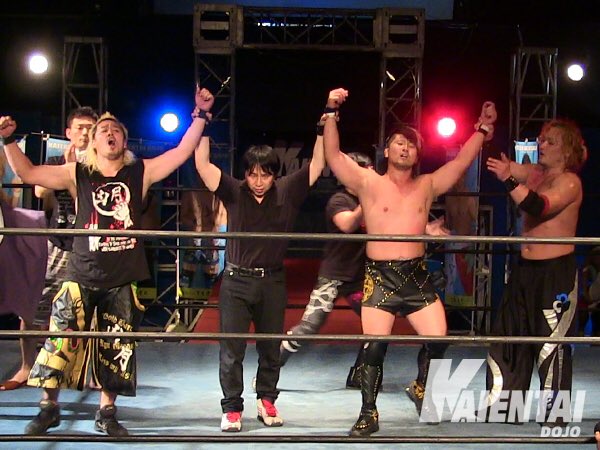 ~ Latrell Apton (182cm/70kg) from the USA was announced to begin competing in K-DOJO next Sunday.
~ Then it was announced as official that Tank Nagai will receive a singles match against his former ally Ayumu Honda on 6/17, though Yuki Sato will be the special referee.
http://puroresuspirit.net/tag/k-dojo/
Upcoming…
K-DOJO "ChiBattle 4", 6/10/2018 [Sun] 18:00 @ Blue Field in Chiba
() Marines Mask vs. Shu Asakawa
() Taylor Adams & Ayame Sasamura vs. Tatsuya Hanami & Rina Shingaki
() Shiori Asahi & Latrell Apton vs. Yuma & Chojin Yusha G Valion
() Tank Nagai & Ayato Yoshida vs. Kengo Mashimo & Ayumu Honda
K-DOJO "GRAND SLAM in Blue Field", 6/17/2018 [Sun] 13:00 @ Blue Field in Chiba
(-) Kaji Tomato vs. Chojin Yusha G Valion
(-) Tank Nagai vs. Ayumu Honda (Special referee : Yuki Sato)
(-) Chiba 6 Tag Championship Match: [Champions] Yuma, Kotaro Yoshino & Dinosaur Takuma vs. [Challengers] TAKA Michinoku, Shiori Asahi & Masamune
(-) Daigoro Kashiwa's Retirement Match: Daigoro Kashiwa & Ayato Yoshida vs. Kengo Mashimo & Kunio Toshima
KAIENTAI DOJO "K-UP IMPACT in Blue Field ~ 2018 SUMMER ~", 7/8/2018 [Sun] 13:00 @ Blue Field in Chiba
() Bambi & Ayame Sasamura vs. Saori Anno & Himeka Arita (both Actwres Girl'Z)
() Tatsuya Hanami vs. Hiroshi Yamato (FREE)
() Yuma, Kotaro Yoshino & Dinosaur Takuma vs. Yuji Kito, Mitoshichi Shinose & Akiyori Takizawa (all ASUKA PROJECT)
() Taishi Takizawa vs. Shunsuke Sayama (ASUKA PROJECT)
() TAKA Michinoku & Ricky Fuji vs. Keiichi Sato (FREE) & Chikara (Riki Enterprise)
() Kengo Mashimo & GO Asakawa vs. Koji Doi & Tsugataka Sato (both W-1)
() Tank Nagai vs. Suwama (AJPW)